PARIS – Curadigm SAS has raised $1 million in non-dilutive funding from Bpifrance (Banque publique d'investissement in France), for development of its Nanoprimer technology. Bpifrance's Deep Tech program in France recognizes health tech companies with breakthrough innovation and strong commercial potential.
"This funding award highlights our innovative nanotechnology-based approach to increasing therapeutic bioavailability and efficacy, applicable across multiple drug classes," Matthieu Germain, CEO of Curadigm, told BioWorld.
'Keep liver busy' to increase effective/ineffective dose ratio
Intravenously administered therapeutics are often limited by low availability and poor distribution, particularly nanomedicines and RNA therapeutics, which are rapidly cleared by the liver. "Poor distribution due to biological barriers leaves only a fraction of the administrated dose available for therapeutic action, meaning the majority of the medicine is functionally ineffective and potentially toxic," said Germain. In oncology, for instance, it has been estimated that less than 1% of the dose from, on average, 150 nanomedicines, accumulates within the solid tumor.
Hence the Curadigm team's concept of harnessing the potential of nanotechnology in order to occupy temporarily the hepatic pathway responsible for therapeutic clearance. The aim is to redefine the balance between effective and ineffective dose of a drug. "Our nanotechnology-based approach overcomes sub-optimal therapeutic bioavailability, while decreasing potential side effects of the treatment affecting the liver," said Germain.
Paris-based Curadigm, a subsidiary of Nanobiotix SA formed in May, 2019, is an early-stage nanotechnology company concentrating on improving patient outcomes by shifting the treatment paradigm. Its eight biology and physico-chemistry engineers and nanotechnology specialists have developed the Nanoprimer platform.
This nanotechnology is a lipid-based nanovesicle engineered with very specific physico-chemical characteristics such as a size in the range of 200 to 300 nm, an high negative surface charge in the range of -70 to -100mV and a specific composition to enhance Nanoprimer accumulation in the liver and interaction with cells involved in the clearance of the therapeutics, typically the Kupffer cells and the liver sinusoidal endothelial cells. The large size of the Nanoprimer prevents its passage through the space of disse avoiding its interaction with hepatocytes a potential interaction with other metabolization mechanism. Last but not least, this material is highly biodegradable in less than 24 hours. These liposomes break down, first into lysosomes, followed by degradation and recycling of phospholipids and cholesterol.
Curadigm's technology primes the body to receive the treatment. The Nanoprimer is administrated intravenously just prior to the therapeutic, and doesn't contain any active principal ingredient. It occupies and accumulates in Kupffer and endothelial cells in the liver which are responsible for clearing most therapeutics. Following this, the therapeutic is injected and benefits from the reduced liver clearance and increased systemic bioavailability.
Proof-of-concept in RNA-based therapeutics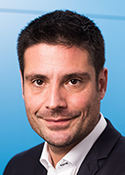 The first proof-of-concept for Nanoprimer took place in 2017. "The Curadigm platform was administrated using oncologically therapeutic irinotecan-loaded liposomes, in a nude mouse colorectal tumor model and led to reduced tumor growth and increased overall survival," said Germain.
During a two years collaboration, the team at Curadigm has been working with the Robert Langer Laboratory on the effectiveness of Nanoprimer for improving nucleic acid-based therapeutics. Langer is a professor at the Massachusetts Institute of Technology, and a specialist in polymers and lipids for delivering drugs, especially genetically engineered proteins and DNA and RNA.
Their work was published in Nano Letters in May 2020. Preclinical in vivo data indicated that Curadigm's technology can improve the effectiveness of RNA-based therapeutics, messenger RNA (mRNA) and small interfering RNA (siRNA). "Combined with therapeutics based on mRNA and siRNA, the Nanoprimer increased effectiveness by 32% and 49% respectively in the study. This correlated with decreased liver trapping of 40% for siRNA and 43% for mRNA, and 8- and 16-fold increased blood bioavailability respectively, without any associated increased toxicity.
Four major competitive advantages
After demonstrating the concept internally and through an independent laboratory the $1 million funding from Bpifrance "will support the ongoing preclinical development of Nanoprimer technology, as well as upscale manufacturing and partnering," said Germain.
The company is operating in a market already occupied by players in the field of RNA-based therapeutics such as American companies – Anylam Pharmaceuticals Inc, Moderna Inc., Akcea Therapeutics Inc., Ionis Pharmaceuticals Inc, Biontech Arrowhead Pharmaceuticals Inc. and German companies, Curevac GmbH and Biontech SE.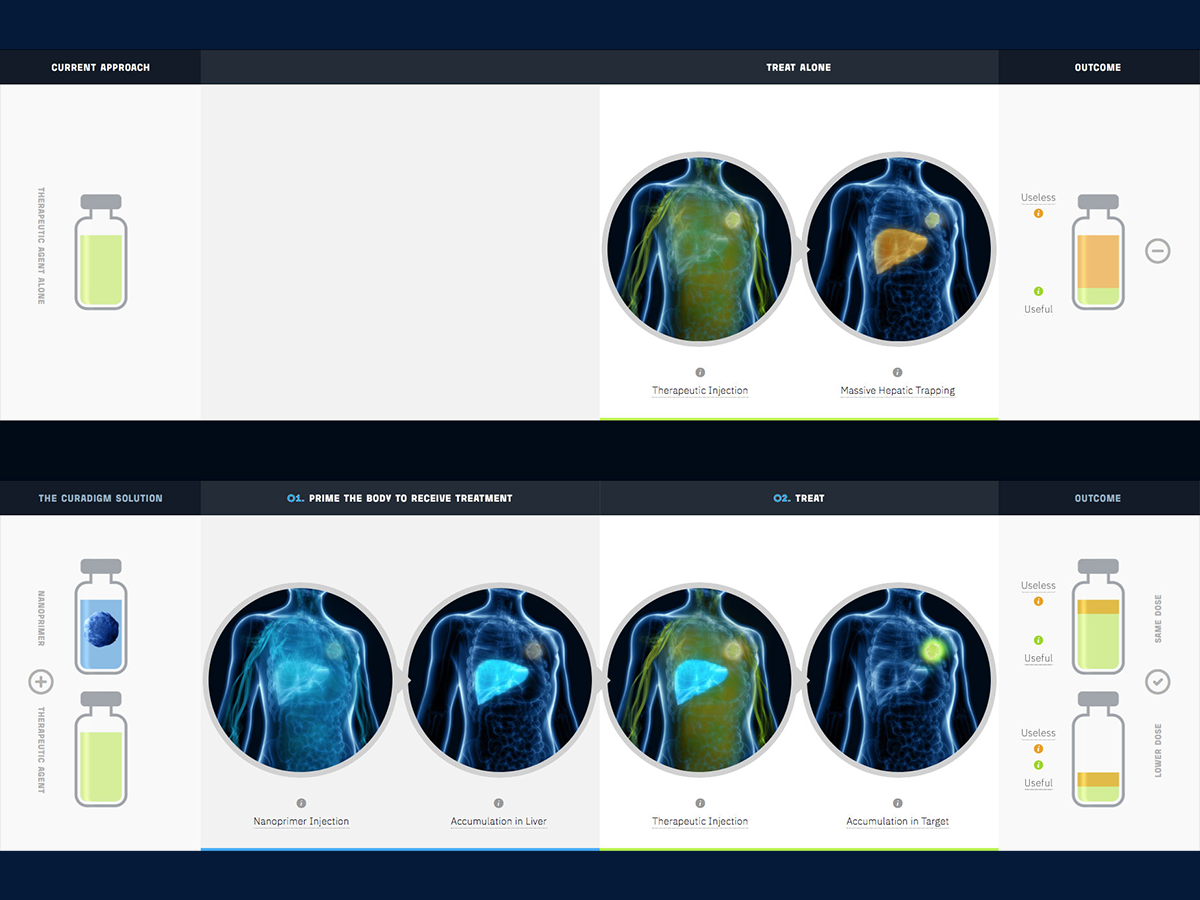 The Nanoprimer platform offers major competitive advantages. "First, it decouples bioavailability from efficacy, by separating these into distinct objects we can increase bioavailability of the therapeutics without modifying this last" said Germain. Next, Nanoprimer reduces potential liver toxicity. Lastly, the Nanoprimer synthesis is based on well-known methods, facilitating its manufacturing set up using robust techniques of production using affordable raw materials.
Curadigm has target the RNA therapeutics market, which presents an exponential growth ($1 billion in 2018 and $1.8 billion estimated in 2024) and massive investments (More than $2 billion has been invested since 2017 in early stage RNA companies from financing and partnerships). "Despite the massive investments and the number of companies working in the field, intravenously administered RNA based therapeutics still face the challenge of liver clearance limiting their clinical development. Curadigm's approach could solve this issue and increase the number of RNA based products available for patients in the up-coming years," Germain said.
An oncology nanomedicines market worth $144B
Curadigm also hopes to enter the oncologynanomedicines market, which accounts for 36% of the global nanomedicines market, or $144 billion. Curadigm's technology can be used in combination with any existing FDA approved or novel therapeutic candidates that are administered intravenously and cleared through the liver. Curadigm's model is built on partnering/licensing deals.
"These deals could involve multiple companies across different therapeutic technologies, such as nucleic acid, nanomedicines encapsulating small molecules, antibody drug conjugates, oncolytic viruses and genome editing materials," said Germain. Curadigm's flexible and versatile platform is aimed at various clinical indications: oncology, rare diseases, infectious diseases and central nervous system disorders.
The Curadigm teams in Paris and Boston, where there is now a subsidiary, are currently working to forge co-development partnerships based on a preclinical evaluation of the impact of the nanoprimer on the efficacy of the partner product. "It is a question of working in tandem, to evaluate the potential for increasing the therapeutic reach of their candidate drugs when combined with the Nanoprimer," said Germain.