Medi-Scan Inc. has emerged from stealth mode with cloud-based software that converts the data on ultrasound analog 2D grayscale images into a digital 3D high-definition (HD) format in less than two minutes. The company is currently focusing its efforts on the heart and lungs, with the aim of providing quick, point-of-service evaluation and triaging of patients with heart disease and other conditions, including those suffering from COVID-19.
The goal is to provide HD 3D ultrasound quickly, conveniently and at an affordable price.
Initially focused on tendons and sports medicine, Medi-Scan pivoted to address the need for better point-of-care (POC) imaging options for the lungs and heart as emergency rooms filled up with COVID-19 patients last year. While the respiratory toll of the coronavirus was already well known, data started coming out some months ago showing "this shredding of the fiber bundle of the inner wall of the heart," including in asymptomatic patients with no history of heart disease, David Rubin, Medi-Scan's chairman and CEO, told BioWorld.
A portable, hand-held solution
Typically, when COVID patients present in the ER needing a thorough evaluation, they have limited options – an X-ray or sonogram, which provide 2D grayscale images. To get a deeper dive, patients must be moved through the hospital to a CT scan or MRI, potentially contaminating people along the way and incurring time to disinfect the room after each examination.
With Medi-Scan's machine learning-based solution, clinicians have a portable, hand-held device that connects to their smartphone through a mobile app. The app includes multiple reporting features and a full, built-in EMR with telehealth capability.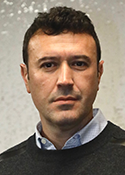 "When you're delivering a 3D image of whatever region you're focused on, you can do a scan not moving the patient in the ER," Rubin explained. As the patient's condition progresses over time, "you can walk over with a portable, wireless device and scan the patient and … get insights into whether the patient is getting better or worse."
The computer-intensive system includes advanced programming interfaces as well and can connect to a hospital's database, enabling real-time sharing of images and reports.
To date, New York-based Medi-Scan has developed algorithms to enable 3D imaging from ultrasound of the tendons, lung and heart. For the tendons, the company uses a technique called image segmentation, which acts as a filter to decrease the amount of speckle noise in the background.
Two techniques are employed in the lung, fast Fourier transform, which aggregates the background speckle caused by scar tissue and water infiltrates, and image segmentation, which concentrates on illustrating the scar tissue.
"For the heart, we do not attempt to eliminate the speckle. We actually attempt to identify and track the speckle," said Richard Parker, Medi-Scan's chief research officer, describing a technique called automated functional imaging. With the heart pumping, the ultrasound beam intersects tissues, causing speckles that can be tracked across the myocardium.
"All of these techniques are designed for us to track what's happening and predict where it's going," Parker told BioWorld. "We manage to do it with a hand-held probe and a cell phone by reducing the field of interest to what we're focused on and by specialized applications of the algorithm."
The beauty of the solution is that physicians don't have to fumble around with X-ray films and the like, he added. "All they need to do is a simple 15-second scan of the patient, and the device and the programming behind the device will automatically tell them whether it's getting better or worse and what the rate [of change] is." The whole process, from scan to report, is completed in under two minutes.
What's next?
The product is being tested in a major New York teaching hospital, and Medi-Scan is lining up other sites and searching for the right institutional review board and clinical research organization to propel the device forward in clinical trials.
Meanwhile, the company has filed for emergency use authorization (EUA) with the U.S. FDA for the heart and lung indications and plans to apply for breakthrough device designation within the next couple of weeks, Rubin said.
The solution has implications beyond the ER, Rubin said, noting most primary care doctors don't have CT or MRI capabilities on site and must refer patients elsewhere for 3D imaging studies. Not only does that require the patient to travel to another facility, most likely on another day, but it delays diagnosis and treatment. With Medi-Scan, however, if a doctor has an X-ray or sonogram device, they can take that scan and convert it into a digital image.
"From the perspective of being able to accomplish a 3D image that gives the primary care physician a direct view into the area they're looking at, that can help determine the situation of the patient much quicker and much more cost-effectively for a sonogram than for an MRI," he said.
Founded in 2018, Medi-Scan is a subsidiary of New York-based Healthtech Solutions Inc. Medi-Scan's founder contributed $1 million in seed funding, and the company subsequently raised $775,000 in debt, according to President and COO Manuel Iglesias. Rubin and Iglesias serve as CEO and president of the parent company as well.
On Monday, Healthtech Solutions (OTC:HLTT) filed a $75 million Reg A with the Securities and Exchange Commission to finance future growth, research and development of Medi-Scan and other health technology solutions. The company is offering up to a maximum of 1.5 million shares of series B preferred stock, $0.001 par value, at an offering price of $50 per share.
If all goes as planned, Medi-Scan hopes to commercialize its product before the end of the year.
"The algorithm we keep tweaking and getting it perfect, and by the time we're done with our pathway, it's going to be spot-on," Rubin said.
In addition to the lung, heart and, following those, the tendon, the company sees a range of potential applications including the Achilles tendon, the wrist and carpal tunnel syndrome, among others.