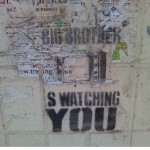 While 2012 has dawned everywhere else in the world, it's still 1984 at the FDA. With its Bad Ad program, whistle-blower suits and spotters of conference crimespeak serving as its globalwise eyes and ears, the agency has adopted Big Brother (BB) tactics to promote goodspeak among drugmakers while crimestopping off-label promotion, bringing new life to George Orwell's newspeak.
In the newthink of the FDA, quality of life (QOL) is one of those doubleplusungood phrases that a biotech dare not utter – unless it has conducted a doubleplushuge, FDA-approved, randomized, controlled, double-blind pivotal study, including doubleplusvulnerable populations and diverse subpopulations, to demonstrate a statisticwise improvement in the primary endpoint of QOL as measured by patient-reported outcomes on the U.S. Standardized Scale of Life Quality Factors. QOL, after all, is an indication – just like cancer or rheumatoid arthritis.
Once the data are in, the FDA would convene an advisory committee of unconflicted goodthinkers with a bellyfeel for QOL issues. This Good Life Advisory Committee (GLAC) would be asked to define QOL and weigh the good and the ungood of whether the study data support an improved QOL indication. For instance, was the follow-up period long enough to establish longwise improvement? Did the trial include patients with comorbidities such as unhappiness, drug ungood use or alcohol doubleplususe?
Once past the GLAC, the bigwise challenge for drugmakers would come after the FDA approves the indication. That's when BB will doubleplusstart watching, using its Sentinel Initiative and FDA Adverse Event Reporting System to trend ungood QOL events such as unexplained frowning, occasional bouts of sadness, tearing of the eyes, flashes of frustration, weight gains, unplanned pregnancies, job losses, relationship problems, etc.
But since the FDA is unlikely to approve a drug for QOL, drugmakers need to speedwise forget their oldthink and become goodthinkful FDA newspeakers.