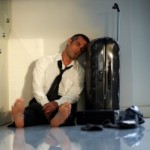 Day One: The wait is over! I leap off the bus and race the other lively stepping attendees to the registration corridor, exchanging pleasantries with everyone I pass. My first-day euphoria high carries me though five sessions, over three miles into the evening, where I meet with equally giddy colleagues to network, wine and dine on my boss's dime!
One of my kids calls me in the middle of dinner, but I manage to resist the Super Dad habit to answer . . . "I'm in a free zone force field, unreachable to handle family stuff!" She must've forgotten that I primed everyone to the fact that I would be busy every minute of every day for four days.
Day Two: Woke up groggy from four hours of sleep, but still with a positive attitude, although unaware that the game plans of my mind and body were heading in different directions. I persisted with the attitude that time is valuable and must be optimized to make the most of the week. However, back-to-back-to-back-to-back sessions left me running on fumes by afternoon. I contemplated taking a nap, but I dared not sleep in my state, for fear of missing my Friday morning flight.
Day Three: I couldn't find my stylish shoes this morning. Finally I discovered them hiding underneath the armoire in my hotel room where they had tied their shoestrings to the legs in intricate Navy Seal knots. Evidently, they had heard the heat-wave-imminent weather report and had resolved to divorce themselves from the grueling task of resuming our four-day BIO-exodus in the convention center desert. They had a sticky note on the inside that read, "For the love of Hermes' winged feet, we are Armani – not Dr. Scholls!"
I have to commend my shoes for their insight, as those 96 degrees felt like 96 more pounds added to my frame as I trekked around town to the evening's round of parties and the gala reception.
Day Four: The convention center looks like a zombie wasteland, with attendees waddling and ambling without apparent purpose or direction, other than to wait for the appropriate time for departure to the airport. The remaining exhibitors – apparently the ones who had drawn the short straws – fingered their smart devices, not even bothering to look up as last-minute foragers pillaged their booths of all bounty, each scooping up pens, bags and tchotchkes by the dozen without the threat of the marketing quid pro quo, or doodad-for-data swap, that had been required to extract as much as a breath mint from their booth strongholds the previous three days.
I was ready to go, with one tired foot already out the door, when I sucked it up and decided to attend that one last Thursday session – the one with the heavy IP topic that was sure to add another few psychological pounds of mental fatigue baggage onto my psyche's overloaded briefcase. But lo and behold, it turned out to be the zenith of my BIO 2012 experience, with useful information, receptive networking contacts and great story material.
Suggestions for the Brain Trust at BIO
Next year, please consider adding moving sidewalks and chair masseuses.
How about an inaugural BIO convention on the high seas?
Or, for this crowd of ultimate risk takers, consider another meeting site; here's the phone number for the Las Vegas Convention Center: (702) 892-0711.