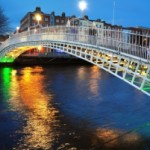 DUBLIN ‑ Europe's biggest scientific carnival is pitching its tent beside the River Liffey this week. Dublin is playing host to the Euroscience Open Forum (ESOF) 2012 meeting and, thereby, assumes the mantle of Europe's City of Science for the year.
Conceived as Europe's answer to the annual meeting of the American Association for the Advancement of Science, ESOF has become an increasingly visible element in Europe's efforts to foster a shared scientific identity. Although different European countries have vastly differing scientific heritages, their scientific futures are converging, thanks to an increasing level of recognition, both in Brussels and across the continent, that the region can only compete on a global basis if it acts in concert.
Ireland's bid to host the event was originally conceived as its coming of age as a location for high quality scientific research, following an expansive strategy that began just over a decade ago. At present, however, the mood is not entirely celebratory. The present government's commitment to open-ended, blue-skies research has wavered, following a catastrophic banking collapse in 2008, which culminated in the country entering a bailout program administered by the International Monetary Fund and the European Central Bank. Although funding for science has held up, just about, a recent sharp turn to a more industrially focused research agenda has been met with anger and dismay by some of the country's leading scientists.
Even so, there will be plenty to celebrate in Dublin this week ‑ in terms of both homegrown successes and the very best of international science. The recent (apparent) detection of the Higgs boson at CERN, in Geneva, will provide one important focus for the meeting. CERN's director general Rolf Heuer will be in town. But the physicists will have to share the limelight with a clutch of heavyweights from the life sciences world, including Nobel laureates Jules Hoffman (2011), Peter Doherty (1996), Torsten Niels Wiesel (1981) and James Watson (1962).
One event of interest to both camps will be Craig Venter's What is Life lecture at Trinity College Dublin on Thursday evening. This will commemorate the original 1943 lecture series by Erwin Schroedinger, one of the founders of quantum mechanics, who spent 14 years in Dublin during and after the Second World War. Schroedinger's book of the same name, which appeared in 1944, was a key text in the early development of molecular biology and a source of inspiration for James Watson and Francis Crick. Watson will be on hand to respond to Venter's address. It might be an exaggeration to dub the event Clash of the Titans, but it's an intriguing prospect nonetheless.