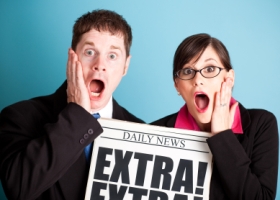 We at BioWorld actually contemplated putting out a zany blog about biotech to commemorate April Fools' Day – i.e. biotech firm develops drug for childhood cooties, or something equally ridiculous – but, in the end, we decided to pass. And a good thing, too, because we never would have been able to top a spoof press release sent out by antibody firm ImaginAb.
The Ingelwood, Calif.-based firm said it was changing its name to "AmaginAb," because most of the successful firms in biotech have names that start with the letter 'A" and "we were forced to acknowledge that we might never get acquired with a name that starts with 'I'," said CEO Christian Behrenbruch.
Plus, the new name better reflected its "overall awesomeness."
But never fear. ImaginAb is really keeping its name, so don't rush to update your Outlook contacts or rolodexes. The firm said it opted for this April Fools' Day stunt because "we are hiring and wanted your attention."
Well played, ImaginAb. Well played.