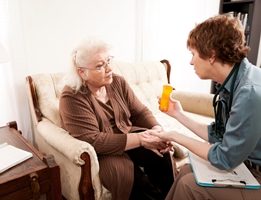 How much time do you spend with old people?
That's a loaded question, of course. Age is a relative term, since we age every day and so does the world's population. Even though the global median age was estimated at a mere 29 years in 2010, the number of people 65 and older is projected to triple by mid-century, from 531 million in 2010 to 1.5 billion in 2050, according to the Pew Research Center. In the U.S., the population of seniors is expected to more than double, from 41 million to 86 million.
Still, I spend a lot of time with people older than I – many of them by several decades or more, putting them into their 80s and beyond. And what I've observed about their use of medications, in light of what I report about the development of novel drugs, brings home some of the findings from BioWorld's recent series on the lack of diversity in clinical trials.
Many of the broadest categories of disease – cancer, heart disease, pulmonary disease, neurodegenerative disease – are largely diseases of aging, either of the body or of individual cells, yet drugs in development for these indications still are mostly tested in populations several decades younger than the primary end users. Certainly, that strategy provides a more homogenous population to convince regulators of the safety and efficacy of drug candidates. But are these findings transparent, or translatable?
For many elderly adults, and the people who care for them, the answers are unclear. Consider the seemingly simple use of inhalers for asthma and chronic obstructive pulmonary disease – common indications that require dosing by elderly users with diminished cognitive functioning, eyesight and motor skills, if not outright impairment. A friend in his mid-80s recently shared with me the package insert for his inhaler, which came from a brand developed by a big pharma. The instructions include six low-resolution black and white photos and two pages of jargon explaining how to use the inhaler, which must be held upright while the lid is twisted in a counterclockwise motion and a small dose counter is pressed to deliver "the right amount of medicine with each dose." The cap must be replaced after wiping the mouthpiece dry, lining up a small arrow with the dose counter and turning until the top clicks into place, since "this is the only way to be sure that your next dose is loaded the right way."
I can't argue with the need for proper dosing, or the challenge of adding a device to deliver inhaled drugs when they're more effective than oral medicines. And at a glance, the inhaler seems easy enough to use. But have you watched an 85-year-old with arthritis, who lives independently but wears glasses and hearing aids and walks with a cane, attempt to dose such medicine correctly? It's not a pretty sight. Are such limitations assessed during clinical trials? I think not.
Twenty-nine of the 35 studies that examined this product, from phase I though phase IV, specified that "aged" adults – those 65 to 80 years old – could be enrolled, and 21 specified that "elderly" adults over age 80 could be enrolled, according to Cortellis Clinical Trials Intelligence. Trying to gauge whether or how many of such users actually tested the product is a little tricky, however, since most of the trials also featured exclusions that would effectively restrict the participation of older patients – a common occurrence, according to BioWorld's series.
Five trials – three of them postmarketing studies – specified that subjects up to age 65 could be enrolled. Only one trial, also a postmarketing study, specified that subjects up to age 75 could be enrolled, and it was terminated due to poor enrollment and a high screening failure rate. No trials for the product explicitly included adults over age 75 as part of the screening criteria. Those numbers don't represent a ringing endorsement on the rigor of study in the oldest users.
Sadly, testing of oral medications by adults 80 and older is not markedly better. According to the most recent prescription drug data from the Centers for Disease Control and Prevention (CDC), nearly 40 percent of adults 65 and older – those 80 and older are not counted separately – took five or more drugs in the previous 30 days during the study period, from 2007 to 2010. Among adults aged 65 and over, 70.2 percent took at least one cardiovascular agent in the past 30 days during the study period. However, more than half of trials for coronary artery disease during the past decade didn't enroll a single patient older than 75, and the geriatric population represented a paltry 9 percent of patients included in such trials, according to BioWorld's clinical trial series.
Even when trials do enroll older people, they're often conducted under best-case conditions that don't attempt to simulate real-world usage. Try opening the typical bottle of prescription medication and grasping a single pill while wearing a pair of leather gloves, and you'll get a sense of the fine motor skills of most 80- and 90-year-olds. And consider how many bottles of little white pills – virtually indistinguishable from each other – older adults with poor eyesight take each day, often at different dosing schedules. It's not surprising that adults 65 and older have the highest number of emergency department (ED) visits of any age group in the U.S., according to the CDC. Although many of those occur as the result of heart attacks, strokes, falls and other medical emergencies, adults 65 years or older are twice as likely as other age groups to come to EDs for adverse drug events – more than 177,000 such visits each year, according to the CDC – and they're nearly seven times more likely to be hospitalized after an emergency visit. I can't help but wonder how many of those episodes could be eliminated by more careful study of prescription drugs in this population during clinical development.
Recently, my mother-in-law, who has Alzheimer's disease, became one of those statistics following a course of antibiotics and pain medicines prescribed during a bout with pneumonia. Although she still recognizes and remembers her children and grandchildren, she became delusional and argumentative in response to the drugs – in combination with her existing medications and her illness, to be sure. But the upshot was that medications deemed safe and effective to prescribe for pneumonia and pain in an 85-year-old with dementia prompted psychotic outbursts. After several weeks in the hospital, the pneumonia improved but the cognitive symptoms did not, and our family now faces the very real prospect of a precipitous decline in her health rather than the previous gradual course of her dementia.
I'm not indifferent to the fact that these situations represent challenging issues for drugmakers, who are seeking to move effective compounds to market as quickly as possible, as they should. But it's just as important to consider the human costs if drugs are misrepresented as appropriate for populations where they haven't been adequately tested. BioWorld's series on clinical trials also elucidated serious underrepresentation in enrollment across gender and race, but the only category that cuts across every population at some point is age. We're all heading in that direction, folks. Most drugs in development are designed to prolong our lives. Those who live to a ripe old age should have some assurance that the drugs they take are safe and effective for their own use and not just for their children and grandchildren.
Many socioeconomic issues affect the use of prescription drugs by the elderly, and some are largely outside the control of drugmakers. But it's not rocket science to accept that older patients have different levels of drug absorption, distribution, metabolism and excretion. Their bodies just don't work efficiently, in every sense of the word. The FDA says it wants drugmakers to enroll broader study populations that encompass more seniors, but drugmakers shouldn't wait for more regulation. Until older adults are included in clinical trials in proportion to their use of a proposed drug, evidence collected on the safety and efficacy of such medicines in the geriatric population will remain murky, at best.
Sure, developing effective medicines to treat sick children and adults in the prime of their lives is a rewarding exercise that tugs at our heartstrings. But let's be real: Most of the drugs marketed by our industry are consumed in active adult and retirement communities, senior centers, assisted living residences and nursing homes. They're prescribed to our mothers, grandmothers and great-grandmothers. These users deserve assurance that the drugs they take will help them and not make the challenges of old age even worse.
Editor's note: BioWorld recently took an in-depth look at the troubling lack of diversity in clinical trials. The five-part series examined the business case, the disparity of trial populations in terms of gender, ethnicity and age and the impact on the regulatory environment.
As demographics shift, drugmakers face growing chorus to diversify trials
Who's the default? Increases in women's participation in studies bring uneven gains
Negotiating a place for race in the age of personalized medicine
Elderly patients are often underrepresented in clinical trials
Lack of trial diversity: Is that situation really an unavoidable reality?