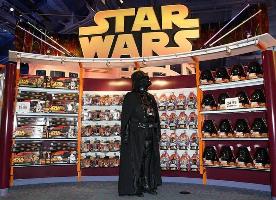 Let's face it, Star Wars references are unavoidable in this year's holiday gift guide. Not convinced? I find your lack of faith disturbing.
Several members of our intrepid staff and respondents to our annual poll gave a nod to the awakening force. Jennifer Boggs, BioWorld's managing editor, was lamenting about holiday gifts like toasters that are practical but, let's just say, not very exciting when she discovered "there are some cool toasters after all. I stand corrected." Her find was the Star Wars Darth Vader toaster, a true likeness of the famously redeemed villain, although you'll have to look for yourself to see the dark side of this product.
BioWorld Asia staff writer Alfred Romann offered another Star Wars idea "for children young and old." With more than 1,300 pieces, the Lego Millennium Falcon is an adventure that's "fun to build and almost cathartic to follow the instructions," he said, striking a tone of experience. Before you open the box, just remember: Do. Or do not. There is no try.
Of course, there's an all-out imperial merchandise assault this holiday season. Other Star Wars-themed gifts include character-inspired sleeping bags, giant wall decals and salt and pepper shakers. Just don't insult the Wookiee in your world by describing one of these finds as "What a piece of junk!"
Penney Holland, product manager for BioWorld, suggested a gift set of another movie trilogy that this year hit the big 3-0: Back to the Future, which celebrated its anniversary on Oct. 21, complete with its own commemorative section in USA Today.
And in a nod to a movie released more than 20 years ago, where Forrest Gump's momma always said, "Life is like a box of chocolates," consider a Doctor's Orders chocolate gift basket. Among the offerings are individually wrapped milk chocolate bandages to serve as the "ouchless cure" for life's little hurts.
Beyond movie-themed ideas, this year's gift bag holds a cache of clever choices. Mel Science offers a subscription to a variety of chemistry kits, each containing two to three experiments that families can enjoy together to increase a child's love of science.
Twitter follower @araskopf messaged us, "I vote for LEGO Ideas Set #21110 Research Institute (perfect for my 3 boys)." Created by real-life geoscientist, Ellen Kooijman, the collection depicts three research settings – all featuring female scientists.
BioWorld staff writer Michael Fitzhugh related that "one of my favorite gift ideas is a One World Futbol. For less than $50, you can not only buy an indestructible soccer ball but also share the power of play with children across the world by supporting the One World Play Project's efforts to give away thousands of One World Futbols every month and support organizations working with youth in disadvantaged communities worldwide."
On the theme of making the world a better place, consider Heifer International, where you can buy a flock of ducks, chicks or geese – or larger animals – to help an impoverished family work its way to a better, healthier life.
And in an incredible but true story, the Apopo Foundation trains African giant-pouched rats to save lives by finding land mines or detecting tuberculosis. The worthy effort stretches science in several compelling directions.
For those who prefer to snuggle inside with a good read, BioWorld staff writer Sergio Held suggested a title that's become a perennial favorite: Rebecca Skloot's page-turner, The Immortal Life of Henrietta Lacks. As Held pointed out, the book is not just a must-read for science enthusiasts but also an inspiring piece of journalism for those of us who cover the field.
On a lighter note, BioWorld staff writer Randy Osborne recommended the always-popular giant microbes. Who knew that neurons could be so cute at 1 million times actual size? And for the true science geek, consider the cerebral coasters suggested by Karen Sharma at MacDougall Biomedical Communications.
For personal health, BioWorld's database editor, Karen Pihl-Carey, recommended the Oral-B PRO 7000 SmartSeries Electric Toothbrush with Bluetooth, which claims to be the first "smart" toothbrush to communicate with your smartphone, offering real-time feedback with an app to track your dental habits and offer helpful oral care tips.
At a bigger scale, BioWorld Insight editor Peter Winter proposed giving the gift of a DNA overview from 23andme, which recently moved into therapeutics development, as well. "As a 23andme customer you can opt into research contributing to over 230 studies that range from Parkinson's disease to lupus to asthma," Winter observed. "What better way of joining the precision and personalized medicine wave?"
Looking for something a little less personal? The 6 Degrees PR team suggested a DNA, kiss or fingerprint portrait from DNA11. Think of it as "a scientific selfie – the opportunity to make completely unique art," offered Heather Anderson.
Oleg Nodelman, founder and managing partner of EcoR1 Capital Management LLC, offered another cool tool: Scio, a tiny molecular sensor that allows a user to analyze – instantly – the chemical make-up of food, plants, medications and other materials in the environment and send the information directly to their smartphone.
And to protect those ubiquitous phones, DesignMavensNYC offers a variety of iPhone cases, including a clever cheat sheet with the periodic table.
Nicole Cottrill of DVL Seigenthaler admitted that "I am a sucker for gifts featuring the periodic table of elements," and she had more suggestions along that line. Cottrill recommended the "I wear this periodically" T-shirt for men and the periodic table tunic for girls. "I use this pillow periodically" is a great addition for an office or study, while cooking enthusiasts might prefer the periodic cutting board. For an elegant touch, Cottrill suggested some great bracelets – "still science-y but a little more understated," she said – and cuff links.
"I could go on and on," she admitted. "But I'll stop there."
Of course, science always lends itself to unique apparel designs. James Hayden, managing director of The Wistar Institute's Imaging Facility, recommended its new line of silk scarves imprinted with colorful patterns captured from photomicroscopic images of the rabies virus or fruit fly embryos. Hayden called the scarves – and pocket squares for men – a "contagious" fashion trend.
BioWorld staff writer Cormac Sheridan enthused over Deb Sklüt's original, hand drawn screenology T-shirts, which have particular appeal for microbiologists – whether budding or aging, he said. Designs run the gamut, from E. coli to bacteriophage T4 to Trypanosoma, plus a host of other bugs, bodily organs and scientific instruments.
John Kouten of JFK Health suggested smorgasbord of biotechnology gifts. From science-themed T-shirts to tree ornaments, mugs to mouse pads, there's something here for everyone on your list.
Ludger Wess of Akampion recommended the science-themed educational tools developed by James Kennedy, an Australian science teacher, as well as Kavin Senapathy's equally educational book, The Fear Babe, which relates "what science has to say about dubious claims by the self-proclaimed Food Babe," author Vani Hari.
On the high-tech side, Aline Schimmel of Scienta Communications has a 3D printer on her list. "The prices on these have come down substantially – you can pick one up for $2,400, and that's less than the price of some TVs," she said. At least one model will follow an ink sketch to engrave or cut out patterns from wood, plexiglass, paper, leather and other materials. "I can't say that I need one for work or that my job would be at all improved by having one, but I still want one," Schimmel said. "Who wouldn't?"
Seems an intuitive gift, considering the FDA this year approved the first 3D printed drug.
Frequent business travelers who hate to leave their pets might appreciate a Petcube, said Amanda Lanier, BioWorld's production editor. For $199, Petcube goes beyond a simple webcam to provide a two-way audio stream, allowing owners to talk to their pets. A built-in laser pointer also allows owners to put their pets through their paces with some well-deserved playtime, right from a smartphone.
For the foodie in your life, Lanier suggested the science of molecular gastronomy, an up-and-coming trend that incorporates physics and chemistry to study the transformation of ingredients during the cooking process. Bringing the science lab into the kitchen may allow your favorite chef to experiment with popular techniques such as spherification, gelification and emulsification.
Along those lines, Laura Vitez, principal business analyst for Thomson Reuters Recap, suggested an ice cream maker as a great gadget for families. "We have lots of scientists (especially my engineer husband) around here and have had great fun experimenting with all the different variables that go into the perfect ice cream or gelato," Vitez said. "We may have gotten a bit competitive, as well, but I'm not saying ..."
The holidays also come with those once-a-year updates to friends and family far and wide. What better way to say "peace" than with peptides? The design represents a protein formed from amino acid units whose shorthand initials spell out the word. If that message isn't quite your style, consider holiday spice molecule or serotonin wreath holiday cards.
Prefer a different form of communication? BioWorld staff writer Brian Orelli suggested downloadable chemoji from the American Chemical Society. The chemistry-themed virtual stickers feature 24 chemoji, including the ACS mole, the chemical structure of caffeine, and the chemistry cat. "It's free, but the ability to send the chemical structure of caffeine is priceless," Orelli deadpanned.
Happy shopping to everyone in the biotech world! And best wishes for an even healthier 2016.