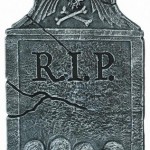 It looked Monday as if two of biotech's long-suffering names might finally be biting the dust.
Genta Inc. threw in the towel on beleaguered antisense drug Genasense (oblimersen sodium), after a final analysis of a Phase III melanoma trial – and a previous Phase III melanoma trial, and a Phase III chronic lymphocytic leukemia trial, and a Phase III multiple myeloma trial, and a melanoma approval bid, and a CLL approval bid, and a second CLL approval bid – failed.
Meanwhile La Jolla Pharmaceutical Co., which already abandoned lupus drug Riquent (abetimus sodium) after years of mixed data and failed approval attempts, said a preclinical study of tissue regeneration candidate LJP1485 is unlikely to meet its endpoints, potentially hampering future financing.
Genta (OTCBB:GNTA) trades at two cents, and La Jolla (PinkSheets:LJPC) trades at a penny, which means fundraising efforts for either company will be difficult. But I wouldn't throw these guys in the cart yet. They may not be shouting "I feel happy! I think I'll go for a walk!" – but they aren't dead yet either.
Why? Because biotechs just don't die all that often. Their lead products fail, their back-up products fail . . . and they discover or in-license something else. They merge, they recapitalize, they keep going. The exception to this seems to have occurred in 2009 and 2010, when intense economic pressures actually squeezed a few dozen biotechs out of existence. Some folks say the consolidation isn't over, but it doesn't seem as intense as it was at this time last year. So if La Jolla and Genta survived this long, what's to say they won't find a way to keep going – for better or for worse?