Oxford University startup Ultromics Ltd. has won the U.S. FDA's nod for its artificial intelligence (AI) image analysis system for diagnosing coronary artery disease. Called Echogo Core, the system is intended to serve as an aid to cardiologists in evaluating echocardiograms of patients referred with symptoms such as shortness of breath and chest pain.
Ross Upton, co-founder and CEO of Ultromics, called the clearance a "watershed moment" for the company, which began developing its algorithm-based system in 2011 and was spun out of Oxford University in 2017. The next stage for the company is commercializing the product and bringing it to clinicians in the U.S. Ross said the company expects to launch the product in the beginning of next year.
Commercialization effort gearing up
Oxford, U.K.-based Ultromics will be targeting a mixture of academic centers, integrated delivery networks and clinician offices, Upton said, adding that there are about 60 million scans performed each year in the U.S. that Echogo is applicable to. The company recently hired Amir Hasan, formerly global head of cardiology informatics at Royal Philips NV, as its chief commercial officer. He's busy assembling a U.S. team to handle sales and marketing here. "We already have three people and plan to bring on a much larger team to help that rollout," he told BioWorld MedTech.
To support the rollout and scale up the company, Ultromics is planning a funding round in the near future. The goal is to raise about £15 million (US$19.3 million). "Obviously, 60 million scans is a massive market for us to be able to meet, so we do need to scale very rapidly," Upton said. The company previously raised a total of £12 million in two earlier financings.
Echocardiograms are one of the primary means of diagnosing coronary artery disease, but much of the information they contain is currently ignored, leaving cardiologists who assess echocardiograms to base their diagnoses on a limited number of visual elements. By contrast, Echogo houses thousands of data points that can be matched to confirmed diagnoses in the image database, providing clues undetectable by the human eye.
The algorithm Echogo uses was trained on more than 5,000 echocardiograms housed in what is believed to be the largest commercial heart imaging database in the world. It was compiled by Paul Leeson, professor of cardiovascular medicine at Oxford University and co-founder of Ultromics. Upton wrote the algorithm while he was a graduate student at Oxford.
Automated strain analysis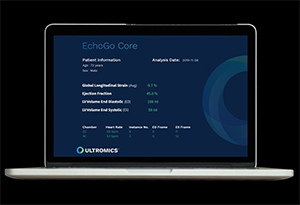 The vendor neutral Echogo uses AI to calculate left ventricular ejection fraction, the most common measurement of heart function, left ventricular volumes and automated cardiac strain. "Strain has shown to be very valuable in cardiovascular diagnostics and has been demonstrated in published studies to be linked with earlier detection of disease and improved patient outcomes," Upton said, adding that Echogo will be the first AI application to include automated strain analysis.
The FDA based its decision on the EVAREST clinical trial, a 5,000-patient study across 30 U.K. National Health Service hospitals that was administered by Oxford University. Those trials demonstrated Echogo's substantial equivalence to its predicate device, Contec Medical System Co. Ltd.'s ECG80A, as well as other benefits, Upton said. "Because it's fully automated, there's absolutely no variability when using our device like there is with some of the other systems on the market . . . because the clinicians don't actually measure with the device. It's done by artificial intelligence."
In seeking FDA clearance and a foothold in the U.S. echocardiography market, Ultromics was keen to ensure the safety of patient data. To that end, all images were anonymized inside the hospital firewall and then exported to a secure cloud for analysis. "We never see any patient data. We don't store patient data. . . . We only ever receive a copy of the anonymized data," Upton said.
RANIER trial
A second, U.S.-based study was recently completed to evaluate a new feature for Echogo. While the current device provides all the numbers that underpin a diagnostic recommendation, the RANIER trial supports a feature that would actually provide such a recommendation. Ultromics hopes to win FDA clearance of that device in the first part of 2020, Upton said.
The company is also looking to get CE mark approval for its initial device next year. "We are still trialing it in the 30 different hospitals across the U.K., and we're looking to expand that trial even further," Upton said. Once the CE mark is in hand, Ultromics hopes to be able to implement it back into U.K. hospitals "in a way that they don't have to pay a premium for it, because at the end of the day, they contributed all of the data that went into this innovation," he said.
For a new company, launching a product for the first time in the U.S. can be daunting, but Upton contended Ultromics is in a good situation to meet the challenge. Starting in January, CMS will reimburse clinicians for up to 12 minutes of time analyzing and interpreting echo images. Since Echogo is completely automated, that's 12 to 15 minutes of time saved per clinician per patient, and with 60 million scans per year, a significant savings.
"It's rare to get a clearance for an AI device, and it's especially rare to get a clearance and also have a reimbursement code that we can use with our AI device," Upton said. "That's where a lot of companies have struggled."