Myovant Sciences Ltd. reported that its lead candidate, relugolix, met its primary efficacy endpoint and all six secondary endpoints in a phase III study of men with advanced prostate cancer, adding new strength to the asset's story, analysts said. Results of the study, called Hero, set the stage for Myovant to file an NDA in prostate cancer in the second quarter of 2020 and to pursue additional ex-U.S. regulatory approvals. Company shares (NYSE:MYOV), a majority of which are owned by Sumitomo Dainippon Pharma Co. Ltd., rose 113.2% Tuesday to close at $12.92.
Relugolix is a once-daily, oral, gonadotropin-releasing hormone (GnRH) receptor antagonist. While calling the women's health applications of relugolix, uterine fibroids and endometriosis, "the core focus for MYOV shares," J.P. Morgan analyst Eric Joseph suggested new prostate cancer data add "unique optionality for relugolix within the GnRH antagonist class."
In Myovant's Hero study, 96.7% of men achieved sustained testosterone suppression to castrate levels (< 50 ng/dL) through 48 weeks, with the lower bound of the 95% confidence interval hitting 94.9%, putting it "well above the FDA's approvable threshold of 90%," SVB Leerink analyst Ami Fadia said. The next key readout for relugolix in prostate cancer will be the analysis on castration resistance-free survival in the third quarter of 2020, she said.
In addition to meeting Hero's primary endpoint, the trial found the response rate for relugolix to be noninferior to injectable GnRH agonist Lupron (leuprolide acetate), the current standard of care to lower testosterone levels, which will support regulatory submissions in Europe and Japan.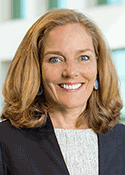 Investigators randomized men enrolled in the study 2-to-1 to the relugolix and Lupron treatment groups, respectively. After a 360-mg loading dose, each relugolix participant received a 120-mg tablet once daily for 48 weeks. Men randomized to receive Lupron got an injection of that medicine every three months.
All five key secondary endpoints in the trial tested for superiority to Lupron, with measures of testosterone suppression to castrate levels of days four and 15; testosterone suppression to profound castrate levels defined as less than 20 nanograms per deciliter at day 15; PSA response defined by the proportion of men with at least a 50% reduction from baseline at day 15; and FSH suppression measured at week 24.
Myovant's team expects to present data from an additional key secondary endpoint, an evaluation of castration resistance-free survival on the entire cohort of 434 men in the study with metastatic disease, in the third quarter of next year. "A superiority in the rate of castration resistance (measured by PSA relapse) could potentially differentiate relugolix from the GnRH agonists on the market and put Myovant in a strong position to negotiate with payers," Fadia said.
The overall incidence of adverse events in the relugolix and Lupron groups was comparable (92.9% vs. 93.5%, respectively). In the relugolix group, 3.5% of men discontinued the study early due to adverse events compared with 2.6% of men in the leuprolide acetate group.
To qualify for the Hero study, men had to have prostate cancer requiring androgen deprivation therapy for at least a year. Altogether, 934 men have enrolled in the study to date, though about 1,100 patients are expected to be enrolled before the trial is complete.
Myovant licensed relugolix from Takeda Pharmaceuticals International AG in April 2016. Should it gain approval, Myovant is expected to look to Sumitomo to leverage that organization's U.S. commercial infrastructure and operational support, an opportunity afforded by Sumitomo's recent $3 billion buy-in to the Roivant Sciences Ltd.'s stable of 'Vants.
Under its licensing agreement with Takeda, Myovant would be obliged to pay a fixed, high single-digit royalty on net sales.
With the arrival of the new relugolix data, Myovant's president and CEO, Lynn Seely, reminded investors during a Tuesday conference call that the company is busy preparing two NDA submissions in the first half of next year: one for relugolix monotherapy in prostate cancer and the other for a once-daily relugolix combination tablet for the treatment of heavy menstrual bleeding and uterine fibroids.