DUBLIN – Novartis AG is making a $9.7 billion bet that the economics of an siRNA-based drug can better those of monoclonal antibodies and thus provide it with a dominant position in a major but still emerging cardiovascular drug market. The Basel, Switzerland-based pharma made an $85 per share offer for The Medicines Co., which has taken inclisiran, an siRNA-based inhibitor of proprotein convertase subtilisin/kexin type 9 (PCSK9) to the brink of an approval in reducing the risk of a cardiovascular event – heart attack or stroke – in high-risk patients with cardiovascular disease or high levels of low-density lipoprotein cholesterol (LDL-C) who are inadequately controlled on current therapies.
The Medicines Co. plans to submit an FDA filing in the current quarter and a European filing will follow in the first quarter of 2020. Discussions about filing requirements in Japan and China are well advanced. A commercial launch in the U.S. is expected in early 2021.
The deal, which has the unanimous backing of each company's board, ups the ante considerably in a drug market that has promised much but so far failed to deliver in terms of commercial performance. Reimbursement and affordability hurdles have slowed adoption of the two approved antibody-based inhibitors of PCSK9, Repatha (evolocumab) and Praluent (alirocumab), which are marketed, respectively, by Amgen Inc., of Thousand Oaks, Calif., and by Paris-based Sanofi SA and its partner, Regeneron Pharmaceuticals Inc., of Tarrytown, N.Y.
Each gained approval in 2015, but neither product is yet even close to the blockbuster expectations that accompanied their development – and their developers have slashed prices from $14,000 to $5,850 for an annual course of therapy in an effort to improve adoption. Amgen reported $461 million in sales of Repatha for the first nine months of this year; Sanofi reported $207 million in sales of Praluent for the same period.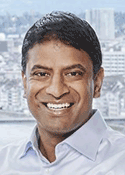 Speaking on an analyst call Monday, Novartis CEO Vas Narasimhan was unequivocal about his expectations for inclisiran. "We believe, given the potential of the product, that it could become one of the largest products by sales in Novartis' portfolio," he said. It is addressing a large market that remains underserved. "We estimate there are 50 million patients across key markets that fit the profile of this asset, with a prior cardiovascular event, on current standard of care and not at goals for their LDL-C."
Inclisiran, Narasimhan said, offers small-molecule-like cost of goods, as well as a convenient dose schedule – it only requires two injections per year, which would be administered in a doctor's office – and its stability at room temperature means it has no cold chain distribution requirements. In addition, Novartis expects that its existing sales force for its chronic heart failure drug, Entresto (sacubitril and valsartan), will be able to accomplish much of the heavy lifting in terms of its promotion – in the U.S. there is an 81% overlap between the market that the Entresto sales force covers and that involving inclisiran. Novartis plans to hire several hundred more sales reps to fill the gap. Its commercial experience with Entresto will also inform its rollout of inclisiran. "Our Entresto ramp took a few years," Narasimhan said. "We hope to do better than that."
As yet, neither Novartis nor The Medicines Co. has made any explicit comments about inclisiran's pricing. To achieve widespread adoption, it is clear that it needs to be substantially below the current level at which the antibody-based therapies are priced. "We would aim to price this medicine within the approximate cost-effective range that's been put out in the past," Narasimhan said. "We, of course, want to ensure that we are pricing appropriately to create value for society and we think we can do that."
The Medicines Co. has so far reported data from three placebo-controlled phase III trials of inclisiran. It appears to have similar – if slightly less potent – effects on LDL-C as the approved antibodies and a placebo-like safety profile, although expectations in terms of its effects on mortality and morbidity are broadly similar to those for the two antibody drugs. A cardiovascular outcomes study, Orion-4, has recruited about 6,000 patients so far, Narasimhan said, and is on track to complete enrollment by the end of next year. Data will not be available until 2024, however, and that lag will affect the initial sales ramp.
"Of course the Orion-4 outcomes study will be critical to the longer-term outlook of the medicine, and we feel very confident about how The Medicines Co. has designed this critical MACE [major adverse cardiac events] and CV [cardiovascular] mortality study," he said. The study is powered to show a 25% relative risk reduction in each endpoint. But the long-term benefit may even be higher than that. "One of the most interesting trends that you see is as you follow patients longer with these kinds of therapies, you see effect sizes on the primary endpoint improve," Narasimhan said.
Jefferies analyst Biren Amin did not buy into Narasimhan's scenario, suggesting, in an analyst note, that the market for PCSK9 inhibitors "faces significant headwinds and that a twice-yearly administered product will not fix these fundamental issues." In that respect, Novartis may have overpaid. "We think this was a tremendous negotiation by MDCO [The Medicines Co.], as $85 per share is more than most would have expected," Amin wrote. The offer price represents a 41% premium over its 30-day volume-weighted average share price of $60.33, but, Amin noted, that stock had been changing hands at about $52 per share immediately before any Novartis buyout speculation emerged. Amin's London-based colleague, Peter Welford, put an initial peak sales forecast for inclisiran at a "perhaps modest $4 billion."
The Medicines Co.'s shares (NASDAQ:MDCO) closed Monday at $83.80, up $15.25, or 22%.
Alnylam Pharmaceuticals Inc., of Cambridge, Mass., will receive royalties of about 20% on annual sales above $1 billion. A multibillion-dollar-selling drug could become a very significant source of revenue for the company, particularly as its patent life extends to around 2035, including anticipated extensions, and to 2036 in Europe.