DUBLIN – Imcheck Therapeutics SAS raised €48 million (US$53.2 million) in a series B financing round to move a pipeline of antibodies targeting gamma delta T cells into the clinic.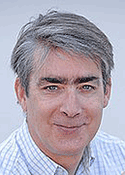 The company, which was founded in July 2015, raised €20 million in series A funding and is now about to move its lead antibody, ICT-01, into a phase I trial in solid and hematologic cancers. The study, which aims to recruit 140 patients, will start enrollment in Europe early in the new year. "We are expanding to the U.S., as we'll want to start enrolling U.S. patients in our studies," Imcheck CEO Pierre d'Epenoux told BioWorld. It plans to file a U.S. IND during the first half of 2020, with the aim of extending the study to the U.S. in the second half of the year. Its U.S. operation will have business development and investor relation functions, as well as clinical trials management.
Pfizer Ventures and Bpifrance co-led the round, with participation from new investors Wellington Partners, Agent Capital and Alexandria Venture Investments, as well as from existing investors Life Sciences Partners (LSP), Gimv, Idinvest Partners, Kurma Partners and Boehringer Ingelheim Venture Fund. The level of market interest was "very high," d'Epenoux said. "We started the campaign at J.P. Morgan this year." A first termsheet followed less than four months later.
Gamma delta T cells, a population of T cells that is largely resident in tissues rather than in the circulation or the lymph nodes, have been the focus of several startups in recent years because of their unusual biology, which combines the responsiveness of the innate immune system with the long-term immunological memory of the adaptive response. Gamma delta T cells have a more limited repertoire of T-cell receptors (TCRs) than their conventional alpha beta T cells, but unlike the latter do not require the major histocompatibility complex to recognize their target antigens. Interest was further spurred by an analysis of 18,000 tumor samples, which found that the presence within a tumor of gamma delta T cells – as opposed to 21 other leukocyte subsets – was the single most important indicator of a good outcome across 25 different types of cancer.
Marseille, France-based Imcheck is translating the work of scientific founder Daniel Olive, professor of immunology at Aix Marseille Université, who is a leader in unpicking the butyrophilin receptors involved in modulating gamma delta T-cell activity. "Daniel Olive identified several very interesting targets that could be used to activate gamma delta T cells," Thibaut Roulon, of BPIfrance, told BioWorld.
"The motto within the company is we own the butyrophilin space," d'Epenoux said.
Harnessing gamma delta T-cell biology
Butyrophilins (BTNs), a subgroup of the immunoglobulin superfamily first identified in the 1980s, share structural similarities with the B7 family of co-receptors. Olive's lab was involved in a key finding, that butyrophilin-3 (BTN3A; CD277) is involved in mediating gamma delta T-cell activation in response to cellular stress or infection. Imcheck's first-in-class antibody, ICT-01, is designed to mimic that activity, and thereby activate a gamma delta T-cell response against cancer. "We're harnessing the signaling mechanisms that activate the gamma delta T cells," Imcheck's chief medical officer, Paul Frohna, told BioWorld. "We're basically increasing their ability to do their normal job."
Most of the early players in the gamma delta T-cell space focused on cell therapies, but none of them is yet in the clinic. "I definitely prefer the antibody approach – it's simpler," Roulon said. "Manufacturing cell therapies is difficult."
Imcheck is no longer the only player pursuing antibodies, however. Lava Therapeutics BV, of Hertogenbosch, the Netherlands, is developing a bispecific gamma delta T-cell engager technology highly reminiscent of the approach Micromet – now part of Amgen Inc., of Thousand Oaks, Calif. – took to develop Blincyto (blinatumomab). The latter drug trains conventional alpha beta T cells to recognize cancer cells carrying the relevant target antigen. Lava aims to do likewise with gamma delta T cells.
Several other firms have taken alternative approaches to harnessing gamma delta T-cell biology.
Gadeta NV, of Utrecht, the Netherlands, is grafting T-cell receptors expressed by gamma delta onto conventional alpha beta T cells, in order to go after solid tumors, which have so far been resistant to other adoptive T-cell transfer technologies. Gilead Sciences Inc., of Foster City, Calif., has inherited an alliance with Gadeta through its acquisition of CAR T pioneer Kite Pharma. London-based Gammadelta Therapeutics Ltd. initially planned to take unmodified gamma delta T cells into the clinic itself, before its acquisition in 2018 of Cantanhede, Portugal-based Lymphocyte Activation Technologies SA (Lymphact), which had also been following a cell-based approach. More recently, Gammadelta Therapeutics spun out Adaptate Therapeutics Ltd. to develop antibodies targeting gamma delta T cells, although it has not yet revealed the targets it is pursuing. In the U.S., Adicet Bio Inc., of Menlo Park, Calif., recently closed an $80 million series B round to develop allogeneic gamma delta cell therapies engineered to express chimeric antigen receptors.
Imcheck's second cancer therapeutic, ICT-02, targets BTLA (B and T lymphocyte attenuator), an inhibitory receptor of the B7/CD28 immunoglobulin superfamily. It has several other cancer programs at earlier stages of development. But it is by no means a pure-play cancer company. "We also have great potential in autoimmune disease and in infectious disease," d'Epenoux said.
In the former setting, the goal is to reduce gamma delta T-cell activity. Its efforts are early stage, but it has two development programs underway with ICT-21, a BTN3A antagonist, and ICT-23, a BTN2A antagonist. By 2022, the company aims to have one phase II-ready compound in its pipeline and at least one other phase I-ready immuno-oncology drug candidate and to have made significant progress in autoimmune disease.
In conjunction with the financing, Michael Baran from Pfizer Ventures, Thibaut Roulon from Bpifrance, and Regina Hodits from Wellington are joining Imcheck's board.