ORLANDO, Fla. – New research on sutimlimab, an investigational complement pathway inhibitor under development by Sanofi SA's Bioverativ unit, showed substantial benefits for people with the rare autoimmune disorder cold agglutinin disease (CAD). In a phase III trial called Cardinal, people with CAD receiving the drug for 26 weeks had improved hemoglobin levels, required fewer blood transfusions and felt significantly less fatigued, according to new data presented during a session on late-breaking research at the 61st American Society of Hematology (ASH) annual meeting.
In people with CAD, the body's immune system attacks and destroys its own red blood cells – a process called hemolysis – leading to severe anemia, fatigue and an increased risk for dangerous blood clots and early death. IgM antibodies attach themselves to red blood cells, binding them together into clumps. Symptoms of CAD are often triggered or made worse by cold temperatures or viral infections, according to the NIH. Most commonly, the condition is diagnosed in people in their 60s or 70s. There are currently no approved treatments for CAD.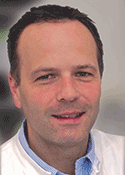 Treatment with sutimlimab "rapidly and effectively" stopped hemolysis in CAD patients, and led to "a marked improvement on how patients experience fatigue," said lead study author Alexander Röth, of the University of Duisburg-Essen, Germany. "I think we have finally turned the corner with research related to CAD and now have the potential to offer a targeted therapy for these patients, pending health authority approvals," he said.
Twenty-two of the 24 patients enrolled in the study completed it. Each received sutimlimab via I.V. infusion for 26 weeks. The trial's primary endpoint was response to sutimlimab measured as a composite of hemoglobin increase of 2 g/dL or greater, or a total hemoglobin level of 12 g/dL or higher at the time of treatment assessment, along with avoidance of a blood transfusion from weeks five to 26. The researchers also tracked changes in bilirubin levels and quality of life.
The trial met its primary endpoint, with hemoglobin improving rapidly after patients received their first dose of sutimlimab. By week three, most patients had hemoglobin above 11 g/dL and normalized total bilirubin. Quality of life scores, as measured by the Functional Assessment of Chronic Illness Therapy Fatigue scale, improved within a week and remained stable through week 26.
Almost all patients in the study experienced at least one treatment-emergent adverse event, with about 30% of patients experiencing a serious adverse event. Adverse events that were determined to be related to sutimlimab, all of which were considered nonserious, included swelling, increased blood pressure and runny nose.
According to ASH, researchers noted that the study did not include a placebo control group and was limited by its small size. A separate, ongoing study, involving a placebo control and patients without a recent history of blood transfusions, could help determine sutimlimab's potential benefits or risks in a broader patient population, the society said.