Shares of Bridgewater, N.J.-based Insmed Inc. (NASDAQ:INSM) closed at $28.88, up $8.34, or 40.6%, on positive top-line results from the global, randomized, double-blind placebo-controlled phase II study called Willow, testing INS-1007 once daily in adults with non-cystic fibrosis bronchiectasis (NCFBE).
"The totality of the data, no matter how you cut the statistical test, points very comfortably in a positive direction," CEO William Lewis told BioWorld, adding that Willow was the largest-ever trial in NCFBE.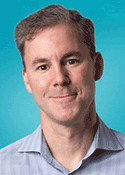 The parallel-group, multicenter, multinational experiment administered INS-1007 once daily for 24 weeks in NCFBE patients. Conducted at 116 sites, it enrolled 256 adult patients diagnosed with at least two documented pulmonary exacerbations in the 12 months prior to screening. Patients were randomized 1-to-1-to-1 to receive either 10 mg or 25 mg of INS-1007 or matching placebo.
The compound, an oral, selective, reversible inhibitor of dipeptidyl peptidase 1 (DPP1), met its primary endpoint of time to first pulmonary exacerbation over the 24-week treatment period for both the 10-mg and 25-mg dosage groups compared to placebo (p=0.027, p=0.044, respectively). INS-1007 also resulted in a reduction in the frequency of pulmonary exacerbations, a key secondary endpoint, vs. placebo. Specifically, patients given the drug experienced a 36% reduction in the 10-mg arm (p=0.041) and a 25% reduction in the 25-mg arm (p=0.167) compared to placebo. Change in concentration of active neutrophil elastase in sputum vs. placebo from baseline to the end of the treatment period was also statistically significant (p=0.034 for 10 mg, p=0.021 for 25 mg).
DPP1 "has always been thought to be a very cutting-edge scientific approach and very novel," Lewis said. "The trick has been to find that Goldilocks level where inhibition doesn't create an adverse event profile that's problematic but creates the benefit of not having the neutrophils be as damaging."
The candidate was generally well-tolerated in the study. Rates of adverse events (AEs) leading to discontinuation in patients treated with placebo, INS-1007 10 mg and INS-1007 25 mg were 10.6%, 7.4% and 6.7%, respectively. The most common AEs were cough, headache, sputum increase, dyspnea, fatigue and upper respiratory tract infection. Rates of adverse events of special interest (AESIs) in patients treated with placebo, INS-1007 10 mg and INS-1007 25 mg, respectively, were as follows: rates of periodontal disease were 2.4%, 7.4% and 10.1%; rates of hyperkeratosis were 0%, 3.7% and 1.1%; and rates of infections that were considered AESIs totaled 18.8%, 16% and 16.9%.
Insmed, which is taking the compound to phase III development, plans to present detailed study results at an upcoming medical meeting. The top-line data will be further discussed on the company's fourth-quarter and year-end 2019 earnings call. That call has not been scheduled yet but typically takes place at the end of February. The American Thoracic Society meeting takes place in May in Philadelphia. "We certainly expect this will be one of the hot topics at that meeting," Lewis said.
SVB Leerink analyst Joseph Schwartz said in a report that the findings from Willow surpassed his expectations. "Our thesis going into this event was that due to heterogeneity of disease, which may not be controlled for in the Willow trial, the overall dataset may not surpass the 20% go/no-go threshold [that] Insmed defined as a successful outcome. While the results are undeniably positive, some may question the lack of dose response. However, this is not uncommon for many drugs which offer a clinical benefit, and we're encouraged that the lower 10-mg dose was statistically significant" on the endpoint that the phase III trial likely will bear as well. "We look forward to continuing the dialogue with Insmed" at Leerink's health care conference on Feb. 26.
Switch in guidance no problem
Evercore ISI analyst Josh Schimmer said that "few investors expected a positive outcome of this trial, but many saw a positive risk-reward with downside protection" provided by Arikayce (amikacin liposome inhalation suspension). The drug was approved in September 2018 for the treatment of refractory lung disease caused by Mycobacterium avium complex, a type of nontuberculous mycobacteria (NTM). "The better performance of the low dose over the high dose is a reminder of the noisy nature of [the disease], and success in phase III isn't guaranteed," he said in a report. "There might have been some outlier patients which drove that difference. That said, it seems like there is still a strong enough signal to merit advancing into phase III." The update with INS-1007 "helps take pressure off Arikayce in driving the valuation of Insmed although, given that [the candidate] still needs to be fully validated [in the later-stage study], we expect debate over just how much weighting to place" on the compound, he added.
Eligible NCFBE patients in the U.S. number between 300,000 and 500,000, Lewis said, and about 30% are infected with NTM, which Arikayce treats. "The strategic overlap for us is perfect – we know all of the same key opinion leaders in both communities," he said. Arikayce "in the last year has been nothing but a surprise success in terms of the commercial profile," which laid the groundwork for what the company hopes will be similar success with INS-1007.
Cowen's Ritu Baral liked the Willow results. "While the treatment benefit was not released, based on trial powering and our call with management this morning, we believe the hazard ratio for this endpoint was <0.6, equating to about a 40% risk reduction," she wrote in a report. "We are very encouraged by this data and note it appears [the drug] clearly has activity and clinical benefit." She observed that Insmed considers the results a "home run," but pointed to three aspects that "give [her] pause" with regard to the phase III effort. One is the inverse dose response cited by Schimmer, another is the level of "p" values that, "while statistically significant, border [on] the significance threshold," and the third is "a long track record of bronchiectasis programs (admittedly with very different mechanisms) that succeed in phase II with respectable p values but fail in phase III due to disease variability." The casualties prompted a paper last year in F1000 Research, titled, "Bronchiectasis insanity: Doing the same thing over and over again and expecting different results?"
Lewis said previous studies with inhaled antibiotics, the mainstay therapy in NCFBE, "studied reduction in bacterial load in phase II as the primary endpoint, often did not find any statistical significance on other parameters, and then went after those parameters in their phase III studies that were very large and heavily powered but without a lot of data to inform them. Here we see, somewhat incredibly, the impact at a statistically significant level on [what will be] the primary endpoint in phase III, which is reduction in frequency of exacerbations." During the period that Insmed was conducting Willow, FDA officials changed their endpoint guidance in the disease from time to pulmonary exacerbation to frequency of such exacerbations, he said. "Because we studied both and have been statistically significant in both, we're really indifferent as to which one to study in phase III."