Positive top-line results from the first of two pivotal phase III studies of daridorexant, a dual orexin receptor antagonist (DORA) for treating insomnia from Idorsia Ltd., of Allschwil, Switzerland, showed significantly improved sleep onset, sleep maintenance and improved subjective total sleep time in 930 adult and elderly patients.
That could set it apart from others in a market that is often called "underserved." There are plenty of players. There's Ambien (zolpidem), Lunesta (eszopiclone) and Sonata (zaleplon), which often bring unwelcome side effects that include daytime drowsiness, anxiety and problems with concentration.
Daridorexant showed no residual effects on patients in the morning and there was no evidence of withdrawal symptoms when the drug was discontinued. Treatment-emergent adverse events (TEAE) were found in 37.7% and 37.7% of the patients treated with 25 mg and 50 mg daridorexant, respectively, with 34% for placebo. The most frequent TEAE reported more than 3% incidence and higher than placebo was nasopharyngitis, headache. Potential narcolepsy-like symptoms denoting excessive daytime sleepiness were balanced across all groups, the company said. There was no rebound insomnia, withdrawal symptoms upon discontinuation, and no suicide, suicidal ideation or self-injury was observed, the company added.
There is another DORA that recently received FDA approval to treat insomnia. In December, the FDA approved Dayvigo (lemborexant) from Eisai Co. Ltd., an approval based on data from two pivotal phase III studies. In 2014, Merck & Co. Inc.'s Belsomra (suvorexant), also a DORA, got the nod for treating insomnia and received a supplemental approval in February for treating insomnia in patients with mild to moderate Alzheimer's disease.
H.C. Wainwright analyst Raghuram Selvaraju wrote Monday that he believes the positive data from Idorsia's first pivotal trial "and the now-likely favorable results from the confirmatory second pivotal trial of the drug could facilitate regulatory submissions before the end of this year."
Selvaraju labeled daridorexant a substantially de-risked asset and anticipates sales exceeding $413 million by 2025 with peak annual sales of nearly $1.3 billion by 2030 in the U.S. and Europe. He also claimed Idorsia "could seize a leadership position in the insomnia market" because of its rapid onset and clean safety profile.
"We view the insomnia market as underserved and inadequately addressed, with multiple options currently being broadly used that have serious safety concerns because of the observation of complex sleep behaviors such as sleepwalking, sleep driving and other issues," he wrote.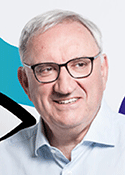 The company did not reveal the complete trial data, but noted improved daytime performance, described by patients as feeling less physically and mentally tired, less sleepy and more energetic during the day. Other reported results included significantly improved sleep onset measured by a decrease in latency to persistent sleep from baseline compared to placebo, as well as significantly improved sleep maintenance measured by a decrease in wake time after sleep onset from baseline compared to placebo. The data also showed total sleep time, subjectively measured by patients, increased significantly from baseline compared to placebo.
Jean-Paul Clozel, Idorsia's CEO and director, said in Monday's conference call to investors that the second study has the same design but with different doses, which will be 10 mg and 25 mg and compared to this study, which was 25 mg and 50 mg doses.
"When I see the extent of the effect and also the statistical significance of the 25-mg dose in this study, I am very confident that we can confirm and even describe even better the dose relationship of this drug in the future," he said.
These results from this study is one of two confirmatory studies, each three months along, with a 40-week extension study. In all, 1,800 patients were recruited from more than 160 sites in 18 countries. Results from the second study are expected in the third quarter of 2020.
This past December, Idorsia and Tokyo's Mochida Pharmaceutical Co. Ltd. entered a license agreement for supplying, co-developing and co-marketing daridorexant in Japan. Idorsia receives an initial ¥1 billion (US$9.12 million) and is entitled to three additional development and regulatory milestones. Idorsia also is entitled to sales milestones and tiered royalty payments based on net sales. Costs associated with the co-development are shared. Idorsia is responsible for the design and conduct of additional preclinical and clinical studies, and for health authority registration, with oversight from a joint development committee.
The company stock (SIX:IDIA) had a strong showing on the Swiss Exchange as it closed up 13.69% to CHF 30.22 on Monday.