With new FDA approval for a years-old type 2 diabetes drug, Astrazeneca plc's Farxiga (dapagliflozin) has become the first sodium-glucose co-transporter 2 (SGLT2) inhibitor to be approved to reduce the risk of cardiovascular (CV) death and hospitalization for heart failure patients with reduced ejection fraction, a measure of how much blood the left ventricle pumps out with each contraction.
The approval expands Farxiga's FDA-blessed application in CV – earlier limited like its competitors to adults with T2D and known CV disease or other risk factors – to now include all adults regardless of T2D status with functional class II-IV heart failure with reduced ejection fraction (HFrEF), as measured by a New York Heart Association (NYHA) metric. Following a priority review and earlier fast track designation for the drug, approval of the new indication was based on results from the phase III DAPA-HF trial, a study that found Farxiga offered patients with HFrEF an absolute risk reduction of about 5% vs. placebo on the study's primary outcome, a composite measure of worsening heart failure or cardiovascular death.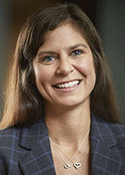 Kiersten Combs, Astrazeneca's vice president of U.S. CV and metabolic disease, told BioWorld that the new Farxiga approval will be "paradigm-shifting in how heart failure is treated in the future." More than 6 million people in the U.S. have heart failure today, of which about half have T2D, according to company research. Furthermore, since the approval is based on data collected from a trial of Farxiga used on top of standard of care, it shows the drug can provide additional benefit beyond background medicines, such as diuretics or blood pressure medicines.
"Having a medicine like Farxiga that can be added on as a standard of care as the disease progresses is important because not only does it increase the quality of life of the patient, but it also potentially could reduce the burden of medical costs on the health care system and keep patients out of the hospital," Combs said.
Eli Lilly and Co. and Boehringer Ingelheim GmbH's Jardiance (empagliflozin) was the first diabetes drug to demonstrate improved CV outcomes, followed by Johnson & Johnson's Invokana (canagliflozin), the first SGLT2 inhibitor to reach market in the U.S. Both already included the reduction of risk of CV events in their labels. But neither are indicated for use for HFrEF patients or, like Farxiga, are approved for patients without T2D. Whether they're able to join it will depend on the outcome of ongoing clinical studies.
In December 2019, Jardiance was revealed to have failed to meet the primary outcome of EMPERIAL-Reduced, a phase III study in adults with HFrEF with and without diabetes. The results of EMPEROR-Reduced, another study in patients with diabetes and HFrEF, are expected to roll in around midyear. A study evaluating Invokana for heart failure patients with and without diabetes is also underway. Called CHIEF-HF, when it started in November 2019, it was "the first-ever completely decentralized, mobile, indication-seeking clinical study," according to J&J's Janssen Pharmaceutical Co. The trial, seeking to recruit up to 1,900 participants, is expected to reach completion in February 2021.
The CV benefit of SGLT2 inhibitors, which appears to be a class effect not limited to one drug, has potential to expand the applications of at least three already-approved medicines in the family, Steglatro (ertugliflozin), Zynquista (sotagliflozin) and Lusefi (luseogliflozin). Two others, Suglat (ipragliflozin) and Deberza (tofogliflozin), haven't been evaluated for their impact on HF.
Steglatro, developed by Pfizer Inc. and its licensee Merck & Co. Inc., remains under study in two CV outcomes trials for T2D patients, one evaluating those with vascular disease (NCT01986881) and another evaluating it in those with NYHA class 2-3 symptoms and ejection fraction ≥20%.
A randomized controlled trial which assessed the efficacy of Taisho Pharmaceutical Co Ltd.'s luseogliflozin and voglibose on heart failure with preserved ejection fraction in patients with diabetes was presented at the 2019 ESC Congress in Paris. It found that treatment with luseogliflozin was associated with moderate but greater reduction in B-type natriuretic peptide levels compared to voglibose. BNP reduction was significantly associated with all-cause mortality and found to be more predictive in patients with HFrEF than in those with preserved ejection fraction, according to a study published in the Sept. 25, 2019, edition of the Journal of Cardiac Failure.
The potential CV benefits of Lexicon Pharmaceuticals Inc.'s Zynquista in T2D patients after worsening heart failure have also been studied, but may require further study to elucidate. In March, the company closed the long-term outcomes SOLOIST trial early based primarily on the company's assessment that finding a near-term partnership to fund the studies to completion was unlikely and on uncertainties relating to the effects of the COVID-19 pandemic on the trial.
In addition to its research on HF, Astrazeneca has also been studying Farxiga's potential benefit for patients with chronic kidney disease. At the end of March, the company announced that it was stopping the phase III DAPA-CKD study early following a recommendation from an independent data monitoring committee based on its determination of overwhelming efficacy.
Together with the Kansas City, Mo.-based Saint Luke's Mid America Heart Institute, Astrazeneca has also started testing Farxiga's potential to reduce the risk of serious complications and organ failure in hospitalized patients with COVID-19. The goal of the trial, called DARE-19, is to assess whether Farxiga can reduce the risk of disease progression, clinical complications, and death due to COVID-19 in patients who also have CV, metabolic or kidney risk factors. The trial is open for enrollment in the U.S. and European countries with a high COVID-19 burden and aims to recruit about 900 patients.