DUBLIN – Etherna Immunotherapies NV raised €34 million (US$38.2 million) in a series B funding round to progress its pipeline of mRNA-based vaccines for cancer and infectious disease.
The Niel, Belgium-based firm has up until recently exclusively focused on cancer but is – like many others – extending its immuno-oncology platform into infectious disease because of the COVID-19 pandemic. Its ambitions are not limited to SARS-CoV-2, however. Although it is developing a vaccine against the virus, its approach is distinctive and could become a general platform for all respiratory viruses. "It's potentially very important for us," CEO Steven Powell told BioWorld.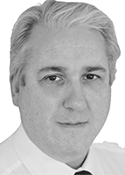 The main focus of most current COVID-19 vaccine development efforts is on eliciting a neutralizing antibody response to the SARS-CoV-2 Spike (S) protein and specifically to its receptor binding domain (RBD), but there are still uncertainties about the duration of protection that will arise. "Antibody responses may decline rapidly if not sustained by a strong T helper memory response. Boosting is probably impractical in a global immunization setting," Powell said. There is, he added, some evidence emerging that a suboptimal antibody response could also lead to disease enhancement.
Etherna's approach has been informed by consultations with key opinion leaders. "What became apparent to us was there would be a requirement for a vaccine that would be T-cell stimulating," Powell said. Its mRNA-based vaccine is also being formulated as a nasal spray, for intranasal administration, which will elicit mucosal response. The company is betting that this approach will confer a longer duration of protection than that associated with vaccines designed to elicit antibody responses. "T-cell responses often target highly conserved internal proteins and are long-lived," Powell said. The vaccine should also continue to work even if a significant level of antigenic drift occurs, which would undermine the efficacy of vaccines directed against S protein epitopes.
Etherna's vaccine will contain epitopes from the N, M and E proteins from SARS-CoV-2, as well as from its S protein. "Strong preference has been given to epitopes located in conserved regions between SARS-CoV2, SARS-CoV, MERS and common cold coronaviruses," Powell said. These will be formulated with its immune-boosting Trimix mRNA molecules, which encode Toll-like receptor 4 (TLR-4), CD40 ligand and CD70.
The company has assembled a coalition of partners to work on the program. Epivax Inc., of Providence, R.I., is contributing its expertise in in silico epitope selection; Kanagawa, Japan-based Reprocell Inc. is collaborating with Etherna on formulating a vaccine in a spray for intranasal delivery; it will also work with the Center for the Evaluation of Vaccination (CEV) at the University of Antwerp, a clinical trial center that specializes in vaccine studies. A vaccine candidate is slated to enter the clinic early next year.
If successful, it will be aimed initially at frontline workers and high-risk individuals, because, said Powell, T-cell responses are more rapid than antibody responses and therefore the vaccines can be self-administered on a condensed schedule. They may even be able to contain an infection in its early stages.
Cancer studies underway
Cancer continues to be Etherna's main focus. The proceeds from the present round will, in large part, be directed at generating clinical proof of concept in a range of programs. Etherna, a spin-out from Free University of Brussels (Vrije Universiteit Brussel, VUB), inherited a platform that was based on ex vivo activation of dendritic cells. This had demonstrated promise in early clinical studies, but the intention from the outset was to repackage the therapy, to enable systemic dosing with lipid nanoparticles.
Etherna has spent several years on that task and on building an associated manufacturing platform. The LNP formulation supports both intratumoral and systemic dosing and can be tuned to improve delivery to the spleen, where dendritic cells act as antigen-presenting cells. "Typically, lipid nanoparticles tend to migrate towards the liver," Powell said. "We can direct or increase accumulation in the spleen." Naked mRNA is sufficient for localized administration to the lymph nodes.
Early stage clinical studies are underway in a number of indications. In metastatic melanoma patients with stable disease, the Trimix mRNA cocktail is being administered along with five other mRNA molecules encoding tumor-associated antigens, as well as a PD-1 inhibitor. The open-label study began recruiting 15 patients late last year. The pandemic has slowed recruitment, but Etherna aims to complete enrollment by the year-end, Powell said. An investigator-initiated study in triple-negative breast cancer is also underway at the Universitair Ziekenhuis Brussel, which is affiliated with VUB. The company is planning to initiate a clinical program in cancers associated with human papillomavirus and to take a therapeutic cancer vaccine based on neoantigens into clinical development in an as yet undisclosed indication.
The present round had a strong Chinese involvement, which parallels its business development activities in the region. It has agreed on outline terms for a partnership with China Grand Pharmaceutical and Healthcare Holdings Ltd., which also participated in the round through its subsidiary, Grand Decade. Other new investors included Yijing Capital (China) and Novalis Lifesciences LLC (USA). All existing investors, including LSP (the Netherlands), PMV (Belgium), Boehringer Ingelheim Venture Fund (Germany), Fund+ (Belgium) and Omega Funds (USA), also participated.