DUBLIN – Synairgen plc has detected what appear to be promising efficacy signals in a phase II trial of its inhaled formulation of interferon-beta 1a, SNG-001, in hospitalized COVID-19 patients.
Those data remain preliminary at this stage, pending a peer-reviewed publication, which will provide a more detailed picture, but the key finding from the placebo-controlled study in 101 patients was that the odds of those in the drug treatment arm developing severe disease – defined as requiring ventilation or death during the treatment period (day one to day 16) – were reduced by 79% as compared with the odds of those in the placebo group having the same outcome.
The results were statistically significant (odds ratio 0.21 [95% confidence interval (CI) 0.04–0.97]; p=0.046). The wide CI "is a reflection of the size of the trial," Richard Marsden, CEO of Southampton, U.K.-based Synairgen told BioWorld.
The primary analysis was conducted according to a nine-point Ordinal Scale for Clinical Improvement (OCSI) score, in which a score of 0 denotes that the patient is well while 8 signifies death. The study recruited patients with baseline scores of 3 or 4, and all participants received standard of care in addition to SNG-001 or placebo.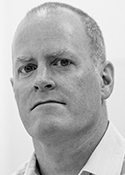 The company followed WHO clinical guidelines in designing the trial, Marsden said, which took account of a lack of knowledge of the key clinical endpoints during the early stages of the pandemic. The ordinal scale takes account of patients' clinical status as well as measures related to health economics and health care system burden.
In addition to having a reduced risk of disease worsening, patients on SNG-001 also had twofold improved odds of recovery – defined as no limitation of activities or no clinical or virological evidence of infection during the treatment period – as compared with those on placebo. In terms of the OCSI score, that meant patients moved from level 3 or 4 to level 1 or 0. That result was also statistically significant (hazard ratio 2.19 [95% CI 1.03–4.69]; p=0.043). "You were twice as likely to recover if you were on drug," Marsden said.
In addition, the level of breathlessness experienced by those on drug was, the company said, "markedly reduced" over the treatment period as compared with those on placebo (p=0.007). The study included an observation period that extended out to day 28, almost two weeks after the end of treatment – the data indicate that the effects of SNG-001 were maintained. "The general pattern is the day 28 data is probably where the strongest signal is coming from," Tom Wilkinson, professor of respiratory medicine at the University of Southampton and lead investigator on the trial, said on a media call.
The study was not powered to demonstrate a survival benefit but the trend was in SNG-001's favor: there were no deaths in the drug treatment group, whereas three patients (6%) in the control group died.
In patients with severe disease at the time of admission – defined as requiring supplemental oxygen – SNG-001 increased the likelihood of hospital discharge during the study period, but that result was not statistically significant.
SNG-001 is a known quantity, having previously been studied in 230 patients with either asthma or chronic obstructive pulmonary disease before the recent pivot into COVID-19. In the latter setting, its presumed mechanism is antiviral rather than anti-inflammatory although both could be at play. "If you clear the virus, you will get less inflammation," Marsden said. Crucially, SARS-CoV-2 is known to evade and suppress the type I interferon response, which supplies an immediate rationale for its delivery to the lungs.
According to the record for the trial held at CinicalTrials.gov (NCT04385095), secondary endpoints include: progression to pneumonia; time to clinical improvement; change in the National Early Warning Score 2 (News 2), an assessment of acute illness severity that ranges from 0 (the patient is well) to 24 (the patient requires emergency intervention); change in breathlessness; and a number of different safety and tolerability assessments.
The company will report additional data in a peer-reviewed publication, Marsden said. It also needs to complete the statistical analysis and to review the safety and tolerability data. It will also engage with the U.K. drug regulators to determine the next steps required for a potential regulatory submission and approval. "We're poised to sprint. We won't know which way to sprint until the agency tells us where the gaps are in the submission," Marsden said.
In addition to studying SNG-001 in hospitalized patients, Synairgen had opened a second part of the study to recruitment of early stage, high-risk patients who were not in need of hospitalization but who could receive the drug at home. However, recruitment of patients in that category in the U.K. has not proceeded according to plan, as many have managed to avoid infection through cocooning. The company has not yet signed up any clinical collaborators in other countries where the virus is currently circulating more freely. "It would be common sense to be progressing in that direction," Marsden said.
Synairgen's stock (London:SNG) rocketed during early trading July 20, hitting £2.38 (US$3.01), a 552% increase on Friday's close of 36.5 pence. The stock shed some of those gains, as some investors took their profits. The stock closed at £1.90, for a gain of £1.54.