Chief Business Officer David McNinch told BioWorld that South San Francisco-based Encoded Therapeutics Inc.'s $135 million from an oversubscribed series D financing follows by about a year the hefty series C round that "helped us get the [lead gene therapy] program poised to its current stage, which is IND-enabling studies." The asset, ETX-101 for SCN1A-positive Dravet syndrome (DS), is expected to enter human trials next year.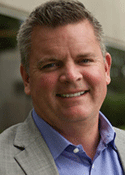 High-profile GV (formerly Google Ventures) led the financing, which came together "in the context of a changing world" after GV partner David Schenkein met CEO Kartik Ramamoorthi at the J.P. Morgan Healthcare conference, McNinch said. Schenkein, with broad experience in the industry, is joining the board of Encoded as an observer. "It may take a while to get to the clinic, because there's a lot of work not only in the research phase but also on the CMC side that you have to do to be ready," he said. Once underway in humans, though, gene therapy "actually moves super-fast. Companies that are pre-IND are making some of the decisions that companies in other worlds are making when they look at their phase IIa data." ETX-101 has been granted orphan drug and rare pediatric disease designations by the FDA.
A rare, severe genetic disorder that occurs in about one in 16,000 births worldwide, DS involves symptoms that include uncontrolled seizures, ataxia, significant developmental delays, and an increased risk of early mortality due to sudden unexpected death in epilepsy. Most cases are caused by loss-of-function mutations in the SCN1A gene. Available treatments reduce seizures but do not address the underlying cause of the disorder: SCN1A haploinsufficiency.
ETX-101 is described as an adeno-associated virus vector capable of restoring SCN1A to normal expression levels specifically within the affected cell type, GABAergic inhibitory neurons. One hurdle in DS is the size of the SCN1A gene. First-generation gene therapies have achieved "transformative outcomes, but they're limited by the genes they can go after," McNinch said. The next-generation players can pursue more diseases and use cell-specific strategies that can mean lower doses, better safety and reduced cost of goods. Last summer, Encoded pulled down $104 million in the series C, which supplemented $54 million garnered previously.
In June, Emeryville, Calif.-based Zogenix Inc. won FDA clearance for Fintepla (fenfluramine), an oral treatment for patients 2 and older with DS-associated seizures. The agency had delayed approval two times previously. Fintepla bears a risk evaluation and mitigation strategy program whereby DS patients will be monitored during treatment. The label cautions that Fintepla is associated with valvular heart disease and pulmonary hypertension, so patients must have echocardiograms before, during and after treatment.
Others making news recently for DS efforts include Stoke Therapeutics Inc., of Bedford, Mass., which in March said it's going ahead in the second half of this year with the phase I/IIa study to investigate antisense oligonucleotide (ASO) STK-001. The FDA temporarily hobbled part B of the test, pending preclinical data to more fully characterize the safety profile of the antisense oligonucleotide. STK-001 is designed to increase levels of SCN1A mRNA in the cell to boost the NaV1.1 protein. U.S. regulators want preclinical data with the compound at doses higher than the current no-observed-adverse-effect-level (NOAEL), Stoke said as part of its earnings report. The NOAEL was determined using data from a pivotal nonhuman primate study that tried intrathecal delivery of single-dose levels of the drug.
H.C. Wainwright analyst Debjit Chattopadhyay likes the Stoke story, enthusing in a report earlier this month that "despite pandemic-related delays, management affirmed expectations for material data readouts in 2021. Heading into patient dosing, the July 9, 2020, publication in Nature Communications points to peer-reviewed confirmation of STK-001's proposed mechanism of action via in vitro experiments." Fintepla's approval "is unlikely to affect the market potential of STK-001," in his view.
The same might be said for Encoded's candidate. "At the end of the day, one of the biggest differences is that we think we have a durable gene therapy, one-time approach," McNinch said. The prospect from Stoke, "much like all the ASOs, expect to be dosed at least two or three times a year intrathecally, and that's in perpetuity," he said. "The younger that you treat patients, the greater impact you could hope to have in normalizing or halting or even reversing" some of the ways afflicted patients are held back – which is the goal of Encoded. "Stoke is starting their work across older patients as well as younger patients. We're still designing our phase I/IIa [trial], but I think both companies look to understand what can be done both on seizure burden and developmental delays."
Along with GV, investors in the latest round include Matrix Capital Management, Arch Venture Partners, Illumina Ventures, RTW Investments, Boxer Capital, Nolan Capital, HBM Genomics, Menlo Ventures, Meritech Capital, Farallon Capital Management, Softbank Vision Fund 21 and other, unnamed investors. "We believe these funds can definitely take us to the end of 2022, if we wanted to go that far," McNinch said. "There are a lot of avenues available to us, and gene therapy is a capital-intensive pursuit," so the company need not worry about "having to be rushed to go one direction or another," he said.