Unraveling the eagerly awaited data from Genocea Biosciences Inc.'s phase I/IIa study with neoantigen cancer vaccine GEN-009 turned out less than simple, and the rollout of results – characterized by the company as positive, albeit early – were followed by a haircut for shares (NASDAQ:GNCA), which closed at $3.45, down $1.52, or 31%.
Cambridge, Mass.-based Genocea offered findings from the first five patients in part B of the ongoing experiment investigating GEN-009 and checkpoint inhibitor (CPI)-based regimens in advanced solid tumors. The trial combines GEN-009 with the standard-of-care CPI regimen about four months into CPI treatment. Preliminary findings turned up three independent RECIST responses starting from the first GEN-009 dose, with accelerated tumor shrinkage beyond the CPI gains. One patient recorded a complete response (CR) and two showed partial responses (PRs). Overall, two of the first five patients achieved CRs and three reached PRs. An immune response of 100% – neoantigen-specific CD4+ and CD8+ T cells – emerged in all subjects.
The devil was where it's usually found. Responses varied, with some patients manifesting improvements before they were given the vaccine while others leveled out after CPI therapy. One CR was a renal cell carcinoma patient who hit the mark just before GEN-009 came aboard and kept it for almost 100 days. A patient with urothelial cancer achieved shrinkage with CPI and was helped by the vaccine to a CR. Two subjects, one with squamous cell carcinoma of the head and neck and the other with non-small-cell lung cancer, plateaued after CPI but then were able to reach PRs.
How strong was the CPI role? Tom Davis, Genocea's chief medical officer, allowed during a conference call with investors that the CPI effect is "obviously an important question in this setting" but said "the shapes of these curves are what really make the difference," adding that "the vast majority of patients will define an outcome within the first 12 weeks or so. It's only after that, if you see a change in trajectory, that it would be meaningful for the contribution of a second agent." The way the trial is set up, delaying the vaccine, "does allow us to see this step-down curve. I can't say it's unprecedented – there are a few examples where you see something similar with other spider-plot presentations – but they're exceedingly rare," he said. Three of five RECIST wins "is certainly notable. Of course, we need more data, but we're quite excited to see what we think is a signal of exactly what you would expect to happen if the vaccine were generating shrinkage," he said.
Wall Street might have seemed less enthusiastic, though Genocea shares have run up lately and the dip after the part B news could represent a correction. In any case, Wainwright analyst Joseph Pantginis said in a report that the "intriguing" latest findings "raise the excitement for investors wanting even more to further address the immune and clinical contributions of GEN-009." They will hear more in September, when the company plans to unveil results in about 15 patients. At that point, he expects "increasing visibility as to the potential first tumor indication(s) that might be targeted for expansion, but this remains a wait-and-see factor."
Genocea backers have been in wait-and-see mode since June 2019, when the firm rolled out data from part A of the study during the American Society of Clinical Oncology (ASCO) meeting in Chicago – "the first prospective confirmation that we were right" about GEN-009, CEO Chip Clark said at the time. Previous analyses were retrospective, "looking at whatever patient samples we could get our hands on," he said. In the five patients for whom immune response results are available, GEN-009 monotherapy elicited T-cell responses to 91% of the vaccine neoantigens administered.
Betting on an idea
GEN-009 has proved unique among neoantigen vaccines in its ability to elicit ex vivo CD8+ T-cell responses, which turned up for 47% of vaccine neoantigens, Genocea said at ASCO. Inclusive of the results seen after in vitro stimulation, the CD8+ T-cell response frequency was 53%. The vaccine was well-tolerated, too.
During the call to discuss part B, Chief Scientific Officer Jessica Flechtner was asked if the company found any correlation between responses and the number of different antigens included in the vaccine. "It's too early to draw conclusions, but so far the answer is no," she said. Regarding T cells, she said, "we see both [kinds], if you use a very general term of effector and memory, meaning ex vivo immune response and in vitro stimulated immune responses, which are pretty broad terms. To put a finer point on the phenotypes of the cells – meaning, are they central memory, effector memory, etcetera – we have not yet done those analyses."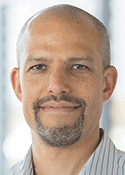 A paper last summer in Molecular Cancer hailed neoantigen vaccines as an emerging class of tumor immunotherapy, noting that refinements in bioinformatic expertise has revved the field. "The combination of different algorithms to identify and predict the affinity of neoantigens to major histocompatibility complexes or the immunogenicity of neoantigens is mainly based on the whole-exome sequencing technology," the authors pointed out. As if nodding to the paper, Genocea CEO Clark, during the part B call, talked up his firm's Atlas platform. "No computer-based prediction system could choose the right antigens for each patient," he said, nor can novelty in delivery compensate for picking the wrong antigens – an "incredibly challenging" project. Among those experimenting with delivery is Baltimore-based Avidea Technologies Inc., which pairs know-how in immunology with polymer chemistry. Taking another approach is Imvax Inc., of Philadelphia, which recently raised $112 million in a series C to take its personalized neoantigen vaccine, IGV-001, through phase II trials in glioblastoma multiforme. The product combines patients' tumor cells with an antisense molecule.
"We bet Genocea on an idea" that's exemplified by the way Atlas works, Clark said. In an in vitro assay, polypeptides corresponding to each identified mutation from a patient's tumor are delivered individually into their antigen presenting cells, which then process and present the peptides on the cell's surface where they can be recognized by T cells. If a T cell binds to the peptide, a cytokine response will be triggered, which is measured to determine if it's a true antigen, eliciting a stimulatory immune response, or what Genocea calls an Inhibigen, driving inhibitory T-cell responses.
Aspirants aplenty
Others in the neoantigen vaccine space have not fared especially well. At the annual meeting of the American Association for Cancer Research, Basel, Switzerland-based Roche Holding AG and partner Biontech SE, of Mainz, Germany, offered ho-hum results with their personalized approach known variously as RO-7198457, BN-122 and iNeST. The vaccine was tried in a dose-escalation effort when combined with Tecentriq (atezolizumab). Biontech in January brought aboard neoantigen expertise with the $67 million all-stock buyout of Cambridge, Mass.-based Neon Therapeutics Inc.
Also in play: Gritstone Oncology Inc., of Emeryville, Calif., with a personalized neoantigen-based immunotherapy called Granite combined with checkpoint inhibitors against common solid tumors in a phase I/II trial. It's been granted fast track status in colorectal cancer. Second in the lineup at Gritstone is the candidate dubbed Slate, which uses the same antigen delivery system as Granite but with a fixed set of neoantigens that are shared across a subset of cancer patients, rather than those unique to an individual subject, thereby providing a potential off-the-shelf alternative. Slate, too, is undergoing a phase I/II experiment with checkpoint inhibitors. Earlier this month, Gritstone hosted a call to update phase I progress and discuss the phase II plan. Wainwright analyst Sean Lee pronounced both prospects safe, saying they showed "encouraging signs of efficacy, which should warrant further study in larger patient populations."
Another early stage entrant is Basel, Switzerland-based Nouscom AG, which this month highlighted preclinical work that saw print regarding the firm's phase I-stage NOUS-209. The paper, "A genetic vaccine encoding shared cancer neoantigens to treat tumors with Microsatellite Instability [MSI]" appeared in Cancer Research. NOUS-209 is undergoing tests when combined with Keytruda (pembrolizumab, Merck & Co. Inc.) in gastric, colorectal and gastroesophageal junction MSI tumors. First data are expected in the next six to nine months, Nouscom said.