To say a lot is riding on the Nov. 3 presidential and congressional election in the U.S. would be an understatement, as the outcome could impact drug pricing, patent reform, research spending and pandemic response and preparedness.
Making the media rounds on the eve of the election, House Speaker Nancy Pelosi (D-Calif.) promised that health care reform would be one of the first three issues Congress tackles if the Democrats regain the Senate and White House. If need be, she said, they would use the budget reconciliation process to quickly push that reform through.
Created by the 1974 Congressional Budget Act, the reconciliation process can be used for expedited consideration in the Senate of certain tax, spending and debt limit legislation, as reconciliation bills aren't subject to filibuster and the scope of amendments is limited.
One of the bills that likely would be revived in a Democrat-controlled Congress is H.R. 3, the Lower Drug Costs Now Act, which was passed in the House but went nowhere in the current Republican-controlled Senate. The bill, drafted in large part by Pelosi and her staff, requires the Health and Human Services (HHS) secretary to negotiate the price of a number of the most expensive Medicare drugs with no competition, using an international pricing index as a negotiating ceiling.
The legislation also calls for HHS to negotiate prices for newly launched drugs that are single source, have a wholesale acquisition cost (WAC) that's equal to or greater than the U.S. median household income and are projected to be among the 250 costliest Medicare drugs. Once HHS determines a maximum fair price for a new drug, that price would remain in place until the drug had at least two generic/biosimilar competitors.
Another provision of the bill requires drug manufacturers to submit a report to HHS 30 days before increasing the WAC of a Medicare-covered drug by 10% or more over a 12-month period, by 25% or more over a 36-month period, or if the estimated price of the drug for an applicable year per course of treatment is at least $26,000. The manufacturer would be required to report the total expenditures for producing the drug, its R&D expenditures for the drug, and the total revenue and net profit generated by the drug.
While the Democrats are expected to keep the House, it could be a close call on who controls the Senate. Regardless of the outcome of the election, the congressional committees responsible for the nation's health care policies will see some major shifts in January due to the retirement of several veteran members.
The loss of that institutional memory and the bipartisan relationships those senators and House members have forged will lead to some unpredictability for the biopharma and med-tech industries as new committee members face what could be a steep learning curve.
Senate retirements
The biggest loss will be felt on the 22-member Senate Health, Education, Labor and Pensions Committee, which will see three members, including Chair Lamar Alexander (R-Tenn.), stepping down after a combined 66 years of service in the Senate.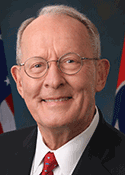 Alexander, who has been serving as HELP chair since 2015, was elected to the Senate in 2002. He has used his position as chair to push for bipartisan solutions in lowering drug prices, tackling the opioid epidemic and being better prepared for pandemics and other emergencies.
A former HELP chair, as well as ranking member, Sen. Michael Enzi (R-Wyo.) is retiring after 24 years in the Senate and on the HELP Committee. Enzi also is known for reaching across the aisle for bipartisan solutions. Believing that people can agree on 80% of the issues 80% of the time, Enzi has said a lot can get done if they let go of the other 20%.
Like Enzi, Sen. Pat Roberts (R-Kan.) is retiring after 24 years in the Senate. His and Enzi's retirements also will be felt in the Senate Finance Committee, where Roberts is a senior member. Under the leadership of Sen. Chuck Grassley (R-Iowa), the Finance Committee spent a lot of time these past two years working on legislation to bring down drug prices.
In addition to those three retirements, the HELP Committee could see other changes, depending on election results. The current ranking member, Sen. Patty Murray (D-Wash.), likely would become chair of the committee should the Democrats regain control of the Senate. While Murray has worked with Alexander, her comments at committee hearings are often politically driven.
Also, five members of the committee are up for re-election this year: Sens. Susan Collins (R-Maine), Bill Cassidy (R-La.), Kelly Loeffler (R-Ga.), Tina Smith (D-Minn.) and Doug Jones (D-Ala.). While some of those senators are expected to win re-election, a few are in tight races.
Besides losing Enzi and Roberts to retirement, the character of the 28-member Finance Committee also could change pending the election results, as it, too, has five members facing challenges at the polls – Sens. John Cornyn (R-Texas), Cassidy, Steve Daines (R-Mont.), Ben Sasse (R-Neb.) and Mark Warner (D-Va.). If the Democrats retake the Senate, Sen. Ron Wyden (D-Ore.), the current ranking member, likely would replace Grassley as Finance chair.
The future of federal health care policy also could be impacted by potential changes in membership of the Special Committee on Aging and in the Appropriation subcommittees that direct spending for HHS and the Department of Agriculture/FDA.
Collins, who currently chairs the 15-member Aging Committee, is in a tight race in Maine. Two others serving on that committee are in close races: Jones in Alabama and Martha McSally (R-Ariz.). While Collins is almost a fixture in the Senate with 24 years of service, Jones and McSally are relative newcomers. Jones was elected in Alabama's 2017 special election after then-Sen. Jeff Sessions (R-Ala.) stepped down to serve as U.S. attorney general. McSally was appointed to the Senate last year after Sen. John Kyl (R-Ariz.) resigned.
As for Appropriations, the 14-member subcommittee that oversees spending measures for the FDA will lose one member to retirement – Sen. Tom Udall (D-N.M.). It has four members up for re-election: Sens. Collins, Mitch McConnell (R-Ky.), Cindy Hyde-Smith (R-Miss.) and Jeff Merkley (D-Ore.).
The 20-member subcommittee that drafts spending bills for the rest of HHS will be impacted by Alexander's retirement. It has seven members up for re-election, including Merkley and Hyde-Smith. Other members on the ballot this year are Sens. Lindsey Graham (R-S.C.), Shelley Moore Capito (R-W.Va.), Dick Durbin (D-Ill.), Jack Reed (D-R.I.) and Jeanne Shaheen (D-N.H.).
Another re-election bid that could affect the biopharma and med-tech industries is a hotly contested one in North Carolina where Sen. Thom Tillis, a Republican, is being challenged, in what has become the most expensive U.S. Senate race in history, by Democrat Cal Cunningham. Although Tillis doesn't serve on any of the committees that directly impact national health care policy, he has been the leading voice in the Senate, along with Sen. Chris Coons (D-Del.), in pushing for patent reform to counter the Supreme Court's rulings on subject matter eligibility that have decimated patents for diagnostics.
Legislation sponsored by Tillis and Coons would have required patent examiners to address subject matter eligibility questions by considering the claimed invention as a whole rather than by dissecting the claims one by one.
Retiring from the House
With all 435 House seats up for election, there will be some new faces on the committees dealing with health care policy. The House Energy and Commerce (E&C) Committee, which has a prominent role in forming that policy, has nine members retiring, including Ranking Member Greg Walden (R-Ore.), who has served in the House for 20 years.
In addition, Rep. Ben Ray Lujan (D-N.M.), a member of the E&C Subcommittee on Health, retired so he could run for the Senate seat being vacated by Udall. Other Health Subcommittee members retiring are Reps. Susan Brooks (R-Ind.), John Shimkus (R-Ill.), Greg Gianforte (R-Mont.) and Joe Kennedy (D-Mass.). Gianforte stepped down to run for governor of his state and Kennedy, who also serves on the E&D Oversight Subcommittee, retired to run for a Senate position, but he lost in the primary.
Reps. Dave Loebsack (D-Iowa), Pete Olson (R-Texas) and Bill Flores (R-Texas) are the other members retiring from E&C, but they are not on the health-related subcommittees.
With its ongoing investigation into drug pricing, the House Oversight and Reform Committee could have a growing impact on the biopharma industry in the future. While no members of the committee are retiring, there will be at least one change, as Rep. William Clay (D-Mo.) lost in the primary.