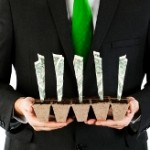 The San Diego biotech industry has been buzzing this week with the grand opening of Johnson and Johnson's new incubator, Janssen Labs. But already plans for another San Diego incubator are being laid, this time at the Sanford-Burnham Medical Research Institute.
Paul Laikind, Sanford-Burnham's chief business officer, told BioWorld Today the facility will house six start-ups in an open-lab format similar to the California Institute for Quantitative Biosciences (QB3). Companies will have access to lab space and can use Sanford-Burnham's 33 core facilities in animal care, high throughput screening, metabolomics or other areas on a pay-as-you-go basis, Laikind said.
Unlike J&J's incubator, however, Sanford-Burnham's will not be open to all comers – it is specifically for companies based on technology spun out of either Sanford-Burnham or the University of California, San Diego. Laikind explained that while the incubator will charge its tenants rent, the goal is not to be a profit center, but rather to cover costs and give young spin-outs a leg-up in the current difficult funding environment.
J&J and the Sanford-Burnham incubators will join the San Diego Science Center, run by life science real estate specialist BioMed Realty. The facility has over 100,000 square feet of rentable lab and office space, as well as a vivarium and operations staff to handle glass wash and such.
Pfizer Inc. also once had an incubator in its La Jolla, Calif., research site, but the big pharma was criticized for controlling too much of its tenants' fates through options and other clauses. The program is no longer active.