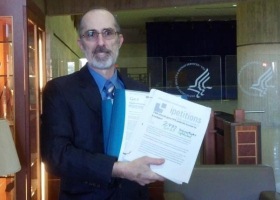 Robert Miller, the patient advocating for Hemispherx Biopharma Inc.'s Ampligen (rintatolimod) for chronic fatigue syndrome by going on a hunger strike in protest of the FDA's complete response letter, ended the hunger strike over the weekend. Progress was made, he said, as follows from a Facebook post.
"1. Dr. Wanda Jones, who I trust and respect, in the Assistant Secretary of Health's office has engaged with the Secretary of Health over the past days on the need for a serious commitment to address our unmet needs. 2. Dr. Jones committed to me that the Secretary's office will be engaged in the FDA Stakeholder Meeting this Spring to make it a successful meeting in promoting the need and path forward toward evidence-based treatments. 3. For the first time, Secretary Kathleen Sebelius met with a few ME/CFS patients from her universe to understand directly the complexity, unmet need, and frustration of patients. 4. Senate Majority Leader Harry Reid, my senator, advocated for ME/CFS patients at the highest level this week, and I am deeply grateful. He and Senator Kay Hagan were instrumental in raising the seriousness of patients' unmet need and elevating the importance of a strong FDA Stakeholders Meeting for our future. I know many other Senators and Congresspeople engaged, and that is important to our future efforts."
The hunger strike ended on day 11.