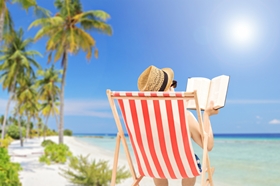 Ah, the summer holidays. Time to unplug – for minutes, hours or days at a time – prop up your feet and kick back. But what about a good read? Should you grab a relaxing snoozer that won't tax your brain or a thriller that will keep you on the edge of your seat? A topic that relates to the biotech field or a subject as far removed from the office as possible? History or science fiction? Inspiration or cautionary tale?
Whatever your preference, BioWorld has options.
One respondent to the survey for our 2014 reading list, the 8th in our series, suggested the raft of biotech S-1s over the past 12 months – 64 initial public offerings closed since the end of May 2013, with another 21 in the queue, according to BioWorld Snapshots – could offer an ideal solution to induce vacation shuteye. That may be true, but we've found livelier suggestions across multiple categories.
So, happy vacationing – after ASCO and BIO, at least – and happy reading.
The world of fiction, from 19th Century Iceland to dystopian Chicago
Barbara Fox, CEO of Avaxia Biologics Inc., set her reading list when she received a trio of contemporary titles from one of her daughters. One of those, the 2014 Pulitzer Prize-winning novel The Goldfinch, by Donna Tartt, is the tale of a 13-year-old New Yorker who miraculously survives an accident that kills his mother. Twists of fate then mark his adult life. Another, The Fault in Our Stars, by John Green, explores a bittersweet story of love in the face of terminal illness.
Johanna Holldack, CEO of Telormedix SA, recommended The Elephant Keepers' Children, by Peter Høeg. The novel examines fundamentalism vs. spiritual freedom and reflects on the meaning of everyday life. "I love Høeg's books, in particular Borderliners," Holldack said. "And I find it interesting the title is derived from an Indian saying:  'In case you wish to befriend an elephant keeper, make certain to have room for the elephant.'"
BioWorld's Washington Editor Mari Serebrov (@mserebrov), whose stellar first novel, Mama Namibia, was published last year, admitted to having little time for a leisurely read this summer as she pursues her PhD and conducts research for her next book – yes, in her spare time. Nevertheless, Serebrov recommended Hannah Kent's Burial Rites, a historical novel based on a real incident that occurred in 19th century Iceland. The haunting story centers on a servant, condemned to death for a brutal murder, who is sent to the isolated farm of the district commissioner's family, rather than to prison, to live out her final months.
BioWorld Staff Writer Randy Osborne (@ORandyO) proposed the novel Orfeo, by Richard Powers, which he called "brilliant." A modern telling of the Orpheus myth, the book recounts the story of Peter Els, a composer with a microbiology lab in his home who is seeking to discover the "music" in molecular patterns. Long story short, the Department of Homeland Security takes an interest, and Els becomes a fugitive known as "the Bioterrorist Bach." Osborne, who is completing a book of personal essays that includes All Sorts of Things and Weather, Taken in Together and the award-winning Natural Science, commended the prose, such as this example: "Science should have been the career, music just a hobby. He'd lived through the birth of biotech, that whole new art … Genomics was right now learning how to read scores of indescribable beauty. Els just wanted to hear, before the light in his tent went out."
Jennifer Boggs, BioWorld's Managing Editor, acknowledged that her fiction picks represent "a bit of a theme, which is unintentional and somewhat disturbing." With a nod to recent news that Synthetic Genomics Inc. and United Therapeutics Corp. subsidiary, Lung Biotechnology Inc., are working to develop humanized pig organs for transplant, Boggs recommended Margaret Atwood's post-apocalyptic trilogy, Oryx and Crake, The Year of the Flood and MaddAddam. The books feature pigoons, transgenic pigs designed to grow replacement organs for human transplant. "There are, naturally, some unforeseen consequences," Boggs deadpanned.
In other post-apocalyptic fiction, Boggs recommended Ready Player One, by Ernest Cline. Although perhaps "not as cerebral" as some recommendations, "it's a great – if sometimes silly – read for anyone who is an aficionado of sci-fi and '80s pop culture and is in the mood to completely geek out," she said.
BioWorld Senior Production Editor Ann Duncan recommended the Jack Reacher series by Lee Child, the pen name of British author Jim Grant. The main character, popularized by the 2012 film of the same name, is a former military police officer who roams the U.S. with only a toothbrush, an expired passport and an ATM card in his pocket but has a penchant for solving mysteries. Duncan also recommended the science fiction Divergent trilogy, by Veronica Roth, which is set "sometime in the future after a great war," in a dystopian Chicago society behind walls. The first book of that trilogy, by the same name, also was translated to the screen.
Holland Johnson (@Hojomedtechpro), Executive Editor of BioWorld's sister publication, Medical Device Daily, put in a plug for Breakfast Served Anytime, a young adult novel by his sister-in-law, Sarah Combs. The sweet coming-of-age story, which takes place at a camp for gifted and talented students, likely harkens to the experiences of many an inventor – not to mention the next generation of rockstar researchers. The book's back story isn't bad, either.
Nonfiction: Obamacare, 'bankers beware' and warfare
Kate Kuhrt (@KateKuhrt), Senior Director of News and Generics Content Strategy at BioWorld parent company Thomson Reuters, recommended Ezekiel Emanuel's Reinventing American Health Care: How the Affordable Care Act will Improve our Terribly Complex, Blatantly Unjust, Outrageously Expensive, Grossly Inefficient, Error Prone System. The author, professor of medical ethics and health policy at the University of Pennsylvania and former special adviser to the White House on health care reform, examines the ways the ACA reforms are reshaping the U.S. health care system and looks to six emerging health care mega trends.
BioWorld Insight Editor Peter Winter (@canadianbiotech) picked the riveting Flash Boys: A Wall Street Revolt, by Michael Lewis. Winter called the book about high frequency trading "a great and disturbing read" about mechanisms enabling the U.S. stock market to be "rigged for the benefit of insiders."
Amanda Lanier, Production Editor for BioWorld Insight and manager of BioScan, also turned to Wall Street with the recent Kevin Roose release, Young Money: Inside the Hidden World of Wall Street's Post-Crash Recruits. For three years following the financial collapse of 2008, Roose shadowed eight entry-level employees at Goldman Sachs, Bank of America Merrill Lynch and other leading investment firms. The book details the reactions of the young bankers to their grueling work weeks, strange initiations and multi-million-dollar trades, as well as their disappointment at downsizing in their firms and their dismay at criticism of their profession. "Bankers beware: Roose gets pretty critical of the industry," Lanier said, "but it's a quick and easy read that's perfect for plane or poolside."
History buff Steliou Kosta, CEO of Phenomatrix Inc., selected two studies of character and perseverance. He called The Riddle of the Labyrinth: The Quest to Crack an Ancient Code, by Margalit Fox, "an intriguing and thrilling story about breaking the code of ancient languages." His second pick, The Emperor of All Maladies: A Biography of Cancer, by Siddhartha Mukherjee, makes its second appearance on our summer reading list. The 2011 Pulitzer Prize winner examines a disease that "rules" all of us, Kosta said, and dictates the scientific and business strategies of innumerable biotech firms.
In a different take on character and domination, Kosta recommended William D. Cohan's Money and Power: How Goldman Sachs Came to Rule the World. The meticulously researched account examines how the storied investment firm's darker side may have disproportionately contributed to the Great Recession.
Bill Chin, executive vice president of scientific and regulatory affairs at PhRMA, suggested The Bully Pulpit: Theodore Roosevelt, William Howard Taft, and the Golden Age of Journalism, by Pulitzer Prize-winning author and historian Doris Kearns Goodwin. The story is woven around an intense friendship between the two U.S. Presidents that dissolved into a bitter rivalry, splitting apart everything they held dear. "Kearns provided memorable glimpses into the lives and times of Lincoln and other U.S. Presidents," Chin said, adding that her newest book examines the recurring historical theme of social inequity while breathing life into the early 20th Century politicians whose personalities led to cataclysmic political shifts and into the keen investigative reporters who exposed them.
In another historical turn, Chin recommended Men Who United the States: America's Explorers, Inventors, Eccentrics and Mavericks, and the Creation of One Nation, Indivisible, by Simon Winchester. "As an unabashed nerd, I have long admired and enjoyed Winchester's prodigious works, focused on diverse topics such as famous volcanoes, the origin of the Oxford English Dictionary, the birth of geology and the wonders of the Atlantic Ocean," Chin said. "His gift of clear exposition shines brilliant light on some of the most abstruse technical subjects. I know that this most recent work won't disappoint."
Rounding out the category, Mark McCarty (@MedDeviceMark), Medical Device Daily'sWashington Editor, recommended Hew Strachan's The First World War: To Arms, the first of three volumes. McCarty called the book "very timely considering we're close upon the 100-year anniversary of the lighting of the fuse, the assassination of Franz Ferdinand. I can't say I'm a history buff, per se, but World War I, to me, was the defining event of the 20th Century."
The stuff of science: AIDS, Alzheimer's and Africa
A title mentioned on our 5th edition that's worth a repeat is The Immortal Life of Henrietta Lacks, by Rebecca Skloot, recommended by Rachel Hutman at Canale Communications Inc. Equal parts family history, scientific narrative and ethical drama, the page-turner recounts the story of the now-famous woman whose cervical cancer cells were transformed into the indispensable HeLa cell line. In the wake of findings reported at the 50th annual ASCO meeting, this book is a timely choice.
Rob Sarisky, chief business officer at Forma Therapeutics Holdings LLC, recommended a title close to the heart of many biotech CEOs. The Antidote: Inside the World of New Pharma, by Barry Werth, examines the ups, downs and staying power of Vertex Pharmaceuticals Inc., whose efforts to respond to the AIDS epidemic were chronicled earlier by Werth in The Billion Dollar Molecule: One Company's Quest for the Perfect Drug.
Stephen Rose, chief research officer at the Foundation Fighting Blindness, recommended The Disappearing Spoon: And Other True Tales of Madness, Love, and the History of the World from the Periodic Table of the Elements, by Sam Kean, which features not only incredible stories of science but also meanders through history, finance, mythology, the arts and medicine. Calling Kean "an excellent writer" with a gift for deftly explaining his subject, Rose recommended a second work along the same lines. The Violinist's Thumb: And Other Lost Tales of Love, War, and Genius, as Written by Our Genetic Code explores the impact of DNA as the building block of each individual and the human species, as a whole.
Kari Watson, of Macdougall Biomedical Communications, recommended the graphic novel Neurocomic, written by Hana Roš with illustrations by Matteo Farinella, with support from the Wellcome Trust. Watson discovered the book, which examines the workings of the brain, on the blog, Brain Pickings, and credited Maria Popova's review for piquing her interest. She called the book "incredibly well written" and also "beautiful to look at and to hold. I love sci-art and a well-bound book," Watson said. "As someone who works to make complex science understandable and approachable to multiple audiences, it's awesome to see the complexities of neuroscience explained in such a fun, creative way. My six-year-old daughter was even drawn to pick it up and ask questions."
BioWorld European Correspondent Cormac Sheridan (@cormac_sheridan) offered up two science titles, admitting that "neither is probably suitable for poolside lounging, but they do look interesting." In The Alzheimer Conundrum: Entanglements of Dementia and Aging, author Margaret Lock "unpacks assumptions surrounding the looming Alzheimer's epidemic and challenges current ways of framing the disease," Sheridan said. "Alzheimer's research seems to be stuck at present," he added. "A fresh perspective could shine new light on a very gloomy subject."
Sheridan also suggested Bitter Roots: The  Search for Healing Plants in Africa, in which University of California, Berkeley historian Abena Dove Osseo-Asare "tackles the thorny subject of bioprospecting, delineating the clash between indigenous knowledge and patent-driven western pharmaceutical research through six case studies, all of which involved plants native to the African continent."
Biographies: Political intrigue and a science mystery
Anette Breindl, BioWorld's Science Editor, recommended Nathalia Holt's Cured: How the Berlin Patients Defeated HIV and Forever Changed Medical Science. "Despite the sensationalist and, in my opinion, incorrect headline, the story of the Berlin patients – starting with the fact that there are two of them – is fascinating," she said. Breindl's BioWorld article about Timothy Ray Brown and "the Mississippi baby" offers a compelling backgrounder about the value, and potential foibles, of case studies.
Under biographies, I recommend Duty: Memoirs of a Secretary at War, by former U.S. Secretary of Defense Robert Gates. Whether you love politics or detest them, Gates is a straight shooter whose tenure under vastly different White House administrations offers fascinating insights into the workings of the U.S. government's inner sanctum.
A third recommendation in the category came from Avaxia's Fox. I am Livia, by Phyllis Smith, recounts the remarkable life of Livia Drusilla, wife and counselor of the Roman emperor Augustus. Though far removed from the modern world of scientists and politicians, Livia was a woman ahead of her time, wielding incredible power in ancient Rome and the center of no small amount of intrigue.
Inspirational, personal and professional development
The Outsiders: Eight Unconventional CEOs and Their Radically Rational Blueprint for Success, by William M. Thorndike, was the pick of Oleg Nodelman, founder and managing partner of EcoR1 Capital Management LLC. The book discusses capital allocation "as the single most important job of every CEO and the only path to value creation," according to Nodelman, who initially picked it up on the advice of "several of my favorite CEOs."
Greg Bailey, chairman of Portage Biotech Inc., selected Cracking the Code: Understand and Profit from the Biotech Revolution That Will Transform Our Lives and Generate Fortunes, by Jim Mellon and Al Chalabi, which links biotechnology not only to discoveries that offer life-changing therapies but also to innovations that offer the prospect of improved financial returns.
Abbie Celniker, president and CEO of Eleven Biotherapeutics Inc., called Malcom Gladwell's David and Goliath: Underdogs, Misfits, and the Art of Battling Giants a "must-read," suggesting the book will inspire biotech execs to think differently about "the concept of turning disadvantages into advantages." Celniker also plans to re-read The Boys in the Boat: Nine Americans and Their Epic Quest for Gold at the 1936 Berlin Olympics, by Daniel Brown, which recounts the story of the University of Washington's eight-oar crew team in their pursuit of an Olympic gold medal. "There is so much in this book about the mystery of what makes a stellar team and how underdogs can excel through almost unexplainable synergy," she said.
BioWorld's Senior Editorial Director Don Johnston (@JohnstonDon), plans to read Marketing Lessons from the Grateful Dead: What Every Business Can Learn from the Most Iconic Band in History, by David Meerman Scott and Brian Halligan. The book was a gift from his daughter, a marketing professional. "I had heard Scott speak at a conference, was intrigued, and had discussed it with my daughter," Johnston recalled. "It's a quick, fun read. Not every point the authors make will be valid for BioWorld or for any other business. Some of the lessons, though, like 'Turn your customers into evangelists' and 'Rethink traditional industry assumptions,' are universal."
Rachel Hutman at Canale Communications Inc. endorsed a tale of inspiration far from the boardroom in Wild: From Lost to Found on the Pacific Crest Trail, by Cheryl Strayed. The author recounts her solo hike along the Pacific Crest Trail, from the Mojave Desert through California and Oregon to Washington. "She decided to do the hike to find herself again, after her mother passed away suddenly of cancer and her marriage crumbled," Hutman said. "I couldn't put it down."
Forma's Sarisky recommended Supersurvivors: The Surprising Link Between Suffering and Success, by David B. Feldman and Lee Daniel Kravetz. "Given my family's daily struggles with cancer, I'm fascinated by the biology of hope and resilience," he said. "Throughout this, we're learning about the impact of social connections on one's resolve to make the world a better place." That philosophy tied into an additional recommendation: The Key: How Corporations Succeed by Solving the World's Toughest Problems, by Lynda Gratton.
Finally, a recommendation from the heart
            My husband has prosopagnosia, or face blindness, a topic on which I (very) occasionally blog. Friends and colleagues have encouraged a book, and the story of our journey may one day work its way through my fingertips. In the meantime, a fictional character, Jessica, already exists in Faces and the recent follow-on Duplicity. Written by Diane Winger – a rock-climbing enthusiast and self-described software geek who coincidentally has prosopagnosia – the books are entertaining and easy reads, even if the topic is anything but uncomplicated.
It's somehow comforting to read about the familiar signs of face blindness – the inability to spot loved ones in photos, the need to memorize voices or distinctive mannerisms, the hesitation to speak to a colleague or mingle at a dinner party – and hope others are learning about the condition, as well. Considering the biopharma industry hasn't made much of a dent in huge central nervous system indications like Alzheimer's disease and schizophrenia, it's not likely we'll see a therapy for prosopagnosia anytime soon. But at least awareness of the condition is growing. And, perhaps, understanding.