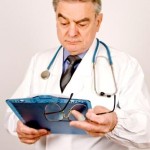 Placebos clearly have an effect on patient's subjective feelings of illness. Many a rueful drug developer, especially of antidepressants, can attest to that. But whether they have a physical effect has not been studied. Researchers at Beth Israel Deaconess Medical Center have compared three different treatments for asthma; they reported their results in the July 13, 2011, online edition of The New England Journal of Medicine.
The treatments were inhaled Albuterol, which is the standard treatment for asthma attacks; two different forms of placebo (an inactive inhaler and sham acupuncture); and no treatment at all. The researchers found that neither placebo improved objective measures of lung function. But they did improve the patients' subjective reports of their lung function, compared to the no-treatment control. In other words, the placebos were as effective as the drug in helping patients feel better, though the drug was clearly the only treatment that improved lung function.
So does that mean it worked? Whether making people feel better without improving their physical symptoms constitutes a successful treatment depends on one's beliefs. And in that, actually it is much like the placebo effect itself.
What do you think? If you have made someone feel better without doing anything for their vital signs, is that success? Or does it just send them toward the abyss in a better mood?
Active Albuterol or Placebo, Sham Acupuncture, or No Intervention in Asthma
Michael E. Wechsler, M.D., John M. Kelley, Ph.D., Ingrid O.E. Boyd, M.P.H., Stefanie Dutile, B.S., Gautham Marigowda, M.B., Irving Kirsch, Ph.D., Elliot Israel, M.D., and Ted J. Kaptchuk N Engl J Med 2011; 365:119-126; July 14, 2011