Working in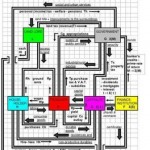 the biotech industry can be a bit like staring into a microscope: you become totally absorbed in the things right in front of your face – your stock price, your clinical progress, your balance sheet – and events in the outside world fly by before you've had a chance to look up. I can tell you in my sleep which biotech companies have recently won FDA approvals, but ask me which U.S. politicians have declared themselves presidential candidates and you'll get a deer-in-the-headlights blank stare.
Which is why I enjoy getting the chance to write articles that broaden my perspective, as was the case with today's BioWorld Insight cover (reprinted in BioWorld Today and available free here), Macro Woes Could Impact Biotech Financing, M&A.
Here are the most interesting things I learned from my interviews and research:
The macroeconomic situation right now is depressing. Stocks are down, unemployment is up, the S&P debt downgrade was ugly, consumer spending is weak, GDP estimates have been lowered and the rest of the world isn't doing any better.
Biotech is not immune from these issues, despite the fact that healthcare stocks are usually "defensive" plays. That's because clinical-stage biotechs always need cash, and cash is harder to come by when stock prices fall. If the fed raises interest rates, that could also make biotech convertible debt less attractive. Valuations could be influenced as well, which could trickle down to impact M&A.
There's so much volatility right now that even the experts don't know what's going to happen next. But they are concerned we haven't fixed the problems that caused the 2008 recession. So it might not be a bad idea for biotechs to hope for the best and prepare for the worst (which should come naturally, since that's the mindset for drug development, too).