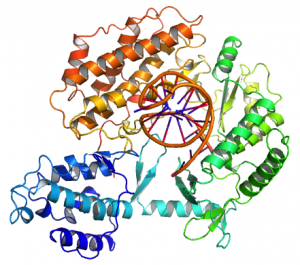 As is the case with many other areas of the modern world, medical science has made enormous strides over the past century or so, and it seems as though the pace of change is accelerating. It's like being with Edwin Hubble and Georges Lemaître when they first started looking at far-flung regions of the universe. They both realized the universe was expanding, but what was not immediately obvious was that the expansion was accelerating.
To me, that's where things stand with medical science now, and while the chatter about telomerase has been around for two decades or so, it appears the push to develop this enzyme may soon reach a critical mass. The question – assuming this idea has any legs under it at all – is whether it'll be worth pursuing.
To quickly recap, telomerase is the agent that repairs the telomeres at the end of strands of DNA. What's really interesting, though, is the number of disease states that seem to be associated with telomere degradation (which of course leads to degradation of DNA). The list runs from heart disease to neurodegenerative states and a range of items between, including diseases of the bone marrow.
Geron (Menlo Park, California) came up with what seems to have served as a blueprint for other efforts with a 1998 experiment with human tissues treated (apparently in vitro) with a human telomerase catalytic sub-unit, during which treated cell lines "exceeded their normal life span by 20 doublings."
And there's no lack of clinical interest in evaluating telomere integrity to determine whether there's an association with disease states. For instance, clinicaltrials.gov yields 50 hits if you use telomerase as a search term.
A little skepticism is called for in this situation, however. For instance, the chatter that surrounded tissue scaffolding in times gone by now seems a bit premature. After all, patients still have to rely on ventricular assist devices and artificial pancreases, so there are fields of pursuit that just never seem to catch fire, although that's not to say these are necessarily dead ends. Among the limitations of the telomerase concept is that the correlation between age and telomere length is not always straightforward. At the very least, this should feed a little skepticism about telomerase as a fountain-of-youth drug.
Still, the telomere/telomerase discussion is a little unique in that it offers some prospect of repairing living things at a seemingly fundamental level. The ability to administer telomerase in a targeted fashion could reverse the damage seen in heart failure if some of the current research has it right, but one has to ask whether some cancers could be treated by blocking telomerase.
But in the final crunch, even successful telomerase therapy won't mean much if it doesn't help us stay on the job longer. After all, we can afford only so many miracle drugs and devices before healthcare in general and Medicare in particular suck the life out of the economy, and the only way to avoid that problem is to maintain physical and mental vigor for another four or five years beyond the typical age of retirement as is now defined. We should also acknowledge that much of that problem has to do with diseases of lifestyle.
Healthcare spending would make much more sense if we could just find a way to leverage these miracle treatments into GDP growth outside the confines of the healthcare economy. The problem is that to date, all the growth in healthcare has benefited seemingly no one who's not employed in healthcare. Can telomerase break that dynamic?
We'll see.