BOSTON – For diagnosing nonalcoholic steatohepatitis (NASH), liver biopsy is "the reference standard," Dean Hum, president of Genfit Corp., told BioWorld. "I'm not going to call it the gold standard."
Some of the reasons for denying biopsies a gold sticker are obvious. Biopsies are invasive, which makes them risky, expensive and loathed by patients and doctors alike.
"In the real world, doctors don't always do biopsies – many say they very rarely do biopsies unless other data points in several directions and they need that for clarity," Gail Cawkwell told BioWorld.
What's less obvious is that for all that tsuris, biopsies don't deliver particularly nuanced information.
Liver biopsies deliver a diagnosis of a disease stage that can range from 0 for early fibrosis to 4 for cirrhosis. Such staging "puts people into large boxes," Cawkwell said. "But there's not a lot of granularity."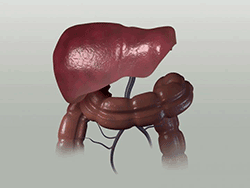 That lack of granularity also makes it hard to see progress. To move up a stage, Cawkwell, who is the senior vice president of medical affairs, safety & pharmacovigilance at Intercept Pharmaceuticals Inc., said that "you have to have a lot of improvement, and improvement may be slow."
Noninvasive tests, on the other hand, measure continuous variables, which can make drug effects easier to see.
Hum termed noninvasive diagnostics a "second pillar of unmet need," in addition to drugs themselves. Although several noninvasive tests diagnose NASH based on serum biomarkers or liver stiffness, as measured by ultrasound, none of the current tests are likely to convince the FDA or payers that the need for biopsies to diagnose NASH is a thing of the past.
Barring large surprises, Intercept's Ocaliva (obeticholic acid) and Genfit's elafibranor will be the vanguard of NASH drugs. Both companies are among those looking for ways to identify patients who meet the criteria for NASH without resorting to biopsies.
Genfit has developed a four-biomarker blood test, the NIS4, that is partnered with Covance. NIS4 measures four parameters and uses an algorithm to identify patients that should be considered for therapy, based on their predicted risk of fibrosis. The company plans to file for approval of the test in 2020 or early 2021. At the meeting, Genfit scientists presented an abstract comparing NIS4 to other noninvasive diagnostic tests in patients with type 2 diabetes. NIS4 "significantly outperformed existing non-invasive diagnostic tests in accurately identifying NASH (NAS>4) and significant fibrosis (F>2) in patients with type 2 diabetes."
Intercept presented data from its phase III REGENERATE trial, which is the basis of its September NDA filing for Ocaliva in NASH (the drug is already approved for the treatment of primary biliary cholangitis). They showed that treatment with Ocaliva led to "time- and dose-dependent improvements compared to placebo across commercially available noninvasive tests," including blood tests as well as an assessments of liver stiffness.
Researchers took a further step back, using machine learning techniques to identify factors already in patients' medical records to predict their likelihood of NASH.
At a Monday machine learning session, Joern Schattenberg, director of the translational hepatology research laboratory at the University of Mainz, presented his team's work on "predicting NASH patients in real-world settings."
NASH, Schattenberg told the audience, is "a silent disease." And an invisible one, too. Despite the large and growing number of patients – as of 2018, NASH was the leading reason for liver transplant in women, and the second leading reason for men – "primary care providers and secondary care providers are unaware of the disease."
Schattenberg and his colleagues used two databases, a longitudinal database from the National Institute of Diabetes and Digestive and Kidney Diseases and the Optum electronic health records database, to evaluate a large number of parameters for whether they would predict that a patient would have NASH or would not have NASH.
The team used an extreme gradient boosting model to identify 14 parameters whose collective measures were able to predict with 72% to 81% sensitivity which patients had NASH, and a reduced five-feature set, consisting of HbA1C, the liver enzymes AST and ALT, total protein and triglycerides, that achieved 66% sensitivity.
The program, which is called NASHMAP, is "not meant to replace tools that predict patients at advanced risk of fibrosis," Schattenberg said. But it can help find patients that need further screening or closer monitoring.
Schattenberg pointed out that while some of the features, such as HbA1C levels, are well-known to relate to NASH risk, total protein is "something that you do not look at," demonstrating machine learning's ability to pick out associations that physicians might miss.
The results also provided a stark confirmation of Schattenberg's assertion that doctors are unaware of NASH. The NASHMAP algorithm predicted that the total number of patients in the Optum database with NASH would be 1% of the total, or 900,000.