Akero Therapeutics Inc. rolled out stellar non-COVID-19 (for a change) clinical news with long-acting fibroblast growth factor 21 (FGF21) analogue AKR-001 in biopsy-confirmed nonalcoholic steatohepatitis (NASH), but even in liver disease the pandemic became part of the discussion.
Shares of San Francisco-based Akero (NASDAQ:AKRO) closed at $21.20, up $4.02, or 23.4%, on favorable 12-week efficacy endpoint results from the ongoing phase IIa study called Balanced. AKR-001 met the primary endpoint of an absolute reduction in liver fat content (LFC) across all three dose arms with reductions in LFC ranging from 12.3% to 14.1% (all p<0.001 vs. placebo) in the small proof-of-concept study against NASH. "This is well above the ≥ 8% absolute LFC reduction that we were looking for as clinically meaningful and to count the readout as a win," Wainwright analyst Ed Arce wrote in a report. Absolute change from baseline in liver fat is measured by magnetic resonance imaging – proton density fat fraction (MRI-PDFF). Evercore ISI analyst Josh Schimmer in his report called the stock reaction "somewhat muted, given the broader macro environment, but the results are still exceptional."
All three secondary endpoints were also met at highly statistically significantly levels, with the relative reduction in LFC ranging from 63% to 72%, which is "well above our bogie of at least 50%, translating to the proportion of patients achieving ≥ 30% relative LFC reductions ranging from 75-85% (again, well above our expectations of 50%)," Arce said, noting that "this represents 50 patients out of the 59 across the three AKR-001 dose groups. These patients are deemed responders and are to continue in the still blinded study for a second, paired biopsy at weeks 22-24, with results expected next quarter."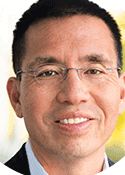 The Balanced experiment, which completed enrollment in December 2019, is a multicenter, randomized, double-blind, placebo-controlled, dose-ranging trial that randomized 80 participants to receive weekly subcutaneous doses of AKR-001 or placebo for up to 16 weeks, with safety and tolerability followed through week 20. The primary efficacy endpoint for the study is absolute change from baseline in hepatic fat fraction measured by MRI-PDFF at week 12. Secondary measures include change from baseline in alanine aminotransferase (ALT) at 12 weeks, the number of patients who had a decrease of more than 2 points in the Non-Alcoholic Fatty Liver Disease Fibrosis Score at 24 weeks and safety and tolerability measures.
CEO Andrew Cheng, during a conference call with investors, was asked by Jefferies analyst Michael Yee how COVID-19 might affect getting future biopsies; 25 of 50 eligible patients have received their end-of-treatment biopsies so far. Cheng called the virus a "moving target" and noted that "the situation is emerging day to day. It's difficult to predict when a state might go on shutdown, or they might prohibit other procedures. We're working at it, but it's difficult to predict with a high degree of accuracy how many of those we'll get." Evercore's Schimmer opined that, "given the evolving situation with COVID-19, some biopsies [due in the second quarter] may be impacted ([we] have seen this in a few patients so far)," though Akero is "working with sites to increase flexibility of biopsy timing."
Connecting the dots
Reductions in ALT, a marker of general liver injury and fibrosis, ranged in Balanced from 24 to 32 units per liter (U/L) across the three arms – yet again, "well above the 17 U/L threshold (at 24 weeks) that points to translation of benefit on biopsy results," Arce said, pointing out that a recent logistical regression analysis of the results of New York-based Intercept Pharmaceuticals Inc.'s obeticholic acid in the study known as Flint found that a decrease in ALT levels at week 24 by 17 U/L or more was "significantly associated with histologic response."
Cheng was also asked how MRI-PDFF data might translate to fibrosis readings. "That's a very active topic in the field," he said. "We've seen some [MRI-PDFF outcomes] read through very well," whereas "things are less clear" in the data such as those gleaned by Newark, Calif.-based Cymabay Therapeutics Inc. In 2019, Cymabay said it was terminating its phase IIb study of peroxisome proliferator-activated receptor delta agonist seladelpar in subjects with NASH along with its then recently begun phase II experiment with the same drug in primary sclerosing cholangitis. The company put on hold all studies of seladelpar in subjects with primary biliary cholangitis, too, based on initial histological findings observed in the NASH effort. Planned, blinded histological assessments of the first tranche of liver biopsies in the trial turned up atypical readouts, including histology characterized as an interface hepatitis presentation, with or without biliary injury.
Akero in-licensed AKR-001, from Amgen Inc., of Thousand Oaks, Calif., which had been developing it in diabetes but decided, because of the company's areas of therapeutic focus, to let the candidate go. AKR-001 at that point had been through a phase I multiple ascending-dose study lasting four weeks.
In a separate report on March 2, Wainwright's Arce said data "from close analogues offer substantial clinical validation for AKR-001 in NASH," including results with New York-based Bristol Myers Squibb Co.'s pegylated FGF21 drug, pegbelfermin (formerly BMS-986036), as well as the glycopegylated FGF21 BIO89-100 from 89bio Inc., of San Francisco. Also in play is NGM Biopharmaceuticals Inc., of South San Francisco, with the FGF19 therapy aldafermin. Taken together, they highlight the "broad histologic potential" of the Akero prospect, in his view. Schimmer, for his part, said he was pleased with the latest results in efficacy as well as safety. Although the study remains blinded, Akero assured investors that "the safety profile has been consistent with prior experience [with the drug[ in type 2 diabetes mellitus; the most common adverse events are mild/moderate gastrointestinal effects and injection-site reactions." Compared to other programs in NASH, ARK-001 "appears to have among the most potent effects on liver fat, and NGM recently presented strong histology results for aldafermin, despite lower effects on MRI-PDFF, helping to connect the dots to Akero's potential biopsy effects," Schimmer wrote.