DUBLIN – Compass Pathways Ltd. raised $80 million in a series B round to continue its development of the psychedelic drug psilocybin in treatment-resistant depression.
The round was co-led by existing investor Berlin-based ATAI Life Sciences AG and two new investors, Founders Fund, a venture capital fund co-founded by tech investor Peter Thiel, and McQuade Center for Strategic Research and Development LLC, which is part of Tokyo-based Otsuka Pharmaceutical Co. Ltd.
None was deterred by the impact of the COVID-19 pandemic, which has necessitated a temporary halt to the London-based company's phase IIb trial. "We paused the recruitment at all the sites," co-founder and Chief Business Officer Lars Wilde told BioWorld. "We were doing really well." The novelty of its approach had sparked interest in prospective participants, he said. Compass aims to reopen the study shortly, he said, but it will miss its December 2020 estimated study completion date, as set out in its ClinicalTrials.gov record. "We're very confident we're going to complete it next year," Wilde said. As yet, it has no visibility on which quarter, however.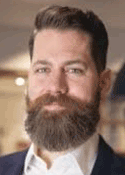 The study is testing three doses – 1 mg, 10 mg and 25 mg – of psilocybin in patients. The primary endpoint is based on the rate of response – defined as a decrease of over 50% in the 60-point Montgomery Asberg Depression Rating scale at 12 weeks – and on the rate of remission, defined as an absolute score of less than 10. The decision to omit a control arm was taken following interactions with the FDA and the EMA. "Everybody agreed it's impossible to blind a psychedelic experience," Wilde said. The low-dose arm will effectively serve as a control arm, as it is not expected to elicit a clinical effect.
Compass had secured the first $20 million of the round by last September, following a readout of a study in healthy volunteers, in which the drug demonstrated a good safety profile. The fundraising effort got underway at the JP Morgan meeting that followed in January. The company will use the cash for several purposes. It will conduct a number of additional clinical studies to inform its phase III program; it will also invest resources in drug discovery focused on finding molecules with more finely tuned mechanisms; and it will also invest in digital tools that will be part of its set of offerings to patients.
New psychedelic wave
The company is part of a new wave of firms that is going back over territory that was originally explored many decades ago, but it is doing so, Wilde said, with the present era's more nuanced understanding of psychiatry and its more sophisticated tools for examining brain function. The use of psychedelic or hallucinogenic drugs is synonymous with the "turn-on-tune-in-drop-out" mantra of the 1960s counter-culture. Any interest in their therapeutic potential was largely abandoned during the conservative backlash that took hold in the decades that followed, but interest is now being reawakened as taboos around the medical use of what were previously considered illicit recreational drugs are being abandoned.
The pioneering work of Cambridge, U.K.-based of GW Pharma plc in developing cannabinoid-based drugs for rare forms of epilepsy helped to shift the culture substantially. "We learned a lot from them," Wilde said. GW Pharma's former chief medical officer and board director Stephen Wright is a senior medical advisor to Compass.
The FDA approval just over a year ago of Spravato (esketamine), developed by the Janssen arm of Johnson & Johnson, in treatment-resistant depression also marked an important turning point for the field. The risk evaluation and mitigation strategy (REMS) that J&J, of New Brunswick, N.J., had to implement as part of the approval, which requires supervised administration of the drug, has created a therapeutic infrastructure of sorts that other drug developers can avail of.
Should psilocybin receive regulatory approval, Compass also expects the drug – currently a schedule I substance under the Controlled Substances Act – to be administered in licensed therapeutic settings, under the supervision of trained practitioners. It is being offered along with an array of supports, including psychotherapy, which are provided both in advance of and after the treatment is administered. Psilocybin, which is found in various genera of mushrooms collectively known as magic mushrooms, is a prodrug, which is rapidly dephosphorylated to psilocin, which is an agonist or partial agonist of several serotonin receptors. Its effects on brain plasticity and normalizing the brain circuitry offer patients an opportunity to "rewrite" their own narrative and to effect useful changes in their lives, as part of a wider therapeutic framework.
Several other organizations are also developing psychoactive drugs for psychiatric conditions. The Usona Institute, of Madison, Wis., is conducting a phase II trial comparing a 25-mg dose of psilocybin with a 100-mg dose of niacin in patients with major depressive disorder. Revive Therapeutics Ltd., of Toronto, recently completed the acquisition of Psilocin Pharma Corp., of Ontario, which has developed several formulation and production methods for making psilocybin. Closest to approval is the not-for-profit Multidisciplinary Association for Psychedelic Studies, of Santa Cruz, Calif. It is currently conducting a phase III trial of 3,4-methylenedioxymethamphetamine (MDMA), the active ingredient of the recreational drug ecstasy, as an adjunct to psychotherapy for patients with treatment-resistant post-traumatic stress disorder.