"All along our guidance has been that, look, we are doing multiple open-label studies with the intent of picking a winner," said Protagonist Therapeutics Inc. CEO Dinesh Patel during a conference call with investors. "Today, we have picked a winner by a huge margin" in the shape of PTG-300, an injectable hepcidin mimetic for the rare blood cancer polycythemia vera (PV).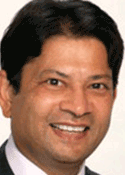 Shares of the Newark, Calif.-based firm (NASDAQ:PTGX) closed at $14.20, up $6.47, or 83.7%, as Wall Street welcomed initial data from the ongoing phase II with PTG-300. Treatment at individualized doses ranging from 10 mg to 80 mg for up to 28 weeks provided control of hematocrit levels and eliminated the need for phlebotomy in all six patients. A seventh, on the drug for 12 weeks, had an unintended dose interruption, received a single phlebotomy and remains on the study. Eight patients are now signed up.
The study also yielded positive symptomatic measurements related to the ability of PTG-300 to address iron deficiency in PV patients, who frequently must have blood removed. They showed increases in serum ferritin values approaching the range observed in healthy subjects, Protagonist said. Approved for PV is the JAK inhibitor Jakafi (ruxolitinib), from Wilmington, Del.-based Incyte Corp. Jakafi first reached the market in November for myelofibrosis; PV was added to the label in late 2014 and acute graft-vs.-host disease in May 2019.
Patients enrolled in the PTG-300 study had received at least three phlebotomies within a 24-week period prior to PTG-300 treatment and were treated for up to 28 weeks as of the cutoff date of May 1 (a range of four to 28 weeks, with seven evaluable for efficacy). Chief Medical Officer (CMO) Samuel Saks said the company is "in the process of working with thought leaders to design pivotal studies" and officials "can't say much more about" those until the details are worked out and the FDA has been consulted. "The current study is going to continue and expand," he said. "The first part is open label, so we'll be aware of the data as it evolves. The randomized portion will be starting, and we expect there will be further updates in the last half of the year" at medical meetings, he said.
Ronald Hoffman, director of the Myeloproliferative Diseases Program at The Icahn School of Medicine at Mount Sinai and an investigator in the PTG-300 study, pointed to the potential for weekly self-administration of the drug. Saks noted that such patients "have to seek medical care; they can't just stay in the house and hunker down" lest they risk thrombotic events, so the possibility that they could give themselves the treatment matters significantly. PTG-300 was well-tolerated and the safety profile was generally similar with results of prior studies, with injection-site reactions and bruise as the only observed adverse events.
The trial is expected to enroll about 50 patients. Specifically, its design consists of a 16-week open-label dose-escalation, reduction or maintenance stage every four weeks from 10 mg to 80 mg and a 12-week maintenance period at doses that generate the targeted hematocrit levels, followed by a randomized and blinded withdrawal stage up to 12 weeks. An open-label extension will last for up to one year, monitoring long-term safety and other effects. The primary endpoint is the proportion of responders during the blinded randomized withdrawal period. Other endpoints include measurement of blood parameters (hematocrit and hemoglobin levels), reductions or delay in phlebotomy requirements and improvements in quality-of-life symptoms.
Separately, PTG-300 has turned up "compelling proof of biology data with thalassemic mice," SVB Leerink analyst Joseph Schwartz said in a report, with post-treatment hemoglobin levels higher and spleen/body weight ratio lower. CMO Saks emphasized that the decision to turn efforts toward PV was "not a matter of us reacting to [data in beta-thalassemia]. This is a matter of us reacting to the fact that PV is so outstanding. When we saw this data, there was no question in our mind that this needed to be the focus of the company."
Though PTG-300 took up the conference call, Protagonist has more in the works, including PTG-200 in phase II with partner Johnson & Johnson. PN-943, also ready for phase II, targets ulcerative colitis. Those studies are on hold because of the COVID-19 pandemic.
Schwartz reiterated his outperform rating on the company and his price target of $17. Wainwright's Douglas Tsao likes the story, too. "While the company indicated it plans to discontinue development in beta-thalassemia, it intends to proceed with development in hereditary hemochromatosis as a secondary indication, which we think is sensible considering the high probability of success, given the straightforward mechanism," he wrote in a report.
PV is a chronic disorder involving the overproduction of blood cells in bone marrow. "The overproduction of red blood cells is most dramatic, but the production of white blood cells and platelets are also elevated in most cases," according to the National Organization for Rare Disorders. The blood thickens, leading to symptoms that include headaches, fatigue, weakness, dizziness or itchy skin. Patients' spleens may enlarge, and gastrointestinal problems may arise, along with the risk of blood clots. More than 90% of people with PV have a mutation in the JAK2 gene.