LONDON – With results of its first phase I trial imminent, inflammasome specialist Nodthera Ltd. has raised $55 million in a series B round, providing funding for phase II proof-of-concept studies and to advance a second, brain-penetrant, compound to the clinic.
In addition, the company will continue drug discovery work to find further small-molecule inhibitors of the NLRP3 inflammasome, which regulates the production of the proinflammatory cytokines IL-1beta and IL-18, in response to infections and injury.
Overactivation of NLRP3 leads to the chronic inflammation that underlies diseases including Alzheimer's and Parkinson's, multiple sclerosis and fibrosis.
In preclinical studies, the lead program, NT-0167 demonstrated potent and selective inhibition of NLRP3, resulting in reduction of IL-1beta and IL-18 levels, but without broader immune system suppression.
In the first quarter of the year, enrollment in the phase I trial of NT-0167 was held up by the COVID-19 pandemic, but Cambridge, U.K.-based Nodthera was able to get a second site up and running and expects to get the results in the summer.
Although a volunteer study, the phase I is not only assessing standard measures of safety, tolerability and pharmacokinetics, said Adam Keeney, CEO. "[It] also looks at IL-1 reductions in healthy volunteers, so we will know if [NT-0167] is safe, but also will advance towards proof of concept; it will derisk the program in many ways," he told BioWorld.
The compound could be relevant in a range of indications, including idiopathic pulmonary fibrosis, inflammatory bowel disease and nonalcoholic steatohepatitis. There is no decision as yet on what to pursue in phase II.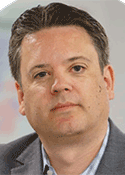 "We want to derisk, so we can move to larger, more complex diseases," Keeney said. "It won't be a rare [disease] but will be a well-characterized NLRP3 disease."
In parallel, the series B will be used to take the second compound, NT-0796, forward in pursuit of what could be an even bigger prize in the treatment of neurodegenerative diseases.
As Keeney noted, neuroinflammation is now recognized as a causative factor in a number of these serious diseases. "There are a whole host of opportunities; we're particularly interested in multiple sclerosis and Parkinson's disease," he said. "Alzheimer's disease would be a major, major opportunity, but we wouldn't do that alone."
As yet, it is not clear if it is feasible to conduct a phase I study of NT-0796 in volunteers. "For example, if we need to do cerebrospinal fluid sampling it may need to be patients," Keeney said.
Inhibiting NLRP3, rather than the cytokines it releases, has proved a difficult task for companies pursuing that target. Conventional drug discovery tools have been found wanting because the inflammasome is formed from 11 protein subunits that assemble in a single, large signaling complex. That makes it hard to elucidate the molecular structure and to develop assays on which to test potential hits.
However, Keeney said Nodthera has made significant progress since its formation in 2016 around chemistry from Selvita SA, of Krakow, Poland, with seed funding from Epidarex Capital.
The company used human blood and liver cells for screening molecules from the beginning, to show its compounds are active in human tissues, has built its own proprietary database of structure activity relationships and designed its molecules to target different organs.
"We've broken out into new chemical space. As a company, we have a lot more insight now," said Keeney. "What we see as our task with the series B is to advance to the value inflection point of showing our molecules are behaving well."
The series B round was led by new investor Novo Ventures, with two other new investors, Sanofi Ventures and Cowen Healthcare Investments. Existing investors 5AM Ventures, F-Prime Capital, Sofinnova Partners and Epidarex, who put $40 million into the series A round two years ago, all followed on.
Nodthera is not the only inflammasome company to close a financing round during the COVID-19 crisis. Last month, Ventus Therapeutics Inc. raised $60 million in a series A round. Like Nodthera, the Montreal-based company said it has found a route around the drug discovery hurdles, by stably expressing inactive protein subunits as the starting point for target-based discovery and structure-based design.
Inflammasomes may be in fashion, but Keeney wouldn't recommend fundraising in a global pandemic. Negotiations on the series A were relatively far advanced when COVID-19 struck, but "there were some butterflies" when the Dow dropped 600 points in a day, he said.
However, the investors took a long-term view. "They were making sure we can weather the COVID-19 storm; they were looking at two-year plans, not two months," said Keeney.