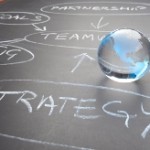 When I was at the Biocom Global Life Science Partnering Conference last week, one of the more interesting debates I heard was about whether it's better to in-license an asset or acquire the whole company.
While every case is different and most big pharmas pursue both strategies, the business development execs at the conference had some very different opinions as to which is preferable, in a general sense.
Martin Birkhofer, vice president of the strategic transactions group at Bristol-Myers Squibb Co., said his team generally likes acquisitions because they result in a total transfer of control over the asset. "For us, it's about having the opportunity to control your own destiny," he said.
But Brian McVeigh, vice president of WWBD transactions and investment management at GlaxoSmithKline plc, said he mostly reserves acquisitions for either marketed products or broad technology platforms. "We don't want the binary risk of a product that's going to hit in the next few years," he said.
Perhaps most interesting, both Greg Wiederrecht, vice president and head of external scientific affairs at Merck & Co. Inc., and George Golumbeski, senior vice president of business development at Celgene Corp., said they usually leave it up to the biotech to decide whether they'd prefer a licensing deal or an acquisition.
"Starting about nine or 10 years ago, there was a sea change in what a small company wants," Golumbeski said. Back in the earlier days of biotech, all small companies had dreams of independent growth along the lines of Amgen Inc., so bigger firms had to bring up the question of an acquisition very gingerly, he said. But now, the mentality has shifted to 'just buy us' – a mentality that restricted access to capital during the past few years has only exacerbated. Golumbeski estimated that Celgene's ratio of acquisitions to licensing deals is 80/20 today.