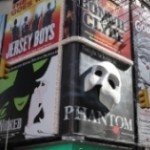 "Hey kids, let's put on a show!" That was a famous line from the 1937 Broadway musical, Babes in Arms, shouted to exhort the old gang to take action to save the orphanage. As the theater market just put on its Tony Awards to assess the state of its industry, June is also the most active event season for biopharma, as the industry puts on its own long-running show, with the ASCO and BIO events taking center stage this month. Only this time, it's not the orphanage that's in need, but the orphan drugs – as well as the biosimilars, the early stage projects, the expiries, the patients and the rest of the cast of thousands that perform on biopharma's market stage.
The musical's stars are two enterprising performers who collaborate to navigate the pratfalls of show business, while performing an altruistic mission; whereas pharma and biotech are two enterprising industries that work in partnership to . . . well, you get the analogy. If not, try these Broadway-to-biopharma correlations on for size:
Death of a Salesman is called to mind, considering the demise of pharma sales reps clutching on to the clinical value proposition, rather than the reimbursement value proposition.
The biggest pharma, aka "The Lion King," Pfizer Inc. is pulling out all the stops with its Lipitor extended run playbill that employs stage tricks such as co-pays, rebates, discounts and mailing direct to customers. If successful – patent cliff be damned (Yankees) – the New York-based pharma could keep Lipitor running in revival longer than "A Streetcar Named Desire."
China is leading a BRIC ensemble staging of "How to Succeed in Business Without Really Trying," as there is no shortage of Western producers willing to supply the talent and innovation to create biopharma's next round of wicked blockbusters.
The curtain is going up on a real-life "West (coast) Side Story," as "A Chorus Line" of pharmas are gearing up to fight like the Sharks and the Jets over San Diego-based Amylin Pharmaceuticals Inc. And Human Genome Sciences Inc. (HSGI) isn't falling for the song and dance that GlaxoSmithKline plc is putting on either, as the biotech has put itself on the marquee for sale, hoping to secure an M&A exit-stage-left by drawing more than the $13 per share offer that HSGI is offering.
It seems that anything goes in biopharma, including the possibility that the White House – and regulatory edicts – could fall under the auspices of the "Book of Mormon" in November, but whatever happens, count on BioWorld to deliver the newsies.