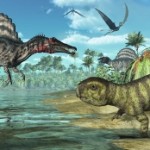 If the big pharmas are indeed dinosaurs, they have learned to do what their predecessors could not: survive!
Pharma may be prehistoric in terms of age compared to biotech, but it maneuvers more like a velociraptor than lumbering brontosaurus, as it commonly consumes everything in its path that can impend, contest or abet its dominance.
Likely, 100 years from now, pharma will still be standing and bio-who? will be so assimilated into the DNA of pharma that its individuality is what will be extinct.
Increasingly, pharma is obliging all of us to disregard the biotech industry as a standalone entity and acknowledge it as part of a seamless "biopharma" industry.
Sure, the biotech sector is projected to be the leading drug development market component by 2020 in terms of growth, R&D, new product development and well, just about everything except the executive management of the market.
Often, biotechnology company evolution entails the biotech progressively learning to stand on its own, just in time to be rancorously swept off its nimble feet in a late-stage takeover by a supposedly unwieldy pharma antagonist.
Resistance is Futile
The pharmeleon is trans-pharming again to assimilate with biotech, its latest target. Since 2000, pharma has recurrently been able to assume the persona or façade of a biotechnology entity, a VC, a med-tech, a generics developer or whatever was necessary to fend off internal and external potential maladies such as patent cliff obsession, pipeline arrhythmia, product envy, market share anxiety and stockholder disorder.
Pfizer Inc. is staving off the evolution of the generics companies by extending the reign of the Lipitor pharm-ulary with a discount on the brand drug that undercuts the generic price. It won't work forever, but the tactic is, so far, out of the scope of regulation and has kept Lipitor from the extinction list past its expiry date. It's not new product development, but it is innovative survival skill.
Selling brand drugs at generic prices to thwart generics cannibalization and instead parasitize the 180-day generics exclusivity period? That's pharma-tastic!
The top-selling pharma drug list leaders will likely change every quarter for the remainder of 2012 and into 2013, reflecting the patent loss frenzy. Much analyst speculation exempts none of biotech's best and brightest – ranging from the rare disease prodigy BioMarin Pharmaceutical Inc., to Amgen Inc., the market's most profitable biotech – from the pull of pharma's big deal crusade, as biotech's vanguard is projected to be continually conscripted into pharma's M&A time machine throughout the decade in order to keep repeating the history of pharma's success.
So, Sanofi's road to the future suddenly looks clotted with regulatory setbacks and blockbuster expiries? Implement Plan B: move Genzyme Corp. into pharm-ation to attack the clinic!
It's a Pharma World!
Pharma permeates all it encounters. If you are waiting for the patent cliff asteroid to knock the pharma market off its axis and into extinction – give up on that thought! That threat is being flicked off more like aggravating grains of sand than a deadly space rock in hurtling free-fall.
After all, this may be pharma's most serious patent cliff, but it isn't its first, as the species has survived the end of gilded eras including that of Valium, Prozac, amoxicillin, Ritalin and more, and has also regularly withstood periods when more than 100 pharma patents per year expire.
Around 2030, when market archeologists excavate for clues to the fate of the self-sustaining biotechnology industry, the only artifacts they will find will be the well-preserved in-house carcasses and the fossilized stock tickers of the legendary alpha male biotechs such as Human Genome Sciences Inc., Genentech, MedImmune Inc. and also the likely additions of current market leaders such as Celgene Corp., Gilead Sciences Inc. and any other brave souls game enough to evolve to the large cap food chain menu.
In maintaining its status as the pharm-most drug development market, pharma has mastered the pharm-ula for success that relies on making the biotech market dependent on its pharm subsidies to survive.
Biotech may be first-in-brains, but pharma is first-in-business. Original innovation may be coming from biotech, but just about all else resides in the Cave of the Small Molecule Clan.
Where would the biotech market be without pharma, and more to the point: where would you, I and about a pharma-trillion other patients who have popped a pill within the last century be without the reliable presence of the ancient ones?
We all want the biotech industry to succeed and it likely will – under the general auspices of pharma.