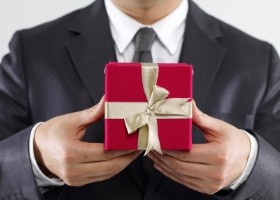 It's that time of year, when some thoughts turn to sugar plum fairies and others to the J.P. Morgan Healthcare Conference – or JPM#13 as it's now widely known. Before you pop the cork on another New Year, however, it's time to pick a present for everyone on your holiday list. For your shopping pleasure, BioWorld's annual gift guide, now in its sixth year, has just the items you've been seeking – even for the most finicky friends.
The Biotech Exec
The first gift suggestions are likely the most popular and practical for your favorite biotech exec. The iPad Mini and Apple TV each offer "a small package that allows for amazing presentations," said David J. Kolb, CEO of Miami-based Insero Health Inc., who put these gadgets on his holiday shopping list.
Similarly, i3 Analytics' ClinicalTrials Navigator sorts reams of information and presents the data in a streamlined format. This tool provides information on hundreds of thousands of clinical trials around the world in a user-friendly interface that allows biotechs to track pipelines by disease state, intervention, sponsor, mechanism of action or phase – perfect for racing those pesky competitors to FDA approval.
To dress for success, ties from the DNA Store are "perfect for the executive who wants to impress at board and fundraising meetings," said Peter Winter, editor of BioWorld Insight. Some of the bolder styles also will help you stand out among the JP Morgan crowd, he observed. And don't overlook the female biotech exec on your gift list; this site offers distinctive DNA jewelry.
For those prospective investors on the other side of the table, consider the eye-grabbing t-shirts from VCwear, recommended by BioWorld's executive editor, Lynn Yoffee. No one wears ties in Silicon Valley, right?
The Historian
BIO president and CEO Jim Greenwood recommended the gift of participation in National Geographic's Genographic Project. The package includes a buccal swab kit, DNA analysis and a report placing you on a branch of the human family tree and tracing the ancient migrations of your ancestors across the globe. You can also agree to anonymously contribute your data to National Geographic's genomic database. To date, the project has attracted more than 500,000 participants.
In a similar vein, BioWorld staff writer Catherine Shaffer suggested the genotyping service 23andMe, which allows you to connect to your past, learn about your present and contribute to the future by contributing your DNA. With more than 150,000 genotyped members, the service enables users to peek into their ancestry composition and genetic relatives.
In another participatory event, the Life Sciences Foundation is conducting oral histories with luminaries and sharing the story of biotechnology through its website, quarterly magazine and educational events. Earlier this year, the Foundation published Honoring 25 Years of Biotech Leadership, an illustrated coffee table book honoring individuals, companies and scientific achievements inducted into the Biotech Hall of Fame. Currently, LSF is working on a comprehensive scholarly history of the origins of commercial biotechnology, scheduled for publication in 2014.
The Clinical Investigator
What clinical investigator isn't occasionally befuddled by the overwhelming amount of data associated with human trials? Calculate is a next-generation clinical calculator and decision support tool for iPhone, iPad, Android and BlackBerry that's freely available to the medical community. The tool offers more than 150 unique calculators and decision support tools, plus detailed references with Pubmed integration. The app also offers treatment guides such as the Framingham and Reynolds Risk Scores and the CHADS2 and CHA2DS2-VASc score.
Some would argue that viruses aren't exactly art, but British artist Luke Jerram's blown glass microbes have been exhibited around the world and mentioned in publications ranging from The Lancet to Wired to The New York Times. They're creepy-cool, but beautiful, and available in limited editions.
For the serious scientist, Leslie J. Williams, president and CEO of ImmusanT Inc., recommended The Scientist as Rebel, by Freeman Dyson, who argues that the best way to understand science is by understanding those who practice it. Dyson tells tales of scientists at work, ranging from Isaac Newton's absorption in physics, alchemy, theology and politics to Ernest Rutherford's discovery of the structure of the atom and Albert Einstein's stubborn hostility to the notion of black holes. Dyson's descriptions of physicists like Edward Teller and Richard Feynman are enlivened by his own reminiscences of them.
On the lighter side, your favorite researcher might enjoy a coffee mug that looks like an Erlenmeyer flask or a tie-dye lab coat. Why settle for white like the rest of the lab rats?
The Job Seeker
Biotech and big pharma are just emerging from – or, some would say, still mired in – the economic havoc wreaked by the Great Recession. The displaced thousands don't want platitudes, but they could certainly use tangible help in the form of gasoline gift cards for those hauls to job interviews, Starbucks gift cards (think free WiFi) or a resume reboot from a seasoned professional, such as a member of the Professional Association of Resume Writers & Career Coaches.
Another job-hunting tool is JibberJobber, a Web-based career management tool that helps job seekers organize and track job leads and store professional information in one spot. And you can't go wrong offering the gift of dignity in the form of professional business cards designed with a contact phone number and email address. You can order 250 cards for $10 from VistaPrint.
For inspirational reading, consider giving Celebrating Failure: The Power of Taking Risks, Making Mistakes, and Thinking Big, by business coach Ralph Heath, which offers 30 short stories of failure and lessons learned that are worth pondering.
The Decorator
Picture the planet in a paperweight or a brilliant sunrise in Tektite glass, and you've discovered the work of Josh Simpson, a Massachusetts artist whose glass pieces are inspired by nature, from the constellations above to the ocean reefs below. "I absolutely love his work," said ImmusanT's Williams in her recommendation.
The Beira Lamp, shaped as a chemistry flask, is not only practical but oddly attractive in its simplicity. The end of the flask contains a ring of frosted glass that enhances light, while an opaque spun metal lampshade inside the flask cleverly conceals the electrical fittings. Made of aluminum, the lampshade can be anodized in different colors to match any decorating scheme.
Jazz up your aquarium with Casper Fish, a cross between two mutant zebra fish, nacre and roy, that produce offspring with translucent skin and scales. Internal organs – heart, gallbladder, circulatory system, brain, spine and the eggs in females – are viewable with the naked eye. Who wouldn't be mesmerized staring at see-through fish?
The Globetrotter
Go anywhere with the Misfit Shine, a wireless activity tracker you can sync with your smartphone just by placing it on the screen. Whether you're walking, biking or swimming, the technology can track your every step or stroke, anywhere.
Similarly, Jawbone's UP is a wristband that tracks your movement and sleep in the background. The app displays your data, lets you add things like meals and mood and delivers insights to keep you moving forward. One can never have too much momentum in biotech.
And before you hike or bike to distant shores, BioWorld's science editor Anette Breindl recommends a peek at Spillover: Animal Infections and the Next Human Pandemic. Nature writer David Quammen recounts his travels in remote corners of the globe with field researchers investigating disease outbreaks in rats, monkeys, bats, pigs and other species, with the potential to "spillover" to humans.
Children (and the Young at Heart)
Biochemies, DNA molecules redefined as plush dolls, are the brainchild of Jun Axup, a PhD candidate at The Scripps Research Institute in La Jolla, Calif. Funded through Kickstarter, the colorful bases interact with each other via hydrogen bonds – magnets, in the toy world – to form base pairs. The happy bases make great desk toys and educational tools for current and aspiring scientists.
On the gooey side, Jeff Behrens, president and CEO of Sialix Inc., suggested ThinkGeek's Giant Microbes Primordial Putties, which feature little rubber microbes chilling in a putty-like gel. The putty can be plucked out for play, as can the microbe, but we don't recommend this gift for the squeamish.
And if you want to make sure your child has the best possible shot at the Ivy League, forget the popular plastic LEGOs. BioWorld's Breindl pointed out that Harvard researchers recently assembled 3D nanostructures using DNA bricks that function like LEGOs. OK, they're not actually available in toy stores – not yet, at least – but we think junior DNA LEGOs would send the average student straight to the head of the class. Adults who enjoy building blocks might also be intrigued by protein "legos," which Breindl covered earlier this year.
Parting Thoughts
What biotech exec couldn't use a good laugh these days? Consider wrapping your conventional, but nonetheless boring, present in a hilarious fake gift box from Prank Pack. We particularly like the "iArm," which provides an extra arm for the mobile executive on-the-go.
On a more poignant note, we were reminded of the true meaning of generosity by Kosta Steliou, CEO of PhenoMatriX Inc., in Boston. "The best and most valuable biotech gift one can give this holiday season is a pint of blood," he said. "For the person receiving it, the gift is priceless."
Editor's note: It's never too early to start planning for the 2013 holiday season. Did we overlook your favorite biotech gift? Send your suggestions to marie.powers@bioworld.com.