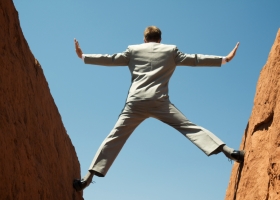 Before its unfortunate drop in quality in its last few seasons, the medical drama House was one of my favorite shows, with its title character, a cranky, possibly drug-addicted doctor solving diagnostic riddles and saving lives with Sherlockian brilliance, and quite often breaking every rule in the book to do it.
One episode in particular had House facing off with billionaire investor Vogel, who had thwarted his attempt to enroll a very sick patient in a clinical trial without mentioning to the trial investigator that she wouldn't fit the criteria, namely having just undergone a C-section. They have an impassioned exchange:
Dr.: House: Hey! You're killing her!
Vogler: Really? See, I thought you were the one trying to ram her into a drug trial five minutes after surgery.
Dr. House: She knew the risks! She was fully informed!
Vogler: Yeah, well the guy running the study sure wasn't.
Dr. House: Not his life, not his call!
Vogler: His study, his call!
Dr. House: Right. So she kicks off, his numbers look bad!
Vogler: The numbers look bad, the study looks bad.
Dr. House: Which would cost you money.
Vogler: Yeah, and keep a life-saving protocol off the market.
Dr. House: One person, one blip in the data!
Vogler: You ever heard of the FDA? They eat blips for breakfast! One person should never endanger thousands!
Viewers, of course, are on the side of House, as would be any human being with at least the merest semblance of empathy. For a company to deny a possible life-saving treatment to a dying patient seems the embodiment of cold corporate greed.
It also spurs public outrage, as executives of Chimerix Inc. found this week, as they faced a storm of vitriol from patient groups across Facebook and the Twitterverse (#savejosh #SaveJoshHardy) begging the firm to provide its investigational antiviral drug, brincidofovir, on a compassionate use basis to a 7-year-old boy. Chimerix held its ground, refusing to cave to the negative press and open the floodgates for compassionate use patients; instead, the company managed to get a protocol through the FDA for a pilot study in immunocompromised patients, with young Josh Hardy the first subject enrolled Wednesday.
The move put Chimerix back in the public's good graces. And by running a study, the company can carefully recruit and monitor patients on drug. While that doesn't preclude the
brincindofovir's development
being affected by adverse events or deaths in the study, it does give the company some control.
And that's one of the problems inherent with compassionate use. (There are others, such as cost and accessibility for all, and worries that patients won't enter clinical trials if compassionate use is available.) The company is providing the drug without having any knowledge as to how it might react to that patient's disease pathology or severity.
But if a patient receiving the drug on compassionate use dies or suffers a serious side effect, do those incidents still have to be reported to the FDA? You bet.
Not only are deaths and adverse effects more than likely outcomes given that patients have to be gravely ill and out of options to be considered for compassionate use therapy in the first place, but BioWorld has reported on enough advisory committees and reviewed enough briefing docs over the years for me to know the FDA takes patient deaths seriously, regardless of whether that patient was receiving drug on compassionate use or in an actual clinical trial setting.
Bottom line: It's a tough call for companies to make. No one wants to deny a possible – even if long-shot – treatment to a dying patient. But they have to also consider the risks to the overall development program. Otherwise, an entire patient population could end up being deprived of a potentially life-saving treatment.