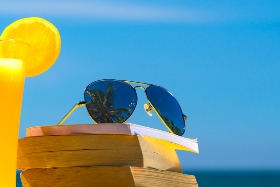 BioWorld's inaugural Summer Reading List in 2007 appeared as a simple list of 15 books – including Harry Potter and the Deathly Hallows, harkening to the tone of the times – designed as something a breather from post-ASCO, pre-BIO mania.
Ten years later, our Summer Reading List is one of the most widely read pieces of the year, providing heartening evidence that no matter what divides biopharma, individuals across the industry – executives, scientists, investors, analysts – and the folks who report on their business successes and failures are united by enjoyment of a good read.
Here are this year's selections.
Fiction, from 'creepy' to Capote
Jennifer Boggs, BioWorld'smanaging editor, looks forward to reading Arundhati Roy's highly anticipated The Ministry of Utmost Happiness, her first novel in 20 years and a best seller before its June 6 release. For those who can't wait that long, Boggs recommended Roy's 1997 novel, The God of Small Things, which won the Booker Prize.
Carmen Ho, staff writer for BioWorld, recommended Miles from Nowhere, Nami Mun's fictional account of a Korean immigrant in the Bronx of the 1980s. The book, which debuted in 2009, is by turns "hilarious yet heartbreaking," Ho said, as the tale of the runaway teen deals with homelessness, substance abuse, petty theft and, finally, a chance at redemption.
Ho also revisited a pick from Boggs in our 2014 list with Margaret Atwood's Oryx and Crake. Ho called the book "thought-provoking and creepy speculative fiction that explores what bioengineering gone wrong could do to humanity and the world – made me think about the dangers of bioscience and unchecked corporate influence."
In fact, author Atwood was much in the news this year for her dystopian best seller, The Handmaid's Tale, which gained a new audience with Hulu's adaptation.
Mark McCarty, Washington editor of Medical Device Daily, plans to re-read A Feather on the Breath of God by Sigrid Nunez, which he called a beautifully told coming-of-age story that also examines the nature of relationships between parents and children.
BioWorld staff writerRandy Osborne recommended Jeff VanderMeer's Borne, which he described as "a weird new novel" that has "a strong and spooky biotech theme."
Mark Benedyk, president and CEO of Telephus Medical LLC, is finishing When the Killing's Done: A Novel, by T.C. Boyle. Set in the Channel Islands off the coast of California, the book lays out the conflict between a government field biologist tasked with killing off invasive rats and pigs and her antagonist, a local anti-government businessman fighting to save the pests she is targeting. The tale represents "an interesting depiction of conflicts that often arise in these environmental scenarios (think cuddly rabbits overrunning Australia or cats killing billions of birds every year) and the issues that arise when communicating counterintuitive science-based policy to the general public," Benedyk said.
And Kelley Davenport, director of corporate affairs at Amgen Inc., reported that two books she recently enjoyed were A Gentleman in Moscow by Amor Towles and The Swans of Fifth Avenue by Melanie Benjamin, a sort of Gossip Girl for the 1950s based on the real-life friendship between author Truman Capote and socialite Babe Paley.
True confessions and touching memoirs
BioWorld'sHo submitted Stitches by David Small, a graphic memoir that broke new ground when published in 2010. She described the book as "a very interesting (and disturbing)" tale of Small's journey "from sickly child to cancer patient to troubled teen who runs away from home at 16. It's a story about voicelessness, both psychological and physical" – the latter when one of the author's vocal cords is removed along with a cancerous growth in his neck.
Public relations consultant Paul Kidwell recommended the memoir Rebuilding the Indian in which author Fred Haefele chronicled his journey through midlife while restoring an Indian Chief motorcycle. Reflecting on titles for our list reminded Kidwell of summer days of old.
"Every summer when my kids would come home from school with their reading lists, I would make up my own, and we would try and read together at some point during the week," he recalled. "I even committed to writing book reports for my list. Great memories."
Speaking of which, summer reading enthusiasts vacationing with young children shouldn't overlook the opportunity to introduce beloved authors even to tiny tots. Little ones will enjoy fun reads such as Mystery on the Docks (read aloud with appropriate fanfare) by Thacher Hurd, the popular Little Blue Truck series by Alice Schertle and Jill McElmurry and Doreen Cronin's Click, Clack, Moo. For the young reader, consider not only the classic Where the Wild Things Are but also other titles by Maurice Sendak along with Charlotte's Web by E. B. White and Garth Williams and anything from Dr. Seuss.
Turning to the more dramatic, BioWorld's Boggs suggested The Lost City of the Monkey God: A True Story, in which author Douglas Preston recounted his experience on an expedition seeking to uncover archaeological proof of a lost city, and lost culture, rumored to be located in a nearly inaccessible jungle in Honduras.
"What's best about this book is that Preston writes about the harrowing trek through the jungle, the geographic and political conditions in Honduras and the colorful fellow members of the trip without dramatizing any of it," Boggs said. "He doesn't need to; it's a fascinating story all on its own." The book provides a nice plug for the work of the NIH "and why it's critical to invest in research into neglected tropical diseases," she added.
In a similar vein, Lindy Devereux at Scient PR recommended A Mighty Purpose by Adam Fifield, which she called "an intimate biography of Jim Grant, the director of UNICEF in the 1980s and early '90s, and his campaign to save the world's children from common and highly preventable diseases through immunization programs." She added, "He also happens to be my great uncle!"
Devereux also praised A Long Way Home: A Memoir by Saroo Brierley, the amazing account of the young Indian boy born into poverty who became lost through tragedy and saved through compassion before miraculously finding his way home nearly 25 years later. Last year, the book was adapted in the critically acclaimed film, Lion.
Bassil Dahiyat, co-founder, president and CEO of Xencor Inc., recommended the autobiographical Lab Girl, by Hope Jahren, first cited last year by BioWorld's Osborne and Amanda Lanier. Osborne – a fine writer of nonfiction in his own right – called the book an "elegantly written, often funny account of what it was like for her to grow up devoted to science," while Lanier observed that the book also contains an inspiring message for those in biopharma about "doing research with 'both the heart and the hands.'"
Oleg Nodelman, founder and managing partner of Ecor1 Capital Management LLC selected Red Notice by Bill Browder, founder and CEO of Hermitage Capital Management, which was the largest foreign investor in Russia until 2005. Since 2009, when his lawyer, Sergei Magnitsky, was murdered in prison after uncovering fraud committed by the Russian government, Browder has been on a campaign to expose Russia's corruption and human rights abuses. "With recent goings on in Russia, this true story about one of the best and earliest western investors in Russia and how he almost lost everything – including his life" – deserves attention, Nodelman said.
Don Johnston, senior director, current awareness for Clarivate Analytics, looked to intrigue farther back in history.
"I have not seen Hamilton, the musical, yet, but in the past few months, I have visited Hamilton's New York cottage that was in the country in Harlem when it was built, Jefferson's Monticello on his Virginia hilltop and Franklin's neighborhood in Philadelphia," Johnston said. "This is part of a new fascination with America's Founding Fathers. I've also reached a point in my life where I recognize I am never going to read everything I want to read so, borrowing an idea from my friend Lee Landenberger, I am reading one biography about each of them. I started with Jefferson. I'm now reading a novel in between. Then I am going to read a book about Franklin, and so on. Two of the FFs had really interesting and dynamic wives, so I plan to add Abigail Adams and Dolley Madison to the list."
We eagerly await next year's update.
On a poignant note, Michael Becker, who was quoted in the pages of BioWorld as president and CEO of Cytogen Corp., recently penned A Walk With Purpose: Memoir of a Bioentrepreneur about his battle with recurrent stage IV oropharyngeal cancer. Part personal memoir, part industry commentary, the book recounts Becker's path from investment advisor to biopharma exec to cancer patient facing his own mortality.
'Hidden' history and Hitler's Berlin
Hidden Figures by Margot Lee Shetterly, which recounts the stories of gifted African-American women who worked in the U.S. space program in the 1960s, spans the categories of biography and history. The book was recommended by Davenport and by BioWorld's senior production editor, Ann Duncan,who started reading the account after viewing the movie of the same name. "I was fascinated by this story about 'computers' who were women toiling over mathematical equations in a basement at Langley in Hampton, Va.," Duncan said. "How can a person be a computer? Why had I never heard of these women? I wanted to know more about their contributions and struggles." Duncan, who hails from Virginia, also felt a sense of neighborly connection to the women.
Devereux recommended How to Survive a Plague by David France, which she called a "fantastic, in-depth, journalistic account of the AIDS crisis, beginning in the 1980s. The book weaves together the science, activism and personal stories in a way that keeps you turning the pages night after night."
Turning to a different kind of crisis, Heather Anderson of 6 Degrees suggested The Nightingale, Kristin Hannah's acclaimed historical drama set during World War II, while colleague Laura Bagby suggested In the Garden of Beasts: Love, Terror, and an American Family in Hitler's Berlin, the true account of William E. Dodd, named U.S. Ambassador to Germany in 1933, and his family. "I'm working through all of [author] Erik Larson's books," Bagby confided, citing the tragic telling of the 1900 Galveston hurricane, Isaac's Storm: A Man, a Time, and the Deadliest Hurricane in History, as another great read by Larson.
Bagby also placed Anthony Doerr's Pulitzer Prize-winning All the Light We Cannot See on her list. The work of historical fiction focuses on the lives of two young people from opposing sides of World War II, damaged in separate ways by the conflict.
Kosta Steliou, chairman of Phenomatrix Inc. and Boston University professor, rounded out the category with Pericles and the Conquest of History: A Political Biography, in which author Loren J. Samons II makes a convincing argument that Pericles was driven by the quest to make Athens the preeminent power in Greece – a theme that resonates in modern-day politics. "Who is elected president of the U.S. is so important to the free world that this book should be mandatory reading for every American president-wannabe," Steliou maintained. "Knowing which candidates have read this book would be a far more relevant metric of their character and intellect than knowing anything about their taxes!"
'Sloppy science' and CRISPR run amok
Turning to science, BioWorld staff writer Cormac Sheridan offered up the compendium Little Country, Big Talk - Science Communication in Ireland, edited by Brian Trench, Padraig Murphy and Declan Fahy with a foreword by Mary McAleese, President of Ireland from 1997 to 2011. The timely tome examines Ireland's "turn to science" in the latter half of the 1990s, which coincided with the establishment of a joint M.Sc. program in Science Communication by Dublin City University and Queens University Belfast. The newly published volume, which contains research-based essays and personal reflections from teachers and graduates of the course, "captures the rapid evolution of science communication in Ireland over the past two decades," said Sheridan, who authored one of the selections. "It offers a snapshot of the ongoing, and often uneven, emergence or re-emergence of a science culture in Ireland after many decades of neglect, while offering a number of signposts for its future development."
Heather Anderson of 6 Degrees PR plans to dust off The Signal and the Noise: Why So Many Predictions Fail - But Some Don't, an intriguing look at statistical analysis by statistician and writer Nate Silver, founder of FiveThirtyEight.com, which takes a different approach toward politics, economics, science and sports.
Also worth reexamining from last year's list, Kidwell recommended Jennifer Ackerman's deep dive into the "bird brain" and shifting scientific view of intelligence in The Genius of Birds.
As to the science of humans, Anette Breindl, BioWorld's senior science editor, offered two titles. Imagine Me Gone by Adam Haslett, a runner-up for this year's Pulitzer Prize, explores what it means to live with mental illness for individuals themselves and for their families. "Personally, I devoured it in a day," Breindl said. "The book is by no means uncritical of psychoactive meds, but it also points out the (unsatisfying) truth about our current repertoire of such drugs: 'There is so much drivel about psychoactive meds, so much corruption, bad faith, over- and underprescription, vagueness, profiteering, ignorance, and hope, that it's easy to forget they sometimes work, alleviating real suffering, at least for a time.' As you can imagine from this quote as well as the subject matter, it's not light reading. But it really draws you in."
Breindl also recommended Rigor Mortis: How Sloppy Science Creates Worthless Cures, Crushes Hope, and Wastes Billions, in which veteran science reporter Richard Harris "is both entertaining and straightforward," she observed. "The book is an insightful look at fatal flaws in the foundation that can cause phase III trials to crumble." Breindl ought to know. At the height of the CRISPR patent fight last year, she talked with Harris for a piece on National Public Radio.
Veering into the realm of science fiction, BioWorld Insight editor Peter Winter offered The Leftovers by Tom Perrotta, which addresses society's reaction to the disappearance of millions of people around the world – not coincidentally, the basis of an HBO series.
BioWorld staff writer Alfred Romann suggested "a bit of an oldie but a goody for those who like science fiction," placing Ready Player One, by Ernest Cline, at the top of his list. "With all the talk about social media and gaming, it's an interesting story about a dystopian future in which virtual reality takes over real life – but not without some danger," Romann said.
Boggs also squeezed in a science fiction pick with The Race by Nina Allen. "Without giving anything away, there are communities destroyed by fracking, a kidnapping, a possible murder and genetically engineered greyhound racing dogs – all linked by interweaving stories," she said. "And it's a thinker."
And with seemingly not a day passing without a mention of CRISPR, it was only a matter of time before the gene editing technology got its own science fiction spin. Newly released Change Agent by Daniel Suarez imagines the worst-case scenario of CRISPR's potential, as government agents track down genetic crime 30 years in the future. Expect more along these lines, as Netflix recently optioned rights to the book.
Fuel for the biopharma engines
No summer reading list would be complete without a sampling of self-help books, or the more euphemistic "personal development" category. Louis J. DeGennaro, president and CEO of The Leukemia & Lymphoma Society, made the first selection with Principle-based Organizational Structure: a handbook to help you engineer entrepreneurial thinking and teamwork into organizations of any size by N. Dean Meyers. Why the heavy-handed title for the carefree days of vacation? Because even when a body is at rest, "the organizational chart is everything," DeGennaro said.
For Lee Jones, president and CEO of Rebiotix Inc., "one book that resonated with me as CEO of a small, fast-growing business was Joy Inc., How We Built a Workplace People Love" by Richard Sheridan, CEO of Menlo Innovations, a small software company in Ann Arbor, Mich., whose culture has spread to hundreds of larger and more diverse operations.
Fred Jacobs, founder and CEO of Tyg Oncology Ltd., suggested Thinking Fast and Slow by Daniel Kahneman, also on last year's list of CEO best reads for its insights into fast, instinctive and emotional thinking and slower, deliberative and logical thinking – both necessary for decision-making but at different times and for different reasons.
Gil Labrucherie, senior vice president and chief financial officer of Nektar Therapeutics Inc., recommended Business Adventures: Twelve Classic Tales from the World of Wall Street, which features 12 essays penned by longtime New Yorker contributor John Brooks. Each tale is a great example "that much more stays the same than changes in business and on Wall Street," Labrucherie said.
He also singled out Negotiation Genius: How to Overcome Obstacles and Achieve Brilliant Results at the Bargaining Table and Beyond by Deepak Malhotra and Max H. Bazerman from Harvard Business School. "In the biotech universe of partnering and collaborations, this book provides terrific insights into how to think about, prepare for and execute negotiations," even for those with experience at the bargaining table, Labrucherie said.
Last but not least, my pick is the recently published Make Your Bed by William McRaven, retired U.S. Navy Admiral and former Navy SEAL. McRaven's commencement speech to the University of Texas Class of 2014, which went viral on YouTube, serves as a sort of CliffNotes version of the book and is worth 20 minutes, even if you don't have a connection to the military and never fought with (or as) a teenager over the making of a bed.
Come to think of it, snuggling under the covers is one of the best places for a good summer read. And now you have no excuse, with nearly four dozen titles to pass those leisurely vacation days.
Enjoy!