Los Altos, Calif.-based Heartvista Inc. has received the U.S. FDA's nod for its One Click autonomous MRI acquisition software for cardiac exams. The company said that One Click is the first artificial intelligence (AI)-assisted solution designed specifically with the goal of enhancing the performance and results of cardiac MRI scans.
Integrated with existing MRI scanners, the software uses AI to guide image acquisition. With a single click, MRI operators can perform a cardiac ischemia exam in less than 15 minutes, compared with 90 minutes for traditional MRI. The software automatically prescribes the standard cardiac views in as little as 10 minutes while the patient breathes naturally, making MRI exams accessible to more patients and conditions.
The software package includes an artifact detection neural network to detect when image quality is poor, prompting the operator to repeat those images if necessary. AI is also used to optimize the inversion time prior to myocardial delayed-enhancement studies, which are performed within 10 minutes of a patient receiving an injection of contrast agent.
The solution also includes a 4D flow measurement application, which uses a non-Cartesian, volumetric parallel imaging approach to generate high-quality images in a fraction of the time required of traditional MRI systems. And it provides measures of left ventricular function, such as ejection fraction, left ventricular volumes and mass.
"Patients across the country now have access to the only AI-guided cardiac MRI exam, which will deliver continuous imaging via an automated process, minimize errors, and simplify scan operation," said Itamar Kandel, CEO of Heartvista.
Comparable to FFR with fewer catheterizations
Data from the unblinded, multicenter, randomized, parallel arm, interventional MR-INFORM clinical effectiveness study, involving 915 patients with stable chest pain, found that noninvasive myocardial perfusion cardiovascular MRI as good as invasive fractional flow reserve (FFR), the long-standing gold standard, in guiding treatment of those patients and resulted in 20% fewer catheterizations. Revascularization was recommended for patient in the cardiac MRI arm with ischemia in at least 6% of the myocardium and in the FFR group if the FFR was 0.8 or less. The primary outcome was death, nonfatal heart attack or target-vessel revascularization within one year. The noninferiority margin was a risk difference of six percentage points.
"Among patients with stable angina and risk factors for coronary artery disease, myocardial-perfusion cardiovascular MRI was associated with a lower incidence of coronary revascularization than FFR and was noninferior to FFR with respect to major adverse cardiac events," investigators wrote in a report published in the June 20, 2019, issue of the New England Journal of Medicine.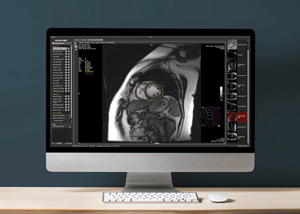 "This recent NEJM study further reinforces the clinical literature that cardiac MRI is the gold standard for cardiac diagnosis, even when compared against invasive alternatives," said Itamar Kandel, Heartvista's CEO. "Our One Click solution makes these kinds of cardiac MRI exams practical for widespread adoption."
Kandel underscored that the AI-enabled One Click solution is designed to give cardiologists decisive, accurate and actional real-time data on which to base diagnosis and treatment decisions. "We believe it will elevate the standard of care for cardiac imaging, enhance patient experience and access, and improve patient outcomes."
Raymond Kwong, director of cardiac magnetic resonance imaging at Brigham and Women's Hospital and associate professor of medicine at Harvard Medical School, expressed enthusiasm about using the device. "Heartvista's cardiac package is a vital tool to enhance the consistency and productivity of cardiac magnetic resonance studies, across all levels of CMR expertise," he said.
Click One rollout to begin soon
Founded in 2006, privately held Heartvista has four prior FDA clearances related to its real-time scan control software platform and estimated annual revenues of about $9 million. One Click is the company's first 510(k)-cleared offering that incorporates AI to boost software capabilities.
Heartvista plans to begin rolling out the cardiac MRI package to its first customers in the near future. "We are in discussions with several of the leading cariology centers in the country, [which] have shown keen interest in the product," Kandel told BioWorld MedTech. She added that the company is in discussions with "several large health care systems" in Europe, Latin America and the Middle East as well.
Heartvista's competitors in the cardiac imaging space include Calgary, Alberta-based Circle Cardiovascular Imaging Inc., which develops and markets post-processing software in global markets, and Medvoxel Systems Inc., a Vancouver, British Columbia, producer of medical image post-analysis tools. Heartvista also competes against Heartflow Inc., of Redwood City, Calif., whose FFRct fractional flow reserve analysis takes data from a CT scan and uses algorithms to create a color-coded 3D image charting changes in blood flow across coronary lesions. Last month, the company snagged FDA clearance for its Heartflow Planner, a noninvasive, real-time virtual modeling tool for use in coronary artery disease intervention. (See BioWorld MedTech, Sept. 13, 2019.)