DUBLIN – Redx Pharma plc has put together a rescue package with two heavyweight investors that should ensure the company's immediate future. Redmile Group LLC and Sofinnova Partners plan to provide up to £26.3 million (US$33.6 million) in funding to the struggling drug discovery and development firm. Redx disclosed the transaction immediately after terminating takeover discussions with London-based Yesod Bio-Sciences Ltd., an investment group majority-owned by Sam Waksal, the controversial biotech executive who served a jail sentence for insider trading a decade ago.
The present package has three components. Redmile is making an immediate equity investment of about £1.3 million in Redx, of Alderley Park, U.K., which comprises the purchase of 11.5 million new shares priced at 11.2 pence per share. Redmile will also provide it with £5 million in short-term debt, and both Redmile and Sofinnova will provide about £20 million more in the form of a convertible loan. The terms of the latter instrument have not been finalized, and it is subject to shareholder approval. In the absence of any alternatives, however, it would be surprising to see investors voting against the proposal.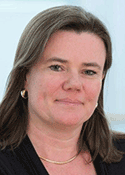 "It's a significant step for us in securing the company's future," Redx CEO Lisa Anson told BioWorld. "We've got two very specialist, very well-funded investors on board. That's not something we've had before." It will get the company through the next 12 months, by which time its prospect could look a whole lot brighter than they have been for some time.
Anson, who previously held a number of senior roles at Cambridge, U.K.-based Astrazeneca plc, joined Redx in 2018, shortly after the company exited administration and has led a turnaround that is testament to the company's scientific capabilities. While it was ensnared in insolvency proceedings, it sold a Bruton's tyrosine kinase inhibitor, RXC-005 (now LOXO-305) to Loxo Oncology (now part of Eli Lilly and Co.) for $40 million. That molecule is currently undergoing a phase I/II trial in various lymphoma and leukemia indications. Last year, it unloaded a pan-RAF inhibitor program to Dublin-based Jazz Pharmaceuticals plc in a deal potentially worth more than $200 million.
The company's prospects now rest on three programs, one of which is in the clinic, and two more which are slated to enter clinical development next year. Its lead drug candidate, porcupine inhibitor RXC-004, is currently undergoing a phase I dose-escalation study in patients with advanced solid tumors. The drug effectively works as a pan-Wnt inhibitor. It prevents secretion of all 19 Wnt proteins, thereby switching off signaling through the Wnt pathway.
An earlier trial of the same compound was suspended in March 2018, following the emergence of gastrointestinal and bone-related adverse events. Its pharmacokinetic profile in humans was different from what preclinical research had predicted – and resulted in a much longer half-life. "You had a lot more drug than you needed, if you like," Anson said.
The drug is now undergoing testing at a much lower dose, and the study is expected to wrap up by around midyear. Once a phase II dose has been selected, the company aims to focus its recruitment on patients with either colorectal cancer or pancreatic cancer who carry genetic markers that indicate their tumors are Wnt-addicted. In pancreatic cancer, RNF43 mutations are associated with that status; in colorectal cancer, both RNF43 mutations and RSPO translocations are. So far, about 100 cancer patients have been safely dosed with porcupine inhibitors from Redx, Basel, Switzerland-based Novartis AG or the A*Star Institute in Singapore. "That starts to tell you this could be a window into the Wnt pathway," Anson said.
Redx is developing a second porcupine inhibitor, RXC-006, for idiopathic pulmonary fibrosis. It is composed of completely different chemical matter. "You need a lot lower exposure to a porcupine inhibitor to get an antifibrotic effect," Anson said. Its third development candidate, RXC-007, is a selective inhibitor of Rho-associated protein kinase 2 (Rock2). Selectively targeting a single isoform is necessary but challenging. "If you hit both isoforms of Rock, you get systemic hypotension," she said.
Kadmon Holdings Inc., a company with which Sam Waksal was associated until it went public (and which is currently led by his brother, Harlan Waksal) is already in phase II with a Rock 2 inhibitor, KD-025. "We think we've got a very competitive compound," Anson said.