Kendall Square was a great jumping-off point for Cambridge, Mass.'s Pandion Therapeutics Inc. but with an $80 million series B in its pocket, the time has come to pick up sticks to accommodate its growth.
Lab Central Inc. in Boston, a nonprofit organization with a shared laboratory facility and office space for about 60 area emerging biotechs, was Pandion's cradle. Bigger lab spaces, both wet and dry, await the company in nearby Watertown, Mass.
"We've been at Lab Central in Kendall Square since the beginning," Pandion's CEO, Rahul Kakkar, told BioWorld, adding that Lab Central had been a pivotal source of Pandion's birth and subsequent growth. Kakkar said it had been clear, "given projections that biotech requires," that the move was necessary and it has been months in the planning in order to minimize downtime and program delays.
Pandion closed out the $80 million series B financing to continue developing its pipeline, which includes its lead clinical candidate, an interleukin-2 mutein Fc fusion protein therapy designed to selectively expand regulatory T cells for treating autoimmune disease. Pandion has PT-101 in a phase I trial for treating ulcerative colitis and said it plans to bring a second, unnamed candidate into the clinic.
Pandion's therapeutic platform is based on bispecific antibodies with targeting fragments that bind to specific tissues at the site of inflammatory disease, coupled with effector molecules that modulate immune activity to restore immune homeostasis. Its intermodulators, such as an IL-2 mutein or PD-1 agonist, are designed to systematically regulate immune system pathways that normally suppress uncontrolled autoimmune responses. They can be combined with tissue-selective tethers for building modular proteins and antibodies that target exactly where needed within an organ.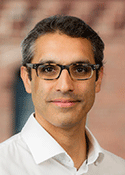 Kakkar described each of the company's molecules as an arrow for the company's quiver. The arrowhead and the tail are the critical components. The arrowhead is an engineered variant the body naturally uses to tailor or curate an immune response, which creates quiescence after an attack. The tail binds the arrowhead to the organ. Kakkar said the panoply of arrowheads and the tether library allow Pandion to mix and match modules, "depending on the virology we want to affect."
The first healthy volunteer was dosed in PT-101's phase I trial in late February as the company looks into demonstrating PT-101's safety and confirming its ability to expand regulatory T-cell populations in humans. The goal is to see how well it treats ulcerative colitis patients but also those with other autoimmune diseases. So far in the trial, COVID-19 has played a minimal role as the screening period passed before the pandemic grew. Kakkar said he keeps an eye on new FDA guidelines, such as those recently introduced to allow more virtual work.
"We literally are in daily contact with our CRO," he said.
Kakkar said he wants to move into patient work in 2021, which the series B will encourage, including a phase Ib and early phase II work.
The funding influx means adding some new hires to the 3-year old company's 35-member staff as it preps for the move to Watertown.
Helping drive the company's growth is an early R&D collaboration with Tokyo's Astellas Pharma Inc. to research, develop and commercialize locally acting immunomodulators for pancreatic autoimmune diseases. In the deal cut last fall but more than a year in the making, Pandion uses its platform to design and discover bispecific drug candidates, and Astellas will conduct preclinical, clinical and commercialization activities. Pandion could receive up to $45 million as up-front fees and payments related to research and preclinical activities. Additionally, if Astellas develops and commercializes multiple candidates for multiple pancreatic autoimmune diseases, Pandion is potentially eligible to receive more than $750 million in future development and commercial milestone payments from Astellas.
Pandion, begun as a whitepaper conceptual enterprise, brought in a $58 million series A financing, co-led by Polaris Partners, Versant Ventures and Roche Venture Fund.
Access Biotechnology and Boxer Capital led the series B round, which included new investors RA Capital and Orbimed. All of Pandion's existing venture capital investors, including Polaris Partners, Versant Ventures, Roche Venture Fund, SR One, JDRF T1D Fund and Bioinnovation Capital, participated, too.