Prilenia Therapeutics BV, a private company developing an experimental therapy for Huntington's disease (HD) and amyotrophic lateral sclerosis (ALS), has raised $62.5 million in a series A financing round to support new trials in the indications, both of which are expected to yield top-line data by the end of 2022, CEO Michael Hayden told BioWorld.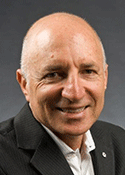 Acquired from Teva Pharmaceutical International GmbH, where Hayden once led R&D as chief scientific officer, the drug is a sigma-1 receptor agonist called pridopidine. Though it missed endpoints in earlier motion-focused HD studies, Prilenia's focus on functional measures has already gained regulatory support, building a strong foundation for an upcoming phase III trial in HD.
Teva acquired the drug, earlier called Huntexil and ACR-16, from Denmark-based Neurosearch A/S – which had conducted the late-stage trial – for about $26 million. Hayden, who brought the drug to Teva in the first place, played a pivotal role in the April 2017 approval of Austedo (deutetrabenazine), Teva's deuterated tetrabenazine analogue for chorea, the involuntary, random and sudden twisting and/or writhing movements associated with HD. Austedo substantially improved upon its reference drug, tetrabenazine, which comes with serious side effects. But in pridopidine, Hayden said he sees a new opportunity, this time to improve the maintenance of functional capacity in patients with early HD, a disease he's worked on ever since his days as a medical student intern in South Africa decades ago.
Hayden's vast experience working on HD, a team heavy on Teva alumni, and pridopidine's prospects enticed substantial support from Forbion Capital Partners, which led the round. New investors, including Morningside Venture Investments and Sectoral Asset Management, also joined, alongside existing investors Talisman Capital Partners and Genworks 2. Since its founding in September 2018, the company has raised $84.5 million.
The series A round brought a number of changes to the company, including Hayden's appointment as CEO and the formation of the Dutch company in Naarden, the Netherlands. It will hold the original Israeli company, Prilenia Neurotherapeutics Ltd., as a subsidiary. Forbion's executive chairman and co-founding partner, Geert-Jan Mulder, is also getting involved, joining Prilenia's board together with Jason Dinges from Morningside and Stefan Larson from Sectoral.
A new perspective
Though initially thought to be a dopamine modulator, which would be most useful for dealing with HD-associated movement disorder, anecdotal reports of patient improvement on pridopidine made it clear another mechanism was at work, Hayden said. That turned out to be sigma-1 receptor agonism.
The sigma-1 receptor (S1R) is highly expressed in the brain and spinal cord, as well as in the basal ganglia – the target places where both HD and ALS have disease pathology, he said. Activating it has been shown to have multiple positive downstream events, including improved mitochondrial function, increased BDNF levels, decreased oxidative and endoplasmic reticulum stress, and improved calcium homeostasis, clinical research has shown.
Preclinical data supported its therapeutic potential. In ALS SOD1G93A motor neurons (MNs), pridopidine exerted neuroprotective effects by activating S1R, resulting in increased MN survival, improved BDNF and GDNF axonal transport and restored neuromuscular junction synaptic activity. In vivo, pridopidine treatment of SOD1G93A mice reduced toxic protein aggregates and ameliorated muscle fiber wasting.
HD is a progressive neurodegenerative disorder estimated to affect an estimated three to seven per 100,000 people of European ancestry, according to the NIH. As Prilenia moves toward starting a global phase III study this year, its efforts are supported by both the FDA and EMA's embrace as an approvable endpoint of a component of the Unified Huntington's Disease Rating Scale called Total Functional Capacity, or TFC. TFC measures five elements, including ability to manage finances, functions of daily living, ability to engage in gainful employment and level of needed care.
Prilenia's approach takes the focus off movement, which has troubled its advancement in the past. Teva reported in September 2016 that a phase II trial of pridopidine showed a statistically significant impact on disease progression at 52 weeks vs. placebo, but found "an unusually high placebo effect" that limited investigators' ability to determine the drug's impact on motor symptoms of the disease. Though Teva discontinued development of pridopidine in April 2018, that same trial appears to have illuminated the path for Prilenia.
In addition to HD, pridopidine was also recently selected for inclusion in the first ever ALS platform trial, led by the Healey Center for ALS at Massachusetts General Hospital. The trial, designed to "rethink how early phase trials in ALS are performed and to accelerate a path to effective treatments," according to its organizers, could start soon, Hayden said. Prilenia is co-funding the study, as well supporting clinical operations and project management under the leadership of the study's primary investigator, Merit Cudkowicz, director of the Sean M. Healey & AMG Center for ALS at Mass General.