News from Biogen Inc. and partner Eisai Co. Ltd. that U.S. regulators accepted the BLA related to aducanumab for Alzheimer's disease (AD) – and assigned it priority review, no less – set Wall Street abuzz, especially as the companies noted in their press release that the FDA "if possible, plans to act early" on the anti-amyloid beta (a-beta) monoclonal antibody. Regulators' decision came about 30 days after they took receipt of the submission; they could have waited 60.
Cambridge, Mass.-based Biogen and Eisai, of Tokyo, last October restarted the clinical program with aducanumab, which had failed a futility analysis, after ransacking a larger dataset to find that the drug may have important activity in AD, the most frequently seen type of amyloidosis in humans and the commonest form of dementia.
Prothena Corp. plc CEO Gene Kinney, a longtime amyloidosis researcher, said he was "very happy to see an accelerated review process for this molecule. I think it's warranted." His Dublin-based firm has an a-beta program in AD as well as an effort, partnered with Bristol Myers Squibb Co., of New York, that takes aim at tau. There's a vaccine push, too. All could prove particularly compelling "if and when aducanumab is successful, and we believe it likely will be," he said. The FDA's willingness to move its review along briskly meant that Biogen did not have to spend its priority review voucher, as some predicted might be necessary.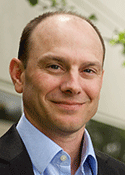 A-beta therapies differ in key ways, Kinney said, and the state of clinical work on them has come far in the past decade. "We're selecting patients in a more sophisticated way," while considering matters such as dosing, time courses and side-effect profiles more carefully. "We're even using endpoints that are more appropriate to the patients we're trying to treat," too, he said, which "is starting to result in some consistency." Biogen's Emerge study was "very clear example of that. For a number of reasons, Engage [another late-stage trial] didn't quite meet that level of rigor, but I think when you go back and you do the analysis that Biogen's done on Engage, it certainly seems to be supportive of what was seen in the Emerge study," he said. "I would assume that will be the crux of their discussion with the FDA."
Piper Sandler analyst Christopher Raymond allowed that "aducanumab bulls have something much more substantive to hang onto," thanks to the move by the FDA, which assigned March 7, 2021, as the PDUFA date. "Shares are likely to see buoyancy, even as Tecfidera [dimethyl fumarate] loss-of-exclusivity headlines rage in the background," he wrote in a report.
Biogen's stock (NASDAQ:BIIB) closed Aug. 7 at $305.71, up $28.05, or 10%.
In June, the U.S. District Court for the Northern District of West Virginia ruled against Biogen and in favor of Mylan NV, of Hertfordshire, U.K., in a patent dispute regarding Tecfidera, the blockbuster multiple sclerosis drug. The court ruled that Mylan "has established by clear and convincing evidence that the asserted claims of the [8,399,514] Patent are invalid for lack of written description," thereby invalidating exclusivity protection for the drug until February 2028.
Raymond called aducanumab's odds "little more than a coin toss, and [we] prefer to watch this drama play out from the sidelines."
Guggenheim's Yatin Suneja said that "the robustness of the data will continue to be debated," and "approval will come down to the FDA's willingness to approve a drug on relatively weak data for a disease that impacts millions and has few current treatment options." In a report, he forecast potential sales of $5 billion and $10 billion. Jay Olson of Oppenheimer called the regulatory situation "highly unusual," one "that would be difficult for anyone to predict in conventional terms." More clarity may – or may not – come during an advisory committee (adcom) meeting, which BTIG analyst Thomas Shrader anticipated as "the panel of the decade" that should provide a "close look behind the FDA curtain, as this is for approval on an extremely messy dataset."
'Mixed' adcom foreseen, continued 'limbo'
Prothena's Kinney has navigated the twists and turns of such research. In April 2018, his firm quit development of its most advanced candidate, NEOD-001 for amyloid light-chain amyloidosis, after a phase IIb failure triggered a review of the phase III study, leading to its discontinuance for futility. The phase IIb study, Pronto, missed its primary and secondary endpoints, while an independent data monitoring committee recommended the phase III trial, called Vital, bite the dust. But a subset of the more severely diseased cardiac patients – Mayo stage IV – gained benefit from the drug, he pointed out. "You'd be hard-pressed to see a survival benefit in groups where there wasn't a meaningful level of mortality events," he said. "I'm not sure a lot of people picked this up."
The post hoc analysis of Pronto, however, wasn't enough for the firm to design another study. "We're always thinking about what more could and should be done," Kinney said, and discoveries with NEOD-001 informed the strategy with another drug in the pipeline, phase I-stage PRX-004, a monoclonal antibody designed to target and clear the misfolded forms of the transthyretin (TTR) amyloid protein found in ATTR amyloidosis. Data are due in the fourth quarter of this year. Also in the works is prasinezumab (PRX-002/RG-7935), which targets alpha-synuclein, a protein that is believed to misfold and aggregate to form the protein structures that are highly implicated in Parkinson's disease. Partnered with Roche Holding AG, of Basel, Switzerland, prasinezumab will yield phase II results in mid-September.
In the case of both Prothena candidates, the intricacies of targeting matter greatly – just as in the case of a-beta therapies in AD, Kinney said. With prasinezumab, "we wanted to target certain part of alpha synuclein and then bias the antibody toward aggregated forms over non-aggregated forms," he said. With PRX-004, "the normal form of TTR is a tetramer, [so] anything that wasn't a tetramer we wanted to be able to interact with and deplete, but we wanted to leave the tetramer alone, because we know it's the normal form and has a normal function. You have to get all these pieces right."
Whether Biogen/Eisai can put together aducanumab's pieces intelligibly for the FDA remains to be seen. Jefferies analyst Michael Yee expects the adcom meeting to happen early in the first quarter of next year. "On one hand, this is a huge filing with significant data to review, and the FDA is now under a tight review window," he wrote in a report. "On the other hand, maybe they have reviewed some of the package already (this was a rolling-like BLA filing)." He crystal-balled that the panel will turn out "mixed," leaving the Street "in limbo," though a positive or negative vote likely will move shares significantly.