Sweeping in behind Novavax Inc.'s positive phase III COVID-19 vaccine data is Johnson & Johnson's single-shot COVID-19 vaccine, which met all the primary endpoints and key secondary endpoints in its phase III study, according to an interim analysis that found it to be 85% effective overall in preventing severe disease.
In a Jan. 29 conference call, Mathai Mammen, Janssen's global head of R&D, called the treatment "a workhorse vaccine for the pandemic" and added that a one-dose vaccine is the best option for patients as it will improve access to treatment compared to a two-dose vaccine.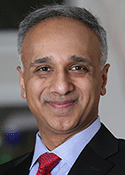 Mammen said the company intends to file with the FDA for emergency use authorization in early February and that the company expects to have the product ready to ship immediately following authorization.
The vaccine, developed by the company's Janssen Pharmaceutical Cos., was 85% effective in protecting against severe COVID-19 28 days after treatment in adults in all the regions in which the study was conducted. It also showed complete protection against COVID-19-related hospitalizations and death 28 days after vaccination.
J&J's global phase III Ensemble included data from an emerging viral variant most prevalent in South Africa. While the vaccine was 66% effective 28 days after patients were vaccinated, the onset of protection began on day 14. In the U.S. patient group, protection was 72%, while Latin American patients had 66% protection and patients in South Africa had 57% protection 28 days after vaccination, according to the interim analysis.
Forty-four percent of the study participants were in the U.S., 41% were in Argentina, Brazil, Chile, Colombia, Mexico and Peru, and 15% were in South Africa. A little less than half the participants, 45%, were women.
The top-line safety and efficacy data are based on 43,783 participants with 468 symptomatic COVID-19 cases.
The number of people that were hospitalized or died in the placebo arm wasn't revealed in the new data, but Mammen said there were more than 450 cases.
"We don't want to get ahead of FDA or other regulators before very specific numbers," he said. "But we did have quite a large number of hospitalizations and deaths. And all of those occurred on placebo, none occurred on vaccine."
There is a 30,000-person two-dose cohort to the study, which is roughly halfway completed. Mammen declined to speculate how the final results may look but he did say he "felt very strongly that being a good scientific company, we needed to study both regimens."
Addressing mutations is part of the company strategy, Mammen said, adding that the platform allows for an effective T-cell response.
"So my hypothesis at the moment is this is why we see such great activity against the South Africa variant," he said. "It's because the T cells are likely handling that virus, which seems to circumvent some extent, the neutralizing antibodies. So, in the future, we're rigorously monitoring right now all the variants that are emerging. And if there is one that pops and becomes one that we believe will circumvent all components of our immune system, what we would do is jump immediately to manufacture at scale and add it into the mix of the current vaccine to make a multivalent vaccine."
Evercore ISI analyst Umer Raffat, in comparing the J&J data to Novavax's, wrote Jan. 29 that "if we lower the bar from 'symptomatic COVID' to 'severe' or 'COVID hospitalization,' efficacy for each vaccine is very, very high." He added that investors are split on whether or not this metric should be used as the primary efficacy measure.
The J&J and Novavax data are compelling, according to Michael Ganio, senior director of pharmacy practice and quality at the American Society of Health-System Pharmacists.
"I continue to tell friends and family that the best vaccine is the one you can get," he told BioWorld. "Anything to limit spread of COVID will be a positive."
Health systems are doing a phenomenal job battling COVID, Ganio added, with the numbers dropping. He added that the U.S. Department of Health and Human Services "has done a nice job of engaging non-hospitals and non-traditional methods of infusing those drugs using different providers, which takes strain off hospitals."
J&J expanded the partnership with the U.S. Biomedical Advanced Research and Development Authority (BARDA), with Janssen committing $604 million and BARDA committing about $454 million to support the ongoing phase III Ensemble trial evaluating the single-dose candidate in up to 60,000 participants worldwide.
The Ensemble trial was stopped in October following a serious adverse event but resumed when it could not be determined that the event was caused by the vaccine. The EMA has initiated a rolling review.