LONDON – Enthera Pharmaceuticals Srl has announced the largest international series A to date for an Italian biotech, closing a €28 million (US$32.9 million) round, to take programs in type 1 diabetes and inflammatory bowel disease (IBD) into phase I development.
The Milan-based company has a lot to prove with the lead product ENT-001, said to have the potential to prevent autoimmune destruction of beta cells and their precursors in type 1 diabetes, and to restore the original structure of the intestine in IBD.
ENT-001 is a monoclonal antibody designed to prevent apoptosis of both mature beta cells and beta cell progenitors in the pancreas, and mature cells and stem cells in the gut, by modulating the insulin-like growth factor binding protein 3/transmembrane protein 219 (IGFBP3/TMEM219) pathway.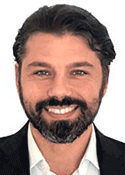 "We have generated biological inhibitors of the pathway, which rescues stem cells and beta cells in animal models," said Giovanni Amabile, CEO of Enthera. "That is followed by recovery of the beta cell mass in type 1 diabetes and intestinal cells in IBD," he told BioWorld.
The company is now at the stage of doing manufacturing in preparation for clinical trials it aims to start in the next 18 months, with studies in type 1 diabetes and IBD running in parallel.
Preclinical research findings and the novelty of the approach attracted the attention of Abbvie Inc. as an incoming investor, making what Enthera said is the first ever venture investment in an Italian biotech by the U.S. pharma company.
Abbvie Ventures co-led the financing with Sofinnova Partners, JDRF TID Fund, the venture arm of the diabetes research charity JDRF, and several Italian investors. Sofinnova and JDRF TID previously invested in Enthera in a €4 million extension to the seed round in 2018.
Margarita Chavez, managing director of Abbvie ventures, who is joining the board, said Enthera has "a unique approach to treating underserved autoimmune disorders."
Amabile said attracting Abbvie Ventures and JDRF TID Fund is a validation of the science and the strategy. "We have a revolutionary approach that offers a new perspective for intractable diseases, such as type 1 diabetes and IBD and the funds raised will enable us to accelerate our lead program ENT-001 to clinical proof of concept."
A former manager of medical affairs at Biogen Idec Inc., Amabile said raising the round during the COVID-19 pandemic highlighted the extent to which investors currently are taking a completely binary approach. "One [group] is afraid to allocate more resources because of the need to keep funding existing companies; the second are investors who understand how important it is to invest in biotech," he said.
In addition to advancing its type 1 diabetes and IBD programs, the new money enables Enthera to generate new monoclonal antibodies and fusion proteins to take different approaches to modulating the IGFBP3/TMEM219 axis, and to conduct preclinical research in fibrotic conditions.
The significance of the IGFBP3/TMEM219 axis was discovered by Enthera's scientific founders Paolo Fiorina and Francesca D'Addio at Italy's premier biomedical research institute, San Raffaele Hospital, Milan. They found that imbalances in the pathway caused by excess IGFBP3 triggers apoptosis of both differentiated cells and stem and progenitor cells, leading to mass cell death.
In preclinical testing, the selective inhibition of IGFBP3 prevented apoptosis and re-established organ function in type 1 diabetes, IBD and other severe autoimmune disorders.
There is some way to go confirming that in the clinic, but Amabile said ENT-001 shows high stability. Based on the preclinical research, he said he envisages treatment in type 1 diabetes would require subcutaneous administration every three to five weeks.
"I would underline the medication will be more effective in the earlier stages of disease, when there is a bigger reservoir of beta cells," he said. "[ENT-001] will rescue the beta cell mass, so [patients] don't need insulin anymore, or there is a drastic reduction in the amount needed."
There were equally impressive preclinical results for ENT-001 in a mouse model of ulcerative colitis. "After administration of our compound, the mucosa was completely restored to the same as normal," said Amabile.
While there are approved monoclonal antibody therapies for IBD, Amabile noted many patients do not respond, and there remains unmet medical need.