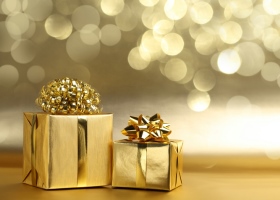 After a bruising U.S. presidential campaign and, let's just say, less than conventional preparation for the nation's 45th president, we could all use a bit of holiday cheer. In a neighborly gesture, Peter Winter, Ottawa-based editor of BioWorld Insight, suggested U.S. citizens might treat themselves to a gift of Canadian real estate.
"The timing couldn't be better," Winter quipped. "Low interest rates and a favorable exchange rate between the U.S. dollar and the Canadian dollar make buying a home in Canada very affordable. What better way to give yourself peace of mind for the next four years?"
If that idea seems a bit impractical, Winter proposed turning back time – at least vicariously – to change the election results by cozying up with Stephen King's 11/22/63 or watching the Hulu mini-series of the same name. Winter dubbed the novel "brilliant" and said it makes great holiday reading.
Books, in fact, are all the rage in this year's Holiday Gift Guide – our 10th collection of weird, whimsical and wacky science-themed gifts. In a timely pick, Anette Breindl, BioWorld'ssenior science editor, suggested buying your favorite hematologist a copy of Blood: An Epic History of Medicine and Commerce and directing them to author Douglas Starr's talk at the American Society of Hematology's annual meeting in San Diego.
Shannon Ellis, BioWorld's Shanghai-based staff writer, recommended The Invention of Nature: The Adventures of Alexander Humboldt, the Lost Hero of Science by Andrea Wulf, which she called "very inspiring."
After having lived in air quality-challenged China for more than a decade, "my thoughts are turning to the environment more than ever before," Ellis said. "In this trying time for the environment, it's inspiring to go back and experience the story of a man who brought the scientific method to the concept of ecology and interconnectedness." Humboldt's understanding of the ecosystem predated and paved the way for Charles Darwin, she added, noting that author Wulf went back to German source material to create the most in-depth Humboldt biography available in English.
Titles from Siddhartha Mukerjee often appear on BioWorld's annual Summer Reading List, and Rachel King, CEO of Glycomimetics Inc., suggested his newest entrant, The Gene, for holiday gift giving.
Combining science with the adult coloring book craze, Karen Sharma of Macdougall Biomedical Communications recommended Mosby's Anatomy and Physiology Coloring Book and The Microbiology Coloring Book by I. Edward Alcamo and Lawrence M. Elson for "blissful coloring while brushing up on the basics you might have forgotten from school days."
Aline Sherwood of Scienta Communications recommended Matt McCarthy's The Real Doctor Will See You Shortly: A Physician's First Year. She described the book as well written and insightful but admitted, "It's a little disconcerting how little your newly minted doctor really knows."
Not everyone wants to settle by the fireplace with a good read, but not to worry: our elves suggested plenty of appealing gift alternatives.
Karen Pihl-Carey, BioWorld's database editor, had a selection for the coffee-loving scientist with a little 007 flair: a science chemistry mug from Urbanbrew LLC: "The name's Bond. Ionic Bond. Taken, not shared."
Fitness enthusiast Oleg Nodelman, founder and managing partner of Ecor1 Capital Management LLC, recommended the Garmin Fenix 3 HR Watch, which he described as a "good-looking watch that syncs with phones and generates lots of great data." And we thought Nodelman kept all of those stats in his head.
Holland Johnson, executive editor of Medical Device Daily, also looked in the direction of better health with a suggestion to eliminate pesky germs with Xenex germ-zapping robots. This gift might be a little over the top at home, where proper hand washing would likely do the trick, but it could work wonders to tamp down on hospital-acquired infections, one of the biggest killers in the U.S. and around the world.
Always the intrepid observer, whether in prose or in presents, Randy Osborne, BioWorld staff writer, suggested a cache of clever choices, starting with a beaker mug inspired by the hit TV drama Breaking Bad. (C'mon, you know you binge-watched all five seasons.) Osborne's other picks for your favorite researcher, medical student or biopharma exec included bone pens and syringe highlighter pens, DNA earrings, brain sperm magnets (you can't make this stuff up), a lung ashtray (that, true to life, blackens with use) and even a transplant organ lunchbox for emergency meal transport. You might want to squirrel away some of these great finds for next year's Halloween party.
Also on the lighter side, Sherwood suggested the Death Star Tea Infuser that looks just like, well, you know. Sip tea while you await the next Star Wars installment, Rogue One. Advance tickets, anyone?
More to the spirit of the season, Andrea Gonzalez, production editor for Medical Device Daily, said, "If there's one gift I'd get my science-nerd fiancé, it would be this Chemistree shirt." The eco-green garment is available in short- or long-sleeved options in a variety of sizes. Tacky sweater party, anyone?
Also in the party mood, Lee Jones, president and CEO of Rebiotix Inc., suggested Gut Check: The Microbiome Game. The rules are a bit complicated, said Jones, who knows a thing or two about the gut microbiome, "but I liked the concept," she added. "I bought several of them and plan to have a game day at Rebiotix featuring Gut Check as one of the games. We also make up our own games and our own rules, so I expect that Gut Check will morph just as our microbiomes do!"
Carter Keller, chief operations officer of Gigagen, recommended another perennial holiday favorite with a personalized DNA portrait. "I love it," he said. Just a simple cheek swab and, voila! A beautiful piece of art.
From your own DNA to genetic engineering, another biology pick came from Macdougall's Sharma: a bacterial gene engineering CRISPR kit for beginners. Want to really understand the hullabaloo around CRISPR? You can get the scoop in BioWorld. Or spend $150 to conduct your own experiments – a popular option, apparently, as orders currently have a two-week backlog.
Moving to the consumables category, Cormac Sheridan, BioWorld's Dublin-based staff writer, recommended a scrumptious choice: Cloonconra cheese. If you're not based in Ireland, getting your hands on the specialty might be a logistical challenge, Sheridan said, but "it will be worth it." Sculptor-turned-cheesemaker James Gannon is the only farmer in Ireland to milk Moiled cows, an ancient rare breed normally grown for its beef. Only two years into production at his base in County Roscommon, Gannon already has won several awards for his organic raw-milk cheeses, along with the support of some of Ireland's leading chefs.
Another nod to the importance of farming is my pick: the gift of community-sponsored agriculture, or CSA. Whether for yourself, a loved one or a family in a food desert, a subscription to a season of fresh produce and other farm products will provide someone's dinner table with a whole new perspective on the Earth's bounty.
You can incorporate many of those farm-to-table veggies into another favorite, pizza, using the pizza steel recommended by Laura Vitez, principal business analyst at Clarivate Analytics, BioWorld's parent company. The steel's high heat capacity and high thermal conductivity ensure that energy gets transferred to the pizza dough quickly, resulting in a perfect, crisp crust that mimics the results of a commercial pizza oven in your regular home oven, Vitez explained. Who couldn't love the marriage of science and pizza? In fact, that's part of the company's back story, she confided.
In a science twist to the food and beverage category, Peter Duckler of W2O Group suggested the Velv Oxygenator, which circulates nearly pure oxygen into wine using its Pureoxygen technology. The product is designed to open the aroma of your wine and reveal its peak flavor in just a few minutes, after the oxygen reacts with various wine molecules and the interaction changes the structure of hydrogen sulfides, lengthening the chains of phenols (such as tannins) and breaking down sulfites. Vintners likely aren't losing sleep over the technology, but maybe you could replace that aging decanter with some of this German engineering.
Finally, we received several suggestions for gifts with a distinctly personal touch. Mari Serebrov, BioWorld's regulatory editor, had some DIY ideas for those who like to put a little of themselves into their gifts. She suggested a cat neck pillow as "the perfect gift to reduce the stress and ease the tension from hours of lab-sitting," recommending this free pattern for a crocheted pillow. A talented seamstress as well as storyteller, Serebrov advised using pellets or buckwheat instead of the usual polyester stuffing, adding, "For extra softness, use a yarn that blends merino with alpaca, angora, cashmere, llama or, for extra luxury, bison." If you like the farm-to-hook experience, look online for spinners who allow you to choose the animal that will donate the actual yarn, she suggested.
"Another way to expand your holiday gift list beyond friends and family while working through the odds and ends of your yarn stash is to make hats and scarves or prayer shawls for chemo patients, homeless individuals or women and children taking refuge in a shelter for victims of domestic violence," Serebrov said. Giving of your time and talents to others is, truly, a meaningful way to celebrate the season.
Lynnea Olivarez of Ten Bridge Communications suggested lighting up your holiday with Luminaid. The solar-powered, inflatable lights are waterproof and fun for children and adults alike. And through Luminaid's "Give Light, Get Light" package, you can buy a light for yourself and sponsor a light for "someone in need," Olivarez said, such as Hurricane Matthew relief in Haiti or the American Foundation for Children with AIDS. Your generosity can shine a beam into someone's darkness, while everyone enjoys the glow.
And that's our holiday "wrap"-up for this year. Tie it with a bow and have a merry!