While Biohaven Pharmaceutical Holding Co. Ltd.'s phase II/III proof-of-concept study of troriluzole for treating obsessive-compulsive disorder (OCD) failed to meet its primary outcome measure at week 12, the company found enough silver in the study's lining to press on for a larger phase III trial.
Troriluzole, which modulates glutamate, the human body's most abundant excitatory neurotransmitter, is being developed as an adjunctive OCD therapy. The study's top-line data showed consistent numerical improvement over placebo at all the study's timepoints, especially for those patients who were most severely ill at baseline.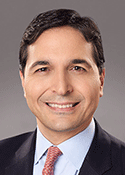 Based on the results, Biohaven will have an end-of-phase II meeting with the FDA and plans to initiate an appropriately powered pivotal phase III study of two doses of troriluzole vs. placebo, according to Biohaven's CEO, Vlad Coric. The company also plans to add a larger patient sample size to the phase III.
The data put a slight crimp in the New Haven, Conn.-based company's stock (NASDAQ:BHVN) as it sagged 3.91% Wednesday, closing at $70.04. The stock's value has, however, more than doubled since April 1, when shares went for $29.77 each. Year to date, the stock is up 29.87%.
One of the company's strengths as it shores up the stock is Nurtec ODT (rimegepant), approved by the FDA in February, for acute treatment of migraine. A Cortellis analysis anticipates Nurtec sales could soar to $1.03 billion in 2024, though it will have to compete with drugs such as Ubrelvy (ubrogepant, Allergan plc), which received FDA approval in December for acute migraine treatment, and Reyvow (lasmiditan, Eli Lilly and Co.), a 5-HT 1f agonist approved by the FDA in October, also for acute migraine.
Mizuho Securities analyst Vamil Divan wrote Wednesday that the stock weakness due to the troriluzole stumble is momentary. "The key value driver for us in the Biohaven story is Nurtec ODT in the large acute migraine market, as well as the potential of the product to change the treatment paradigm by also moving into migraine prevention. The company continues to expect to submit the migraine prevention indication with the FDA this year, which we believe will help differentiate Nurtec ODT from all other therapies on the market for both treatment and prevention. We continue to see additional upside for Nurtec ODT and would be buyers of BHVN on weakness."
The troriluzole phase II/III proof-of-concept study's strength was its consistent numerical improvement over placebo on the Yale-Brown Obsessive Compulsive Scale (Y-BOCS) at all study timepoints, which were weeks four to 12. OCD patients with inadequate response to standard-of-care treatment received 200 mg daily as adjunctive therapy.
Troriluzole-treated subjects had a mean Y-BOCS improvement of -5.1 points from baseline vs. -3.6 for placebo-treated subjects [difference -1.5, p=0.041, 95% CI: -3.02, -0.06] at week eight, and -5.9 points vs. -4.9 for placebo subjects [difference -1, p= 0.220, 95% CI: -2.59, 0.60] at week 12.
The most severely ill patients benefited the most, the data revealed, as troriluzole-treated subjects (n=42) had a mean Y-BOCS change from baseline of -6 points vs. -3.1 for placebo (n=45) subjects [difference -2.9, p=0.035, 95% CI: -5.49, -0.21] at week eight, and -7 points (n=44) vs. -4.6 for placebo (n=43) subjects [treatment difference -2.4, p=0.084, 95% CI: -5.18, 0.33] at week 12.
The study's failure was missing the primary outcome measure at week 12, the change in the Y-BOCS total score, which ended up p<0.05 at week eight and p=0.22 at week 12.
Troriluzole was well-tolerated with a safety profile consistent with past clinical trial experience, Biohaven said.
OCD affects 7.45 million patients, with 2.54 million of them in the U.S. having a 12-month prevalence, according to DRG. OCD is treated predominantly by selective serotonin reuptake inhibitors though about a third do not respond to current treatments. There has not been a mechanistically novel medication approved for OCD in more than 20 years, according to Biohaven.