Corey Carter, whose company Epicentrx Inc. just dosed its first patient in a phase III trial for treating third-line and beyond small-cell lung cancer (SCLC), has made studying the disease a life goal.
"With my military background, I noticed that smoking rates are higher there," Carter, the company's president and CEO, told BioWorld. "That's when it became important to me. Then, also, my dad had small-cell lung cancer."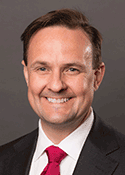 His clinical background as a practicing oncologist, an NIH senior clinical investigator and chief of thoracic oncology at Walter Reed National Military Medical Center teed him up to serve as a principal investigator in more than 100 clinical trials before joining the company. One of those studies involved RRx-001, where he was the first investigator to administer the drug. He left his practice two years ago to continue working with that same small molecule at La Jolla, Calif.-based Epicentrx.
RRx-001 targets the CD47-SIRPα signaling axis, and polarizes tumor-associated macrophages and other immunosuppressive cells in the tumor microenvironment to an immunostimulatory phenotype. It stimulates the immune system and can be a monotherapy or combined with chemotherapy, immunotherapy, radiation and targeted agents, Carter said, making it unlike other approved SCLC treatments.
"They all hit the same target, they're overlapping. Our drug down-regulates a checkpoint, CD47," he added. "It's never been studied in cancer before. There's not a drug out there that's a small molecule that targets this axis."
The drug gets directly to the tumor, Carter said, and its toxicity is limited. "Our philosophy is to develop therapies that don't cause toxicity," he said.
The open-label, multicenter, crossover phase III will evaluate the efficacy and safety of RRx-001 plus platinum doublet chemotherapy vs. platinum doublet chemotherapy alone in 126 patients. The primary endpoint is progression-free survival, with overall survival and overall response rate as secondary endpoints. The study is set to be completed by November 2020.
RRx-001 has orphan drug designation from the FDA to treat SCLC, neuroendocrine cancer and glioblastoma, and from the EMA for SCLC. The trial was designed with plenty of welcome input from the FDA, Carter said, who had three different discussions with the administration about the best way to design the study. Not quick by any means, Carter added, but "the FDA is there to help and guide you. They'll tell you the correct way to think about it."
The guidance has paid off. The phase III was based on solid phase II data, which the company published in the British Journal of Cancer in June. The study was conducted in 26 previously platinum-treated third-line SCLC patients in which the overall survival (OS) and progression-free survival (PFS) for patients treated with RRx-001 and a reintroduced platinum doublet were 8.6 months and 7.5 months, respectively. By comparison, the OS, PFS and overall response rate for third-line SCLC are reported in the relevant literature as 4.7 months and less than two months, respectively. Similar to other trials with RRx-001, no treatment-related serious adverse events or laboratory abnormalities were observed.
Carter compared SCLC as threateningly aggressive as pancreatic cancer and glioblastoma multiforme.
"Patients progress quickly through every therapy after first-line and sometimes do not even benefit in first-line," he said. "The cancer spreads and proliferates at such a rapid rate that cancer treatments just can't keep up and that includes platinum chemotherapy. Therapeutic resistance and death are inevitable. Checkpoint inhibitors may benefit some patients but, overall, their impact is minimal."
RRx-001 is also in a phase II trial for treating non-small-cell lung cancer, neuroendocrine tumors, ovarian and prostate cancers, and in a phase II trial for preventing oral mucositis.
Epicentrx currently has 25 employees, but it is expected to grow to about 35 employees in the next six months as it considers developing treatments for colorectal cancer and pediatric neuroblastoma.