Civetta Therapeutics LLC will take a $53 million series A to advance its platform and programs based on beta-propeller proteins that mediate protein-to-protein interactions. Those proteins can become involved in cancers, neurodegeneration and metabolic disorders, with oncology being the company's initial focus.
The company's name comes from the steam-powered ship Civetta, with its patented propeller, which was created by Austrian Joseph Ludwig Franz Ressel in 1829. Propeller proteins are more ubiquitous than usually thought and, yes, the structure includes a propeller.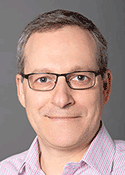 "It's possible to move beyond oncology," Civetta CEO Bruce Goldsmith told BioWorld. "The propeller protein has clear links to metabolic diseases as well as neurodegeneration. We think the platform, as we build our biology and chemistry knowledge, will allow us to target a broader range."
Goldsmith was careful not to speculate much about those targets or on a date for entering the clinic. The speed of scientific research has become such that he is keeping plenty of targets in play without denying any options.
"There's an inherent trade-off of known targets and indications with a straight path but a higher risk in the external environment, not only competition in class and modalities," Goldsmith added. "At the other end are targets that are less well known and less characterized, but enablement will allow us to go faster. That's the dramatic tension. We can create a portfolio and an approach that mitigates risk."
There's clearly much yet to do, mostly in research, but there's also the matter of staffing up. The Cambridge, Mass.-based company now wants to add another eight or nine positions, predominantly in science slots and a C-suite chair to fill, so the series A will allow Civetta to double its personnel within the year. The C-suite spot is for a chief operating officer to drive the search for a long-term lease location for the labs and office spaces and to oversee the hiring. Civetta established its initial operations at Ipsen Innovation Center Biolabs in Cambridge, Mass.
Goldsmith is the interim CEO but he said the position is a full-time commitment so it's an indefinite role for the moment. He's a venture partner at Deerfield Management, which drove the series A, and he has more than 20 years of biotechnology and pharmaceutical experience in strategy, business development and financial assessment. He has been the chief operating officer at Lycera Corp., held senior positions at Allos Therapeutics Inc. and GPC Biotech AG, as well as various marketing and business development roles at Johnson & Johnson, focused on oncology and virology.
The founders are William Sellers, a Core Institute Member of the Broad Institute of MIT and Harvard, a professor of medicine at the Dana-Farber Cancer Institute and Harvard Medical School, and a senior advisor to the president for experimental therapeutics at the Dana-Farber Cancer Institute, and Eric Fischer, an assistant professor in the Department of Biological Chemistry and Molecular Pharmacology at Harvard Medical School and an independent investigator at the Dana-Farber Cancer Institute.
Deerfield Management established Civetta in early 2019 and it's a busy player. Deerfield recently had a hand in the $100 million series C financing for Revolution Medicines Inc. It also pitched in to Pq Bypass Inc.'s growth as the company raised $60 million earlier this year in an equity financing to advance its IDE and regulatory programs for the Detour and Torus systems. The round was led by Deerfield and joined by existing investors Seroba Life Sciences and Medtech Venture Partners. In October, Edgewise Therapeutics Inc., of Boulder, Colo., raised a $50 series B co-led by Novo Holdings A/S and U.S. Venture Partners with participation from Deerfield, New Leaf Venture Partners, Cure Duchenne Ventures and a founding investor, Orbimed Advisors.